Located in Al Qudra Lake, Dubai, lies the magnificent Love Lake, commonly known as the Love Lakes Dubai. It is one of the most toured locations of Captain Dunes. This artificial lake has two hearts that seem to be intertwined when seen from above. It represents the best human ingenuity and nature's beauty. This post will further investigate the location, its history, importance, and tourist draw.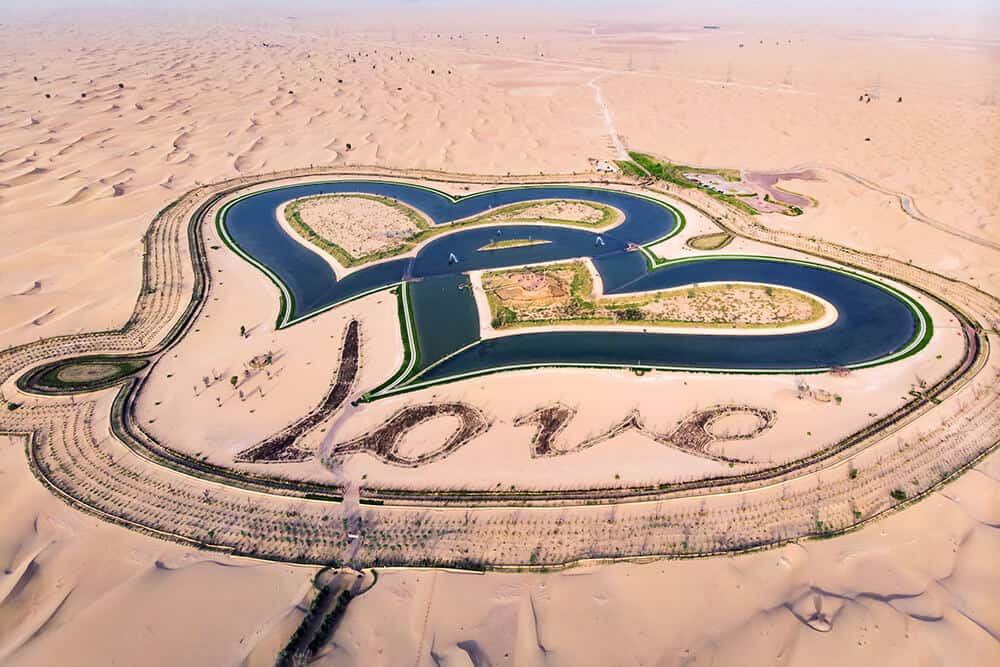 The Love Lake Reveal
In November 2018, Love Lake Dubai was initially revealed, and on November 16th, it opened to the public. Located in Dubai's Al Qudra neighbourhood, It is a man-made marvel that covers over 550,000 square meters. Two heart-shaped lakes are connected by a pathway, and the desert landscape is breathtaking. The lake is around 550,000 square meters and was planned by the Dubai Municipality.
The Atmosphere
Sand dunes and palm palms dot the lake's arid terrain, making for a breathtaking backdrop. The Love Lake was built to symbolize togetherness and love, and its original design reflects Dubai's forward-thinking culture. The lake provides visitors with a once-in-a-lifetime opportunity to appreciate both nature's wonders and humanity's achievements.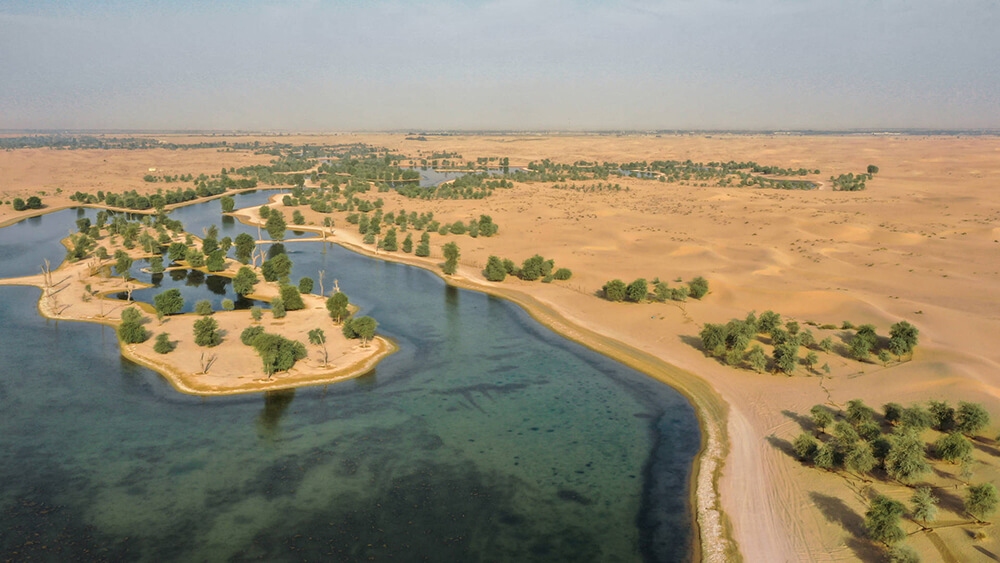 Surrounded by breathtaking desert scenery, the heart-shaped lake is lighted at night, providing a magical setting. In addition, the lake's park offers a variety of activities for guests, including cycling, running, and picnics. Al Qudra Lake is a popular spot for outdoor recreation in Dubai. The artificial Al Qudra Lake has a surface area of around 10 square kilometres. Over 170 different species of birds and desert foxes, and gazelles share the lake's ecosystem. One of its most popular features is the walking route that encircles the lake.
Picnic Spots at Love Lake
The 1.2-kilometre walking track lets guests get up close and personal with the stunning lake. Visitors may use the walking route in addition to other recreational opportunities, such as biking, picnics, and fishing. Those searching for a tranquil day in the great outdoors will find what they're looking for at Love Lake. The walking path has been kept in excellent condition. It may be enjoyed by walkers of all ages and fitness levels.
The lake also has a picnic area, which is another great draw. The picnic area has chairs and tables, so it's great to hang out with friends and family and take in the sights. Visitors may bring food to the picnic area and cook it on the barbecues provided. Paddleboarding and kayaking are just two fun things to do here.
You Can Access Various Activities at the Lake
Visitors interested in exploring the lake at their own pace can rent kayaks and paddleboards from the nearby rental kiosks. It is famous for those who like water sports because of its placid waters. The lake is more than just a place to go for fun; it's also a place to experience genuine Emirati hospitality. A Bedouin-style tent serves Arabic coffee, dates, and traditional Emirati fare to guests of the Love Lake. The camp also has a variety of cultural activities, such as henna painting and falconry displays.
The Municipality Efforts for the Lake
The lake is more than a pretty sight; it's also a powerful reminder of the need to protect our planet. The Dubai Municipality has taken extensive action to preserve the long-term health of Love Lake Dubai and its surroundings. Some of these steps include water quality monitoring, reuse, and using native plant species for irrigation.
The Love Lake is also a symbol of the need to protect our planet's natural wonders for the sake of future generations. A cutting-edge irrigation system guarantees that the lake is constantly supplied with clean water. Planting native trees and bushes and erecting bird nesting boxes are just a few of the Dubai Municipality's efforts to protect the local flora and wildlife.
It's a beautiful place.
Due to its spectacular architecture and beautiful surroundings, Love Lake is one of Dubai's most popular tourist destinations. The lake provides a relaxing refuge from the city's busy life, and it is surrounded by lush vegetation. Recreational opportunities abound for guests, including canoeing, cycling, and kayaking on the lake. There is both natural beauty and human invention for tourists to marvel at.
The Al Qudra Lake is a one-of-a-kind tourist attraction because of its romantic heart form. The desert lake is a popular destination for camping, picnics, and birding because it serves as a striking illustration of how people can create beauty in the most unlikely of settings.
Walking, picnicking, kayaking, and experiencing genuine Emirati hospitality are just some of the things that visitors may partake in while visiting Love Lake. It is a powerful symbol of environmental protection since the Dubai Municipality has invested much in its upkeep and preserving the local ecosystem. The lake is a stunning combination of natural beauty and human innovation, making it an absolute must-see for every visitor to Dubai.