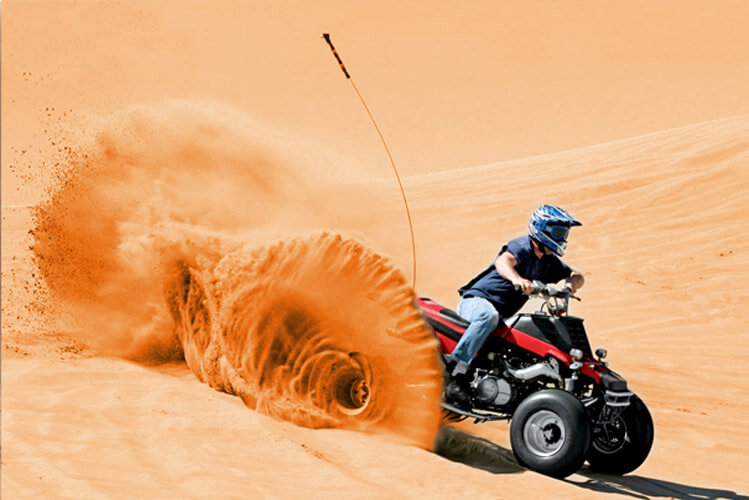 Quad Bike
Quad biking in Dubai is a thrilling and reasonably priced way to explore the city's desert. This outdoor sport has quickly become a favorite of both visitors and residents of the area. Quad riding in Dubai offers an unforgettable experience for families and friends. Captain Dunes is a reliable and first-rate tour company that offers a variety of exciting quad-bike tours across the breathtaking Dubai Red Dunes. Experience the desert's natural beauty and bond with loved ones while sharing an unforgettable journey. Captain Dunes offers family and couples trips, including thrilling quad biking, cultural activities like henna tattooing and belly dancing, as well as cultural experiences like belly dancing and Arabian BBQ. Captain Dunes in Dubai offers a memorable desert adventure with professional guides, ensuring safety and focus on the ride. Enjoy a memorable desert adventure with their professional guides.
Quad Biking Dubai
Quad Biking Dubai is an exciting and affordable way to explore the desert. This activity is extremely popular in Dubai. There are plenty of companies that offer quad biking tours. It's a great way to see the area and spend time with family and friends. You'll get a lot of adrenaline from riding the quad bike and it's one of the best ways to explore the desert.
Quad Biking in Dubai is a popular activity
Quad Biking is one of the most popular outdoor activities in Dubai. The UAE's desert landscape provides the perfect setting for off-road cruising adventures. There are numerous companies that offer quad biking tours in Dubai. The activity is a great way to get in touch with the desert's natural beauty while enjoying the excitement of racing a bike. However, there are some precautions you should take when participating in this activity.
While quad biking in Dubai is not for the faint of heart, the thrill of a quad bike ride is unmatched. Riders are free to set their own pace, and the trip ends with an adrenaline rush that lasts about an hour. After the ride, riders can partake in henna painting and belly dancing activities, followed by a delicious Arabian BBQ dinner.
In addition to Quad Bike Dubai in the desert, many companies also offer other activities for travelers to enjoy in Dubai. Some companies offer tours for families and groups of all ages, while others offer a more intimate experience. For instance, Arabia Horizon offers an exclusive Dubai desert biking tour. During this tour, riders take high-powered quad bikes through the sand dunes. Other activities available on the tour include BBQ dinners, belly dancing, henna painting, and Tanoura performances.
It is a spine-tingling experience
Quad Biking Dubai is one of the most exciting activities in the desert. It's an experience for the adventurous soul and is a must for tourists visiting the city. It takes you through the beautiful Dubai Red Dunes, the most secluded and beautiful desert region in the country. The terrain varies in elevation and terrain, making for an unforgettable and spine-tingling experience.
Quad biking in Dubai is best done during mid-season when temperatures are pleasant and the dunes are not too hot. You'll be accompanied by a monitor, who will teach you how to use the quad bikes and ensure that you have the right safety equipment. The monitor will also guide your convoy through the dunes. It's important to follow the monitor's instructions and not allow your adrenaline to get the better of you!
Tours that Includes
Quad Bike