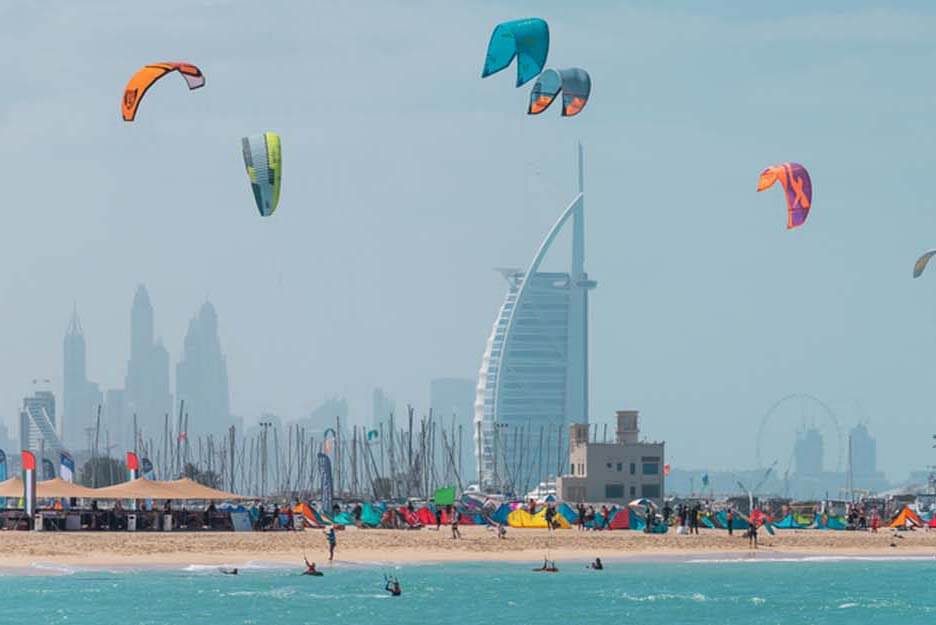 Kite Beach
Kite Beach Dubai is a scenic refuge for those who like water sports, and it has an excellent selection of facilities and services. This beach destination is well-known among kite surfers of all skill levels because of its wide sandy shoreline and variable wave conditions. The Splash N' Party Waterpark is a great place to take the kids for a day of water fun. Kite Beach offers an athletic environment with a skate park, jogging track, and diverse dining options, including charcoal-grilled chicken at JJ Chicken and traditional Lebanese street food at KaaKunada Dubai. The Agualana Kite Resort is a beachfront resort featuring a kite boarding school, free Wi-Fi, a tempting patio, and a seaside restaurant, perfect for those in search of a relaxing coastal getaway. Captain Dunes is a reliable and entertaining tour service offering access to Kite Beach's best activities and attractions, making it a beautiful destination.
Kite Beach Dubai
If you are looking for a great place to go kite surfing, Kite Beach is a great choice. This community beach is perfect for kite surfers and is also a great place to go for a run or a meal. There are many water sports to choose from at Kite Beach, including deep sea fishing, banana boats, snorkeling, and kayaking.
It is a haven for kite surfers
Kite Beach is a haven for all kinds of kite surfers, from beginners to advanced. Its expansive, sandy beach makes it an ideal place to learn to ride a kite. In windy days, the waves are mellow and flat, but you can also find some moderate to large waves at this spot. Advanced riders will love this spot. You can rent a car or Uber to get around town on days when the winds are weak.
In addition to kite surfing, the beach is a hub for other water activities. The beach is home to Splash N Party Waterpark, considered the "coolest" waterpark on the beach. It's a great option for families with small children looking for kid-friendly water activities in this Beach. The Splash N Party Waterpark offers several different party packages.
It is a great place to go for a run
If you love to run, Kite Beach is a great location. The area has a 14-kilometer running track that is designed for both cyclists and runners. You can run or bike the track, which has a soft surface and distance markers to keep track of your distance.
If you're not into running, you can choose to skate on the beach. The beach has a skate park and you can rent or bring your own skateboard. This is a fun place to spend some time with your partner. It's a great place to spend romantic time with your partner.
For the active person, Kite beach has a skatepark and rock climbing. There's even a trampoline and a skate park for the younger set. If you don't want to participate in these activities, Kite Beach is also a great place for a run or cycle. There are plenty of opportunities to workout on the beach, especially early in the morning.
It is a great place to eat
With a variety of restaurants, bars and cafés, Kite Beach is a great place to indulge in a meal. From modern cuisine to Asian specialties and hot dogs, there's something for every palate. And when it comes to dessert, there's no shortage of options. At the ever-popular Wanna Banana, you can enjoy 100 percent banana ice cream.
A few of the most popular restaurants on this Beach include JJ Chicken, a charcoal-grilled chicken restaurant that serves delicious chicken. Unlike other burger joints, the chicken served at JJ Chicken is made from premium Halal chicken. Another popular spot is KaaKunada Dubai, where you can find the most authentic Lebanese street food. Its unique take on a classic street food experience is what sets this place apart from the rest.
It is a great place to stay
Beach is close to town, but far enough away to avoid the buzz and noise of the city. The area has plenty to do, from hiking in the jungle to kayaking and river boat tours. There are also plenty of opportunities for relaxation, including massages, yoga, and SUP tours. There are also a number of great restaurants within walking distance.
If you plan to spend a long weekend on this Beach, consider staying at the Agualana Kite Resort. Located on the beach, this resort is close to the beach, offers a kite boarding school on site, and has free Wi-Fi and a nice terrace. It also has a restaurant right on the beach.
Tours that Includes
Kite Beach