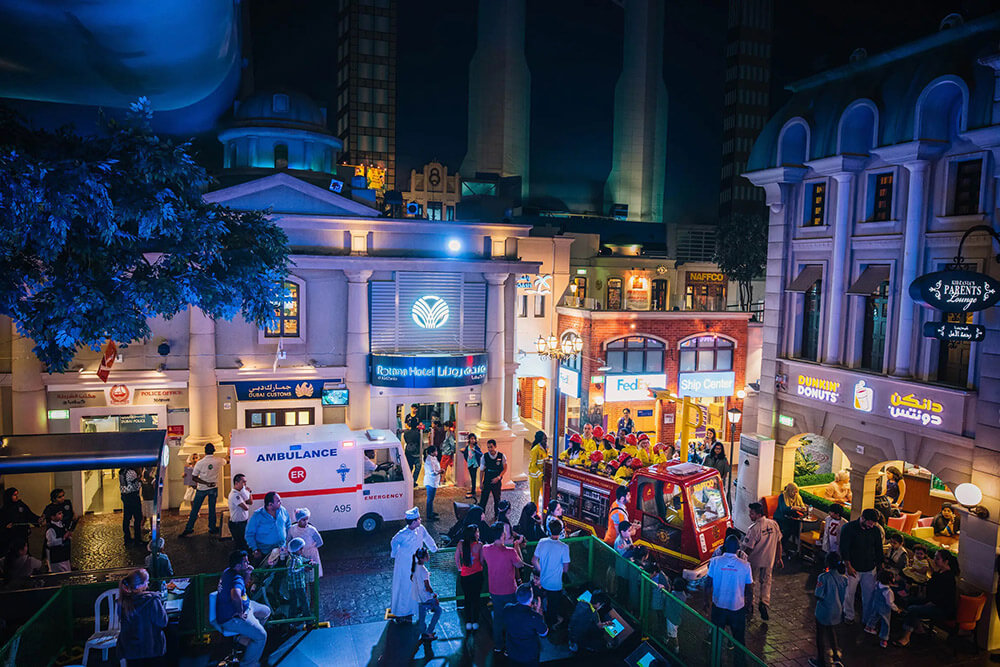 Kidzania Dubai Mall
KidZania Dubai Mall is a fantastic experience for children, with a miniature city operated by kids for kids. At check-in, kids are linked up with their parents digitally and handed some Kidzos to use throughout the resort. Children can engage in more than 40 different pretend-play experiences, including a flying simulator, a Tiffany cookie factory, and a Kinder Chocolate Factory. KidZania Dubai Mall offers activities for kids of all ages, group sizes, and times, ensuring a fun day. As part of a global network, it's recommended to allocate at least four hours for a visit to this charming town. Dubai's Department of Tourism and Commerce Marketing approves Captain Dunes as a top destination management company offering all-inclusive vacation packages for business and family travelers. Captain Dunes, a knowledgeable and competent tourism company, handles trips, hotel reservations, visa applications, and vacation packages in the UAE, providing personalized itineraries and unforgettable experiences.
Everything You Need To Understand Before Visiting KidZania Dubai Mall
For those who are unfamiliar with the KidZania concept, it is a real city created exclusively for children. Kids are given full control over their schedules and must choose the activities they will partake in, as well as whether they will pursue new occupations or spend money on extracurricular activities with Kidzos. Parents should step aside once they enter Kidzania because it is now time for the "Zupervisors" to lead the children through their selected activity. KidZania Dubai Mall is a global children's entertainment company with locations in 26 cities and plans for many more.Even though the idea is the same everywhere, each branch will have its distinctive activities with local business brands supporting the various professional activities.
A city made just for children? Uh Huh. That is the idea behind KidZania. KidZania Dubai Mall, which now has locations in 26 countries, transfers children from the adult world to their role-playing setting where they may try out new jobs and learn how to make and spend money just like we do in the real world.
Get your boarding tickets and get ready to pick up some new words as we take you on a tour of the KidZania Edutainment world, whether you reside in Dubai and are searching for a fantastic way to break the heat or for travelers looking for exciting activities during a Dubai layover.
How does it function?
When you arrive, parents and children are electronically identified to one another, and they give boarding cards to you, youngsters cash in their initial Kidzos balance at the bank, and you are then free to select your next career. Children must learn to prioritize their investments because some hobbies result in a paycheck while others cost money. It's worthwhile to first do a little "loop" of the city (which is spread out over two floors) to choose how you'll organize your day. If you take it slow, you could easily fill a whole day with activities, but with so much to do at Dubai Mall, give yourself at least 4 hours to get your money's worth.
Kids' activities at Kidzania Dubai Mall
As we previously stated, numerous well-liked events are therefore universal across all branches, albeit with various corporate sponsors depending on where in the world you are. Dubai offers more than 40 authentic role-playing options in total. KidZania Dubai Mall's most well-liked activities include:
The Kinder Chocolate Factory
Flight simulator
Creating Tiffany Cookies
Create your pizza at Pizza Express
NAFFCO Fire Station
NAFFCO Fire Station
On the door of each activity is a notice that reads:
No matter if you receive Kidzos or have to pay for them.
How many kids can take part at once? (normally groups are around 6-8).
How much time the task will require (most are 20-25 minutes but some more involved ones take as much as an hour).
Appropriate ages.
A timer indicates how long it will be until the following group may start.
This is useful in determining if it's worthwhile to stand in line or whether you should try something new. There are two "skip the line" quick passes available to you if you have a Premium ticket to Kidzania Dubai Mall. To be fair to everyone, they are not good for the most sought-after activities, but at most, you can redeem them for only 50% of the group receiving fast passes. Do the arithmetic before waiting in a large queue.
Wrapping up
The Department of Tourism and Commerce Marketing (DTCM) of the Government of Dubai has authorized Captain Dunes, a destination management organization with offices in the United Arab Emirates.
We provide the best travel management services to both B2B and B2C clients. Through the years, we swiftly established a reputation as one of the top destination management firms in Dubai because of our great travel knowledge and professionalism. Through a team of skilled, effective employees, Captain Dunes has travel expertise handling holiday tour packages all across the United Arab Emirates, hotel reservations, simple visa procedures, and tours and excursions. We are a one-stop travel shop that makes it simple to design one-of-a-kind trip itineraries and activities. Visit the official website of Kidzania Dubai Mall for more details.
Tours that Includes
Kidzania Dubai Mall