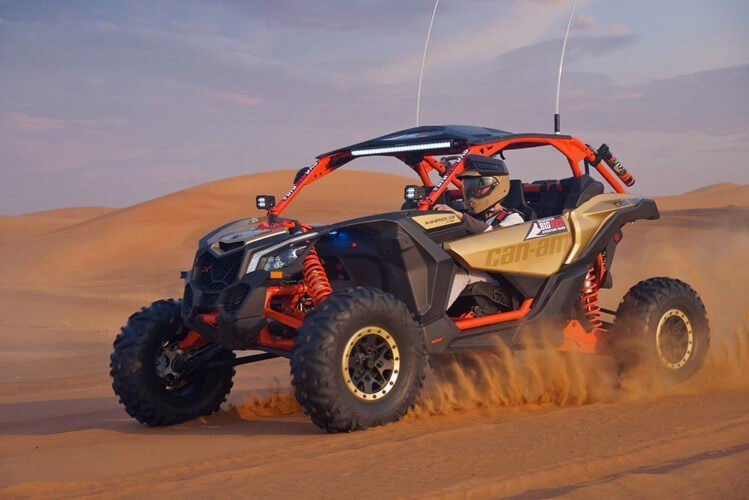 Dune Buggy Dubai
Dune Buggy Dubai is an exciting adventure that takes place through the mesmerizing sand dunes, similar to a roller coaster. A driver's license is not required; participants must be at least 15 years old, and they must be in reasonable physical condition. Minors under 16, those with certain illnesses, and nursing mothers are encouraged to sit out. High winds pose a high risk of injury; Dune Buggy Dubai offers rental options, excursions, and coaching sessions for newcomers and seasoned enthusiasts. All participants must dress appropriately for safety, including wearing long pants and sleeves, a helmet, and closed-toe shoes. Safari packages with Bedouin tents and BBQ feasts vary in luxury and cost; insurance for Dune Buggy rides is crucial to cover financial losses from accidents or injuries. Captain Dunes is a tour company in Dubai that offers reliability, professionalism, and a variety of services.
Dune Buggy Dubai Tours
A Dune Buggy Dubai Safari is an adrenaline-filled experience. It starts with a thrilling drive through the sand dunes. The experience is like a roller coaster ride. It is best for people who are at least 12 years old. It takes about two hours to complete the entire excursion.
Minimum age to drive a dune buggy
You must be at least 15 years old to drive a dune buggy. This fun activity requires no driving license, but you will need to be in good physical condition. Children must be accompanied by an adult. Children under 16 must have a parent or a guardian. Children with medical conditions and pregnant women are not allowed to participate in this activity. The price for children is the same as for adults.
While driving a dune buggy, it's important to be aware of the terrain and safety precautions. The wind can be a strong, so you must be able to focus and follow the instructions of your guide. Otherwise, you'll be at risk of hitting objects or crashing.
There are several options for dune buggy tours in Dubai. The most popular options are afternoon or morning tours, which last for around an hour. They also include a visit to a camel farm.
Safety features
While dune buggy Dubai tours are fun and exciting, you should also pay close attention to safety measures. These include wearing the correct equipment and wearing eye protection. Taking these precautions will make sure you enjoy your trip without any issues. You can also ask your instructor to help you if you experience any problem.
Unlike other forms of transport, dune buggies don't have seat belts. You can also purchase a dune buggy with three-point, four-point, or six-point harnesses. Some even have strong lap belts. You should also look for safety features such as tail whips and reflective clothing. LED whips are also available for enhanced visibility.
Dune Buggy Dubai offers a wide range of dune buggy rentals and features for both beginners and seasoned enthusiasts. It also offers customizable tours and coaching sessions.
Location of a dune buggy safari in Dubai
Dune Buggy safaris offer an adrenaline-filled journey through the sand dunes. The experience starts with a pickup from your hotel, where you'll receive safety instructions and be guided around the natural track of the dunes. You'll be surprised at how much fun you can have while out on the sand.
To enjoy the ride, you must wear appropriate clothing. Long pants and sleeves are best, as is a helmet. Also, you should wear closed-toed shoes. The guides will supply you with safety gear, including helmets. You should bring water as well.
Depending on your needs, you can choose from a wide variety of dune buggy safaris in Dubai. Some are more elaborate than others, and include a Bedouin camp, a BBQ dinner, and more. The price of the safari will vary, and the duration of the ride will also vary. If you don't want to spend a lot of money on the safari, choose a shorter one.
If you're unsure of the terrain or have never driven on the dunes before, a guide can give you some tips on how to get the most out of the experience. You'll also receive safety instructions and tips on how to avoid accidents.
Insurance
Dune buggy insurance is a must-have for every traveler to Dubai. It will cover damages to your dune buggy and medical expenses. Accidents can happen to anyone, so it is important to wear protective equipment when riding a dune buggy. It can also save your eyes from the sand, which can damage them.
You can purchase insurance for your dune buggy through your local independent agent. It is very affordable and will save you money in case of an accident. In addition, it will protect you from lawsuit costs. In addition, dune buggy insurance covers a variety of different dune buggy risks, so having it will give you peace of mind.
Regardless of the size of your vehicle, you should wear protective gear like eyewear and gloves. Sand can ruin your clothes and eyes, and it can be very dangerous. That is why you should wear safety gear, including goggles and a helmet. While your first instinct may be to not wear safety equipment, it is crucial to wear the proper gear.
Tours that Includes
Dune Buggy Dubai