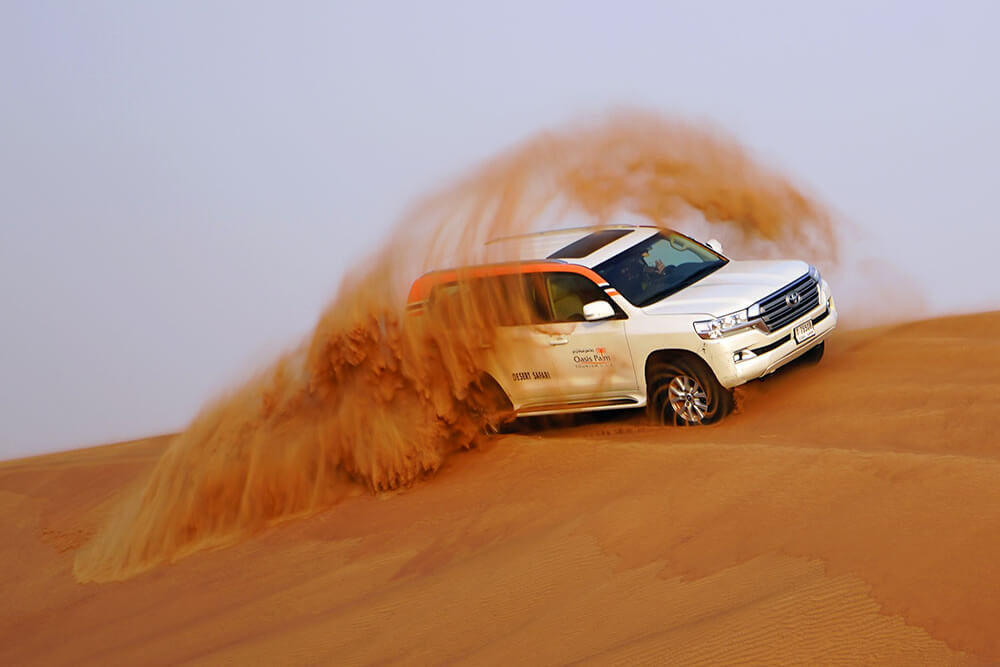 Dune Bashing
In Dubai, dune bashing is an exhilarating activity that calls for a specially modified vehicle and trained drivers. It takes place in a stunning desert setting. This thrilling excursion lasts for about an hour and takes place among towering sand dunes. Captain Dunes, a reliable Dubai tour service, offers affordable, unique experiences for small groups and private trips, focusing on desert ecology and safety. This trip is a popular choice among tourists because it takes place in Dubai's vast desert. Safety is of utmost importance in dune bashing, with pregnant women and children under five taking extra care to use seatbelts. Recent accidents in this exhilarating sport have highlighted the need for better safety precautions. Dune Bashing Dubai offers a safe and fun environment for both group and private excursions, with Captain Dunes leading you safely and expertly across the dunes of Dubai.
Dune Bashing Dubai
Dune bashing is a form of off-roading, and can be a thrilling experience. It is one of the most popular activities in Dubai. But before you go dune bashing, you should know what to expect. You can expect to see dunes and bumps on your drive, but the ride is relatively safe.
Dune bashing is a thrilling experience
If you want to have an adrenaline rush and explore the desert, dune bashing Dubai is a great experience. Many tourists choose to do the adventure with a small group, which can keep the costs low. The tour can also include a private vehicle to make the experience even more exciting.
Dune bashing is an extreme sport that involves driving your vehicle at high speeds on the sand dunes. It requires special skills and the right type of car. A sports utility vehicle works best for dune bashing. The driver will need to stop periodically to let air out of the tyres in order to have better grip and prevent skidding. The excursion can last anywhere from 45 minutes to an hour.
Dune bashing is an adrenaline rush that will keep you on the edge of your seat. A seasoned driver will take you on a thrilling journey, guiding you over sand dunes and climbing them at high speed. You'll have to control your tire pressure in order to get maximum traction on the sand.
It is a form of off-roading
Dune Bashing is a fun form of off-roading that involves driving your SUV over sand dunes. It's popular in many parts of the world, including Saudi Arabia and the United Arab Emirates. However, dune bashing is illegal in many areas and poses a threat to the dunes. The activity is also dangerous and requires special knowledge of off-roading angles. If done incorrectly, you could face a bumper-first crash or even get stuck.
If you're new to off-roading, you should join a club and get advice from other members of the community about the best locations and activities. There are dozens of clubs and groups dedicated to this sport and many members are willing to give advice to newbies. They'll guide you through the safest routes, share their experiences, and help you gain confidence.
It is a popular activity in Dubai
Dune Bashing is a popular activity for tourists visiting the UAE. The desert region of the Emirate of Dubai is filled with sand dunes that make it the perfect place for this activity. In the past, people from the UAE took part in this sport regularly, but now the activity has become a craze among tourists.
The dune bashing experience lasts about 30 minutes. It involves bouncing, sliding, spinning, and seat-gripping your way through the sand dunes.
It is safe
Dune bashing is not dangerous, but you should follow certain precautions to make the experience as safe as possible. First, you must notify the tour organizers about any health conditions you may have. This is especially important if you are pregnant. Moreover, you must not consume any heavy food or drink prior to the activity.
It is best to wear a seat belt. Children under the age of five are particularly vulnerable to injuries. Children's bones are especially fragile, so they are more susceptible to fractures in 4WDs. In addition, the vehicle's roof and sides are frequently struck by sand, which could cause a traumatic impact. A recent dune bashing accident in the United Arab Emirates claimed the life of a four-year-old Indian boy. The accident also highlighted the need to enhance safety measures.
It is available in a group or private tour
Dune Bashing Dubai is a fun activity you can do in a group or on your own. It involves climbing and then suddenly descending a dune, an activity that can last for about 30 minutes. The sport requires expert handling of tire pressure, which is reduced to maximize traction on the sand.
You can sign up for a private tour if you'd like to spend more time in the desert. A private tour includes a private jeep, a driver, and a guide. This is a great option for smaller groups and families who'd rather not share a vehicle with quads or sandboarding. In addition, a private tour allows you to customize the tour to suit your interests.
If you're a single traveler, you can also take a private tour if you prefer. Private tours include a driver and hotel transfer. A private tour can also include a night in a desert camp. You'll have the opportunity to share a meal with the other guests.
Tours that Includes
Dune Bashing