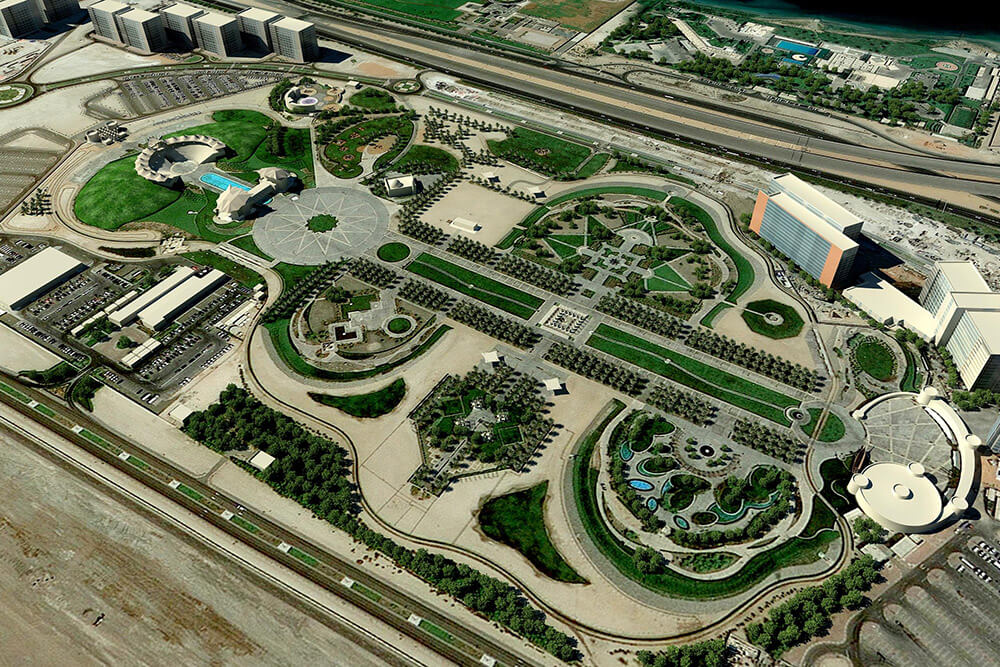 Khalifa Park
Khalifa Park in Abu Dhabi offers a variety of activities for all ages, including open ropeways, supervised wall climbing, a splash park, a museum, and an aquarium. The Time Tunnel, an interactive trip through Abu Dhabi's history, can accommodate up to 3,200 visitors. The Khalifa Park Museum showcases dioramas of traditional desert living and natural resource research. A variety of books and magazines are available at the lushly green Khalifa Park Library. Storytelling sessions and celebrations of important UAE anniversaries are also held there. The Sheikh Zayed Bridge, an architectural masterpiece by Zaha Hadid, creates a stunning visual spectacle with its dramatic lights and exquisite design. The Sheikh Zayed Mosque, the largest mosque in the UAE, is a stunning example of Islamic architecture. Booking a trip with Captain Dunes will guarantee a great time while experiencing the best of Abu Dhabi.
Khalifa Park
The various recreations at Khalifa Park are sure to delight the young ones. For instance, they will enjoy riding open ropeways. Another popular attraction for kids is wall climbing, which they can enjoy under the guidance of trained instructors. There is also a museum, an aquarium, and a splash park.
Time Tunnel
The Time Tunnel in Khalifa Park in Abu Dhabi is a fun way to travel back in time and see Abu Dhabi through the ages. It is an interactive, multi-level attraction with a capacity of 3200 people. Once inside, the experience is enhanced with an audio tour guide.
Visitors to the Time Tunnel experience can travel back in time by entering it with the right costumes and accessories. It is an exciting adventure for all ages. You'll never forget the time you spent in this time-travel attraction. Once inside, you'll find a variety of exhibits relating to history and world events. You'll also enjoy the interactive displays.
Museum
When visiting Dubai, it's important to spend some time outdoors. Despite the arid climate, the city offers an abundance of greenery, with parks and landscaped areas to take advantage of. The foliage in the city rivals that found in more temperate climates. One of the top parks in Dubai is Khalifa Park.
Visitors to Khalifa Park can enjoy a variety of exhibits including a large aquarium. The museum is easy to navigate, and features diorama-style exhibits that depict traditional desert life and the exploration of natural resources.
Splash Park
The Khalifa Park Splash Park is located in the Khalifa Park area of Abu Dhabi. It offers seven different water-based attractions to delight children. It is open three to seven pm weekdays and 10 am to 7 pm on weekends.
The splash park has several water-based attractions, including the giant tipping bucket and a shallow pool. It also has four small waterslides and a crawl tunnel. Other fun water-based attractions include water guns, umbrellas, and a water wheel.
Library
Located in lush greenery, Khalifa Park Library boasts a massive collection of books in a wide variety of genres. The collection includes both general and specialized books, as well as a significant number of rare and scientific journals. The library also hosts a variety of events, including storytelling sessions and events marking UAE milestones.
The library is open to the public and does not require an entrance fee. In addition to the academic collection, the library also houses a large collection of periodicals. The collection is divided into two sections: adults and children. The adult section has approximately 30,000 books, while the children's section holds 1,948 books.
Sheikh Zayed Bridge
The Sheikh Zayed Bridge in Dubai's Khalifa Park is a spectacular example of architecture. Designed by Zaha Hadid, the bridge is known for its dramatic lighting and intricate construction. Unlike many bridges, this one is not a freestanding structure. Rather, it is a suspension bridge that spans between two towers.
The Sheikh Zayed Bridge is an 845-meter-long structure that connects the city to the main highways of the United Arab Emirates. The bridge is 68-meter wide and features a 10-lane roadway. It is an iconic landmark of the United Arab Emirates. Designed by Zaha Hadid, the bridge's flowing arches are designed to withstand peak accelerations of 0.1g.
Sheikh Zayed Mosque
The Sheikh Zayed Mosque in Abu Dhabi, the capital of the United Arab Emirates, is a place where Muslims come to pray daily. It is the largest mosque in the country and a key place of worship for the local Muslim population. It is located within the city's Khalifa Park and is easily accessible.
Whether you're a Muslim or not, this mosque is a beautiful and impressive piece of architecture. It was constructed as part of a mega project and is a stunning example of Islamic devotion. It is a must-see attraction while you're in Abu Dhabi.
Tours that Includes
Khalifa Park