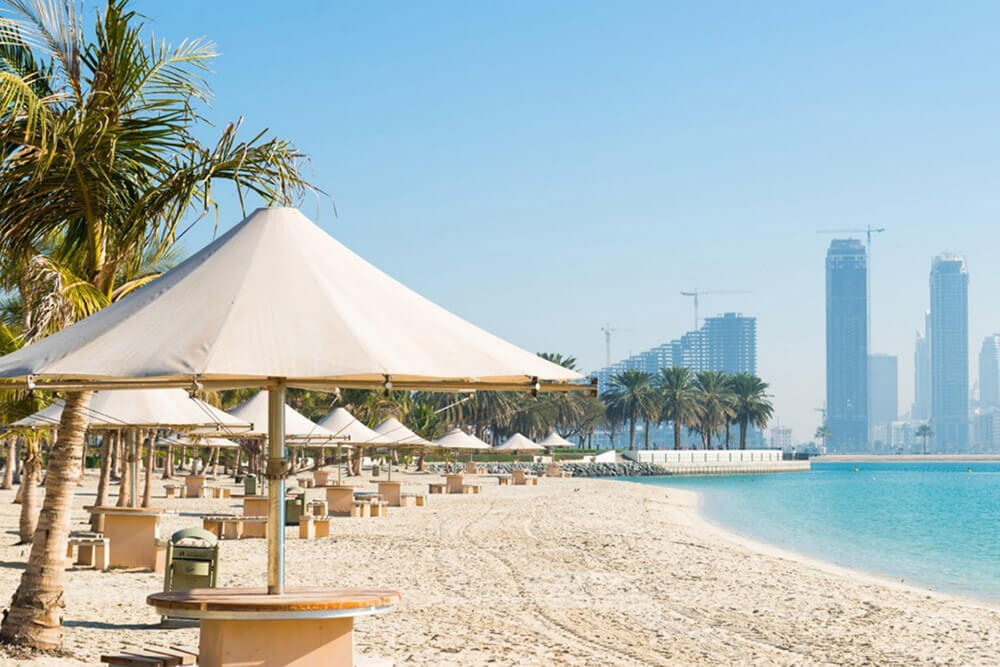 Al Mamzar Beach
Al Mamzar Beach Dubai, a 106-hectare beachside paradise, is a smart park with five beautiful beaches and high-tech security features. It offers a variety of activities, including rental cabins, swimming pools, children's activities, and bicycles. The area is conveniently located just 6.5 kilometers from the Al Qiyadah metro station and offers a variety of activities, including jet skiing, swimming pools, and a restaurant. The park is close to Century Mall and offers free swimming for kids under 6. Two of Dubai's beach parks are women-only zones, open to female tourists on Mondays and Wednesdays. These parks offer swimming areas, water sports equipment, lifeguard-supervised pools, and ample parking. Children under the age of four are not permitted. When planning a trip to visit these breathtaking beaches, it is highly recommended that you use Captain Dunes, a service that is reliable and excellent.
Al Mamzar Beach Dubai
Located on the west coast of Deira, Al Mamzar Beach Park offers five beautiful pristine beaches. As one of the first smart parks in Dubai, the park features intelligent gates, smart bracelets and lifeguards. With over 106 hectares of pristine beachfront, Al Mamzar Beach Parkis the ideal place to spend a day or weekend.
Al Quiadah
The beautiful Al Quiadah Beach park offers cabin rentals, swimming pools, children's games and bicycle hire. The area is surrounded by lush gardens and is a great place to spend your family vacation. For more activities, you can visit the beach park restaurant.
The park has four pristine beaches with lifeguards, water sports, playgrounds, and an amphitheater for music events. It also has ample parking. There are also air-conditioned bungalows for rent. The park is located 6.5 km from Al Qiyadah metro station.
Al Mamzar Beach Park
Al Mamzar Beach Park is an outdoor park that offers cabin rentals, a swimming pool, a restaurant, and many other activities. Bicycle hire is also available. Children can play on the playground or rent a bicycle for the day. The park also has several swimming pools and children's activities.
Al Mamzar Beach Park is located near Century Mall. There are bus stops near the park for easy access. The park is open from 8am to 10pm daily. Children under the age of six years old can swim for free.
Jet skis
Enjoy the thrill of a jet ski ride at Al Mamzar Beach in Dubai. This serene beach is bordered by a beautiful blue lagoon. This beach is perfect for a short day trip or picnic with the family. The beach is also an excellent place to rent a jet ski and explore the lagoon.
You can rent a jet ski at Al Mamzar Beach. The ride will last about an hour and is available for two people. You will have to present a valid Emirates ID to participate in the activity. It is not required to be a pilot, but you must have the ability to swim or tread water. Guests under 18 years must be accompanied by an adult. While jet skiing is an exciting activity, it is important to understand that there are risks involved.
Pool
The Pool at Al Mamzar Beach is a great place for families. This beach park is surrounded by five beaches and features a large swimming pool. There are changing rooms, shade areas and lifeguards on duty. The pool is open nine to five from Monday to Sunday.
Al Mamzar Beach Park is located in Dubai. It features five separate beaches and supervised children's play areas. You can swim, play volleyball or enjoy the kids' playground. There are also public barbecues and grassy picnic areas.
Cabanas
Al Mamzar Beach Cabanas are a great way to have privacy while at the beach. Al Mamzar has 15 chalets that are available for rent, and each one is equipped with a full kitchen, a TV, and folding chairs. The park has free WiFi and prayer rooms as well.
The park has plenty of activities for kids, and has a skateboard park, and toilets. It is a great place to bring the whole family, as the park is open seven days a week from 8am to 10pm. You can also find a variety of food options at Al Mamzar Beach Park.
Ladies' days
Two of Dubai's beach parks have recently reopened as ladies-only parks. On Mondays and Wednesdays, the parks are closed to male visitors, but women are welcome to enjoy themselves there. There are female officials present on those days who will provide supervision and assistance. However, the beach parks are not open to children under four years of age.
The park is equipped with a swimming area and water sports facilities. There is also a swimming pool with lifeguards on duty from 9.00am until 8pm. The park also has ample parking for beachgoers.
Tours that Includes
Al Mamzar Beach