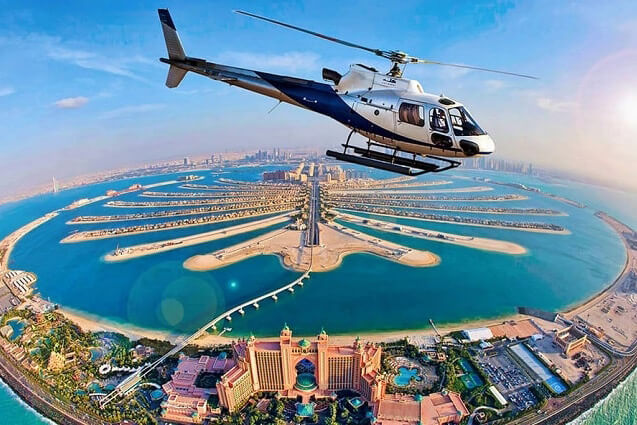 Helicopter Tour Dubai
Consider the time of day before booking a helicopter tour in Dubai; noon is ideal for unimpeded views. Avoid trips in the early morning due to haze, and be aware that last-minute appointments may need to be changed or canceled due to bad weather. Tour durations range from 12 to 40 minutes, with longer ones offering a more in-depth experience. Captain Dunes offers reliable Dubai tours using Eurocopter AS350 B3 helicopters. They offer stunning views of Dubai's skyline from HeliDubai Jumeirah Heliport, located in the heart of the city. According to certification from the Government of Dubai's Department of Tourism and Commerce Marketing, Captain Dunes offers full-service travel management for both business and leisure travelers. They specialize in customizing tour packages and activities for visitors to the United Arab Emirates, which makes them the ideal choice for an unforgettable trip to Dubai.
A Comprehensive Guide To The Best Helicopter Ride Dubai
Let's look at some key factors you should take into consideration before choosing one of our recommendations for the best helicopter flights in Dubai. Even though most helicopter ride Dubai excursions in Dubai are entertaining and exhilarating, they are expensive and call for some study before you decide which one you want to book. Here are some things to think about before making a reservation for a helicopter tour in Dubai.
An exciting helicopter trip above the gorgeous Dubai skyline, passing some of the city's most recognizable sites, and making lifelong memories. That sounds intriguing. Great! We have the ideal solution for you. Introducing our comprehensive guide to helicopter tour Dubai. Enjoy the mystery and romance of flying through the skies of Dubai while enjoying the magnificent sights that are accessible.
A Helicopter Tour in Dubai gives you a perspective of the city unlike anything else, from the recognizable Burj Khalifa, which is there in all of its spectacular magnificence, to the beautiful Palm Jumeirah. You can make this once-in-a-lifetime adventure even better by inviting your family or friends along. Helicopter excursions are undoubtedly a must-do tourism activity in Dubai. Now that you are aware of all the benefits, allow us to assist you in choosing the top one.
Day and Time Of Helicopter Ride Dubai
The time of day you have scheduled your tickets for has a significant impact on the quality of your helicopter tour Dubai experience. Call it sand, pollution, or a lack of vegetation, but Dubai is frequently shrouded in a fine haze that can reduce visibility. Since the haze/dust is said to be at its lowest density in the middle of the day, we advise doing your helicopter tours of Dubai then. A relatively clear view of the Dubai skyline is also available during early morning tour times; nevertheless, you should avoid these times because of poor vision.
Climate
Before making a reservation for your helicopter Dubai tours, you should also take the weather into account. If you're purchasing last-minute tickets, take into account the possibility of your trip being canceled or rescheduled due to inclement weather, including thunderstorms and dust storms.
Helicopter Ride Dubai Length
Each trip has a set length, which can range from 12 minutes to 40 minutes, as you can see in our list of the top helicopter tours in Dubai. Consider how long you want to spend in the air when you get aerial sightseeing tickets in Dubai. Although a lengthier tour will cost extra, we advise choosing it. The problem is that most city tours by helicopter are singular experiences. Therefore, a longer tour will give you the chance to enjoy the rush of flying for a longer time.
Choose A Reliable Tour Operator
Last, but the most crucial element is the operator you pick for your helicopter trips. The operator must earn your complete trust; this is where Headout comes in. Our Dubai helicopter excursions are planne by the most reputable and dependable company in the area, so you can always feel comfortable.
The Helicopter
You will travel on a Eurocopter AS350 B3 for your helicopter tour of Dubai. Modern helicopters, such as the course-deviation indicator by Garmin, Global Positioning System receiver, Automatic Flight Control System (AFCS), and First Limit Indicator (FLI), which help boost aircraft safety. The Bell 407 GX has a maximum seating capacity of 6, a range of 411 miles, and top-flight speeds of 160 mph.
The Heliport
The HeliDubai Jumeirah Heliport will be where your helicopter tour Dubai will depart from (Dubai Police Academy). The heliport is conveniently located in the center of the city, adjacent to all of the main city attractions, and is easily accessible from anywhere in the city.
Final Note
The Department of Tourism and Commerce Marketing (DTCM) of the Government of Dubai has authorized Captain Dunes, a destination management organization with offices in the United Arab Emirates.
We provide the best travel management services to both B2B and B2C clients. Through the years, we swiftly established a reputation as one of the top destination management firms in Dubai because of our great travel knowledge and professionalism. Through a team of skilled, effective employees, Captain Dunes has travel expertise handling holiday packages all across the United Arab Emirates, hotel reservations, simple visa procedures, and tours and excursions. We are a one-stop travel shop that makes it simple to design one-of-a-kind trip itineraries and activities.
Tours that Includes
Helicopter Tour Dubai