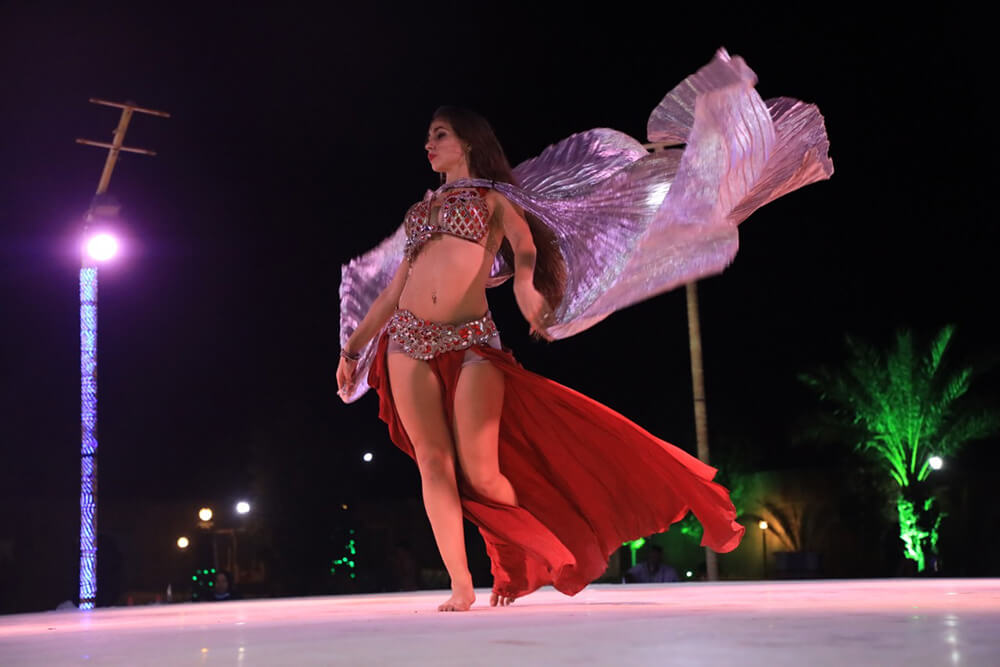 Belly Dance Desert Safari
The Belly Dance Desert Safari in Dubai is a fascinating cultural immersion experience in the heart of the desert. Activities like Sandboarding, camel rides, and dune bashing await adventure seekers on this trip. Other activities include henna tattoos, a Tanoura dance performance, and a lavish buffet meal in a desert. Sandboarding is an exhilarating pastime for the entire family, showcasing stunning desert scenery. Captain Dunes has been providing tourists with unforgettable desert safari adventures for years. They pride themselves on providing memorable experiences for their customers, including camel rides, henna tattoos, barbeques, and belly dance performances. Tanoura dance, a beautiful manifestation of old culture and spirituality, is also performed for visitors. It's convenient for passengers that all of Captain Dunes' excursions begin at hotels. Don't miss your chance to go on a desert safari with Captain Dunes, one of Abu Dhabi's top tour companies.Bottom of Form
Belly Dance Desert Safari
The Belly Dance Desert Safari is a unique cultural experience. This tour includes dune bashing, camel rides, and a Tanoura dance show. This tour is not for the faint of heart. However, if you do plan to attend the show, be prepared to stand in line. The main course is servedbuffet-style and you may have to wait a while to get to the front of the line.
Tour includes dune bashing
There are a number of different desert safari tours you can choose from. Some of the most popular include dune bashing and quad biking, which are both great ways to explore the desert. Other tours are more leisurely and offer more activities like camel riding and sandboarding.
For those interested in adrenalin-filled fun, you might also want to try dune bashing in Dubai. You'll get the thrill of driving a quad over the sand dunes. These trips are great for photograph opportunities and can be a great way to experience Dubai's desert beauty.
Another desert safari tour includes dune bashing, which is a thrilling activity that includes quad bikes and camels. You'll get to ride on some of the world's largest sand dunes, and will get a close look at the desert's wildlife. You'll also get the opportunity to experience henna painting and belly dancing, as well as indulge in a sumptuous buffet dinner at a desert camp. Afterward, you'll be dropped off at your hotel in Dubai.
Sandboarding
If you're looking for a fun activity for the whole family, then you'll probably enjoy sandboarding on the Belly Dance Desert Safari. You'll get to experience g-forces pulling you in all directions and that weightless feeling when you're over the dune. The ride will last about 20 minutes and will stop periodically for fun in the sand and a selfie.
The Belly Dance Desert Safari is a must-do for any thrill-seeking tourist in Dubai. This safari features camel riding, dune bashing, henna painting, sandboarding, a belly dancing show, and unlimited soft drinks and shisha smoking.
Camels
There are a number of reasons why you might want to take a camel ride on a Belly Dance Desert Safari. First of all, these gentle creatures are gorgeous to look at. They look especially gorgeous grazing in a herd. In addition, camel rides provide you with the chance to get up close and personal with these majestic animals.
A desert safari in Dubai is a fun experience that combines nature with adrenaline. The tour includes a camel ride, sand art, henna tattoos, a star-lit barbecue dinner and a hypnotic belly dance show.
Tanoura dance show
If you have never seen the famous Tanoura dance, this is the right place to start. The dance is an ancient form of entertainment and depicts the vibrant culture of Egypt. In this performance, dancers acknowledge God and the beauty of nature through music and dance. The dancers also wear colorful costumes that are sure to captivate audiences. The dance combines ancient music with modern techniques, and is sure to inspire nature believers and those who simply appreciate the beauty of simplicity.
You should not miss this Tanoura dance show when you are in the UAE. This traditional dance is a spiritual celebration and aims to achieve inner spiritual purity. The dancers are said to be in a trance-like state while performing. It's not uncommon for them to spin for as long as 30 minutes without feeling dizzy or shaky. During your Desert Safari tour, you'll have the opportunity to witness this fascinating dance.
BBQ dinner
The Belly Dance Desert Safari is one of the best desert safaris in Abu Dhabi. It starts at 2.45 pm from your hotel, and features cultural shows and a BBQ dinner. In the evening, you'll be treated to an Arabian belly dance performance and Tannura dance, as well as an opportunity to dance and listen to traditional Gulf music.
Your trip will begin with a henna tattoo and sand art, then continue to the red dunes for a spectacular belly dancing show. Your evening will end at an enchanting bedouin-style Desert camp with a barbecue dinner and live entertainment.
Tours that Includes
Belly Dance Desert Safari