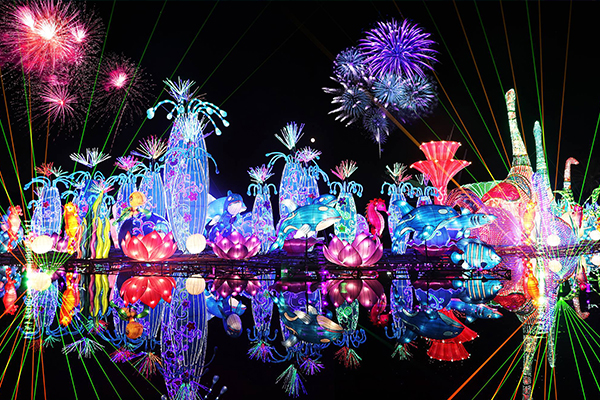 Dubai Garden Glow
Dubai Garden Glow is an extraordinary and captivating attraction with four distinct themes that guarantee a once-in-a-lifetime experience. There is an impressive display of human ingenuity in Glow Park's handmade lights. The Dinosaur Park, in contrast, has over 120 realistically recreated dinosaurs from three different periods, ensuring that visitors of all ages will be thoroughly enthralled. Nature's splendor and artistic skill are on display at the Ice Park in the form of beautiful ice sculptures of wild animals. Magic Park features 25 exhibitions and 3D artworks that blend art and science, creating an eco-friendly paradise brimming with themes of joy, culture, values, and beliefs. Captain Dunes is renowned for providing exceptional tour services in Dubai, making customers' visits to Dubai Garden Glow unforgettable. Their dedication to excellent service has made it a must-see attraction for all city visitors.
Dubai Garden Glow
Looking for a place to have some fun and escape the mundane? Look no further than Dubai Garden Glow! This one-of-a-kind theme park offers four different themes to delight and amaze you. With sparkling colors and unforgettable art, Garden GlowDubai is sure to create a thousand reasons for joy and happiness. So come on down and explore today!
Dubai Garden Glow overview
Glow Park has been constitute manually and fabricated with handmade lights.
The unique Environment Friendly models are artfully constructed and originated with a beauty that create everlasting imprints in the minds of its viewers.
Dinosaur park overview
Dinosaur Park is the perfect place to take your kids to see some amazing prehistoric creatures. With over 120 animatronic dinosaurs, they'll be able to experience the dawn of the dinosaurs through the three periods – Triassic, Jurassic and Cretaceous. Plus, they'll get to see these creatures move and roar which is sure to capture their imaginations.
Ice park overview
Come to Ice Park, where you can see amazing sculptures of wild animals made out of ice! It's the perfect place to appreciate the beauty and majesty of nature's creatures. You'll be amazed at the skill and artistry on display here.
Magic park overview
Come explore the Magic Park, where art and science come together in surprising ways. With over 25 fun exhibits and 3D artworks, there's something for everyone to enjoy. Experience visual illusions like never before at this one-of-a-kind attraction.
Art park overview
Eco-friendly Art Park provides a perfect setting for Dubai Garden Glow to showcase its imaginative and distinctive creations. The park's different areas seamlessly stitch together the various notes of happiness, culture, values and beliefs, creating a paradise of all colors of life. Visit the official website of Garden Glow for more details.