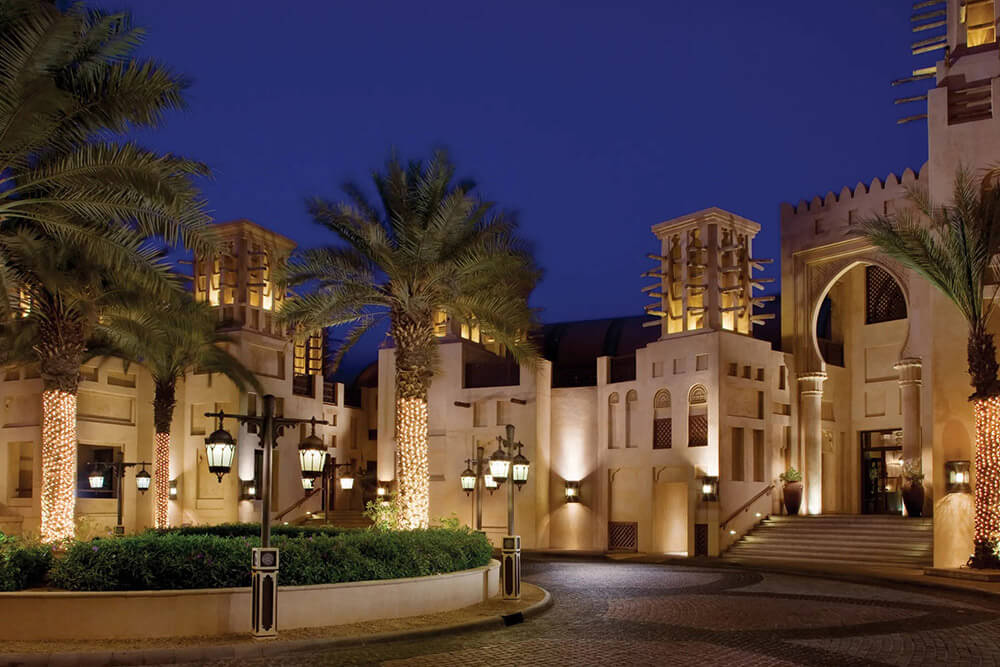 Souk Madinat Jumeirah
Souk Madinat Jumeirah is a bustling city with a variety of restaurants, including beachfront Pierchic, Mediterranean cuisines like Trattoria Toscana, and Latin American sounds like Trader's Vic. A peaceful outdoor dining spot, the Boardwalk serves Greek, Italian, and American food. The wooden-roofed arcade of Souk Madinat Jumeirah also houses an outdoor shopping center, which transforms into a lively bazaar during the day. Beautiful palm-fringed waterways and gardens surround the area, which has a unique mix of high-end clothing boutiques, home goods stores, gift shops, and fine dining establishments. Visitors can purchase jewelry, perfume, authentic Arabic clothing, and souvenirs along the narrow streets of a classic Arab souk. Cruise down Dubai Creek for a stunning view of Burj Al Arab and other famous buildings. With public transportation and man-made canals, Dubai is easily accessible. To see the city, Captain Dunes is a reliable tour company.
Do you want to know about the Souk Madinat Jumeirah?
Souk Madinat Jumeirah should be on your itinerary if you want to see a local bazaar in Dubai. This area is filled with shops and eateries. It's hidden behind a wooden-roofed arcade. You may take a boat trip here as well. Consider eating at a restaurant in the Souk Madinat Jumeirah if you're seeking for the ultimate culinary adventure in the Dubai desert. The cuisine available at this souk ranges from casual American fare to foreign fare, catering to a variety of preferences. The restaurants of the Souk are open every day from 8 am to 11 night, and many of them also feature live music.
Arabian charm can be seen at Souk Madinat Jumeirah at every turn. For instance, Al Makan offers mouthwatering regional cuisine and a front-row seat to the magnificent Burj Al Arab.
As an alternative, consider dining at Pierchic, which has a waterfront location. Try Trattoria Toscana if Mediterranean flavors are your thing. At Trader's Vic, you may also listen to live Latin American music. As an alternative, you might want to check out the Boardwalk, which has eateries that provide a tranquil outside eating experience. The boardwalk is 500 square metres in size and includes restaurants that specialise in Greek, Italian, and American fare. It also has a sizable patio outside with inviting lounge chairs.
Shopping
A restaurant and market are available at Souk Madinat Jumeirah, an outdoor retail complex. It's hidden behind a wooden-roofed arcade. The bazaar is crowded during the day with shoppers looking for a wide range of goods and mementos.
Boutique brands and traditional Middle Eastern marketplaces are mixed together at the Souk Madinat Jumeirah. It showcases luxury fashion products, clothing store brands, household products, souvenir gift shops and fancy restaurants. The neighbourhood is bordered by gorgeous palm-fringed rivers and magnificent gardens. There are several dining establishments and pubs as well, which make for an enjoyable evening out.
The souk is based on the conventional souks seen in the Arab world. Stores are tucked away in little lanes and are brimming with trinkets and interesting goods. Shops with everything from jewellery to fragrances are available to peruse. Also, there are specialty shops where you may purchase Arabic apparel, presents, and mementos.
Boat ride
At Souk Madinat Jumeirah, taking a boat ride is a singular experience in Dubai. The boats float by the ancient Arabian building on the blue ocean. Several of the structures incorporate wind cooling towers for ventilation and cooling. Even the Burj al Arab, the most opulent hotel in the world, is visible.
A massive collection of hotels, eateries, and a bustling bazaar make up Madinat Jumeirah. The region is bordered by 3 km of man-made canals and was created to reflect the essence of ancient Arabia. Visitors and locals may enjoy abra rides on these boats, which enable them to admire the classic Arabian building while also witnessing the more contemporary architecture of the Burj al Arab.
Both locals and visitors enjoy spending time along the waterfront. The Souk provides a variety of restaurants and bars in addition to a tranquil setting and lovely landscape. More than 24 restaurants providing foreign food can be found in the Souk, which is also home to a range of delicious meals.
Public transportation options
There are several public transportation choices in Souk Madinat Jumeirah for individuals who are staying in Dubai. The Souk, which is close to the beach, the Wild Wadi water park, and the Mall of Emirates, has a number of luxurious hotels. In addition, there are a lot of eateries and bars in the souk, including the well-known Honyaki Japanese restaurant and Barzar, which also holds live music.
The Souk Madinat Jumeirah has contemporary eateries, hip boutiques, and gift shops, giving it the appearance of an authentic Arabian bazaar. With the recognisable Burj Al Arab in the distance, it is flanked by palm trees and rivers. Public transit is essential, especially on weekends when parking might be difficult.
There are plenty of buses, taxis, and water taxis available in the neighborhood. To go to the Souk, guests of surrounding hotels can use a free water taxi. You may also go to the Mall of the Emirates via the Dubai Metro. You could also take a cab to get to the Souk, depending on your travel preferences and financial situation.
Verdict
Madinat Jumeirah is one of Dubai's most appealing creations. It is a modern rendition of a typical Arab hamlet, replete with a souq (market), palm-fringed rivers, and hotels and villas painted in shades of the desert and adorned with wind towers. When the gardens are beautifully lit at night and the Burj Al Arab shines in the distance, it is exceptionally beautiful. There are beautiful features everywhere, so if you notice a set of stairs, take it. You can end yourself on a secret terrace with a breathtaking view of the vast complex.
Tours that Includes
Souk Madinat Jumeirah