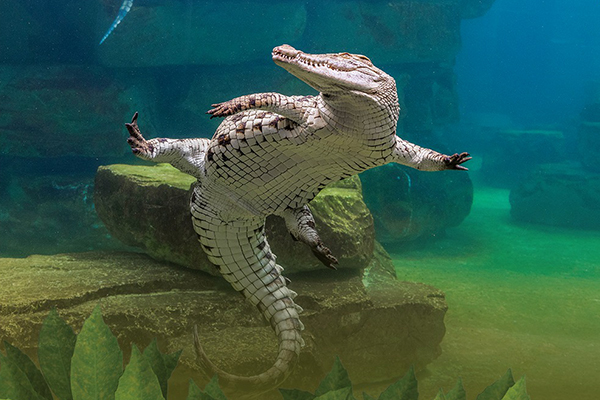 Dubai Crocodile Park
Dubai Crocodile Park is a hidden gem in the city's thriving metropolis, offering a unique adventure for nature lovers, families, and explorers to see crocodiles in their native environment. The park is dedicated to environmental awareness, preservation, and sustainability and has become a major tourist destination since its opening in 2017. Visitors can experience the reptiles' native habitats through well-crafted cages, insightful programs, exclusive excursions, and feeding demonstrations. The park also promotes environmental responsibility and actively engages in breeding efforts. To ensure a wonderful visit, visitors should check the park's website for ticket rates and hours, arrive early to avoid crowds, dress properly, and drink plenty of water. Captain Dunes, a well-known tour operator, provides custom packages for a stress-free vacation, ensuring guests have unique experiences. The Dubai Crocodile Park is more than just a tourist attraction; it's an educational and inspiring expedition into the fascinating world of crocodiles.
WONDERS OF DUBAI CROCODILE PARK
The Dubai Crocodile Park is a hidden park in the center of Dubai's colorful environment that offers a once-in-a-lifetime experience. Naturalists, families, and explorers of all regions find this incredible site irresistible, as it provides a once-in-a-lifetime chance to see crocodiles in their natural habitat. Visitors to the Dubai Crocodile Park will be taken on an exciting adventure into the fascinating realm of these regal and ancient reptiles. The park provides a rare chance to see nature in the middle of a bustling city because of its dedication to teaching, conserving, and green practices. The Dubai Crocodile Park is an unforgettable experience for everybody, whether a person is a die-hard animal lover, an inquisitive tourist, or a curious family. Don't pass up the opportunity to see crocodiles and their amazing habitat in this stunning oasis in the middle of Dubai.
A Glimpse into Dubai Crocodile Park
The Birth of an Iconic Attraction
The Dubai Crocodile Park first welcomed visitors in 2017. It is one of several tourist attractions in Dubai. Since then, it has been well-known for its dedication to educating tourists about these incredible reptiles while also delivering an exciting and risk-free experience.
Location And Accessibility
The park's central location in Dubai makes it convenient for visitors from all across the city to visit. The perfect blend of natural beauty and cutting-edge technology can be found at this prime location.
The Crocodile Kingdom
A Breathtaking Diversity of Crocodile Species
The incredible diversity of crocodile species seen at Dubai Crocodile Park each have their own unique traits. Nile crocodiles, American alligators, and the mysterious Black Caiman are just some of the reptiles that visitors may gawk at.
The crocodile enclosures
The park's cages are precisely crafted to seem like the environments in which these marvelous reptiles would naturally thrive. Visitors can appreciate and marvel at the crocodile's world because of this level of detail.
The Dubai Crocodile Park Experience
Educational Programs
The Dubai Crocodile Park is more than honestly an area to visit; it is also a aid for studying. They host instructional occasions to get people thinking about crocodiles and how to protect them. Visitors of every age can also participate in fingers-on reveals and exhibit-associated sports.
Behind-the-Scenes Tours
Visitors may choose to head in the back of-the-scenes to examine extra about the crocodiles and the conservation measures being taken to guard them. The park's activities can handiest be seen on those exclusive journeys, and traffic may additionally communicate with crocodile professionals.
Feeding Demonstrations
The feeding demonstrations at Dubai Crocodile Park are a highlight of every visit. Spectators are left in amazement at those dramatic contests, which highlight the energy and agility of these historic carnivores.
The Park's Commitment to Conservation
Breeding Programs
The Crocodile Park is devoted to the upkeep of many crocodile species thru participation in breeding projects. The park's determination to conservation is creating a massive effect on efforts to shield these majestic animals across the world.
Sustainable Practices
The park operates with a dedication to environmental responsibility at its center. Waste control, strength performance, and protecting herbal regions are all included in this category of movements.
Entry Timings
Check the park's internet site for the most up-to-date entry prices and operating hours earlier than making the ride. Guests may choose from some of price tag applications on the Dubai Crocodile Park.
Amenities and Facilities
The park offers a variety of services, such as gift stores, dining, and picnic sites. The comfort and satisfaction of the guests are guaranteed by these amenities.
Tips for a Memorable Visit
Visitors to Crocodile Park should get there early to beat the crowds, dress in layers so they can cool off when it gets hot, and bring plenty of water to drink, especially in the summer.
Captain Dunes: Gateway to Adventure
About Captain Dunes
Captain Dunes is the premier tour operator for individuals who want to see the Crocodile Park in style and comfort. Captain Dunes, a reputable tour operator, provides customized itineraries that include visits to the park and luxurious amenities.
 Tailored Experiences
Captain Dunes provides individualized service with a variety of packages that might include everything from transportation to tours to Dubai's crocodile park.
Customer Reviews
Customers who have gone on trips with Captain Dunes have nothing but praise for the company. The Dubai Crocodile Park shares a vision with them of providing amazing experiences for its guests, and they are dedicate to making sure their guests have the time of their lives. Visit the official website for more details.