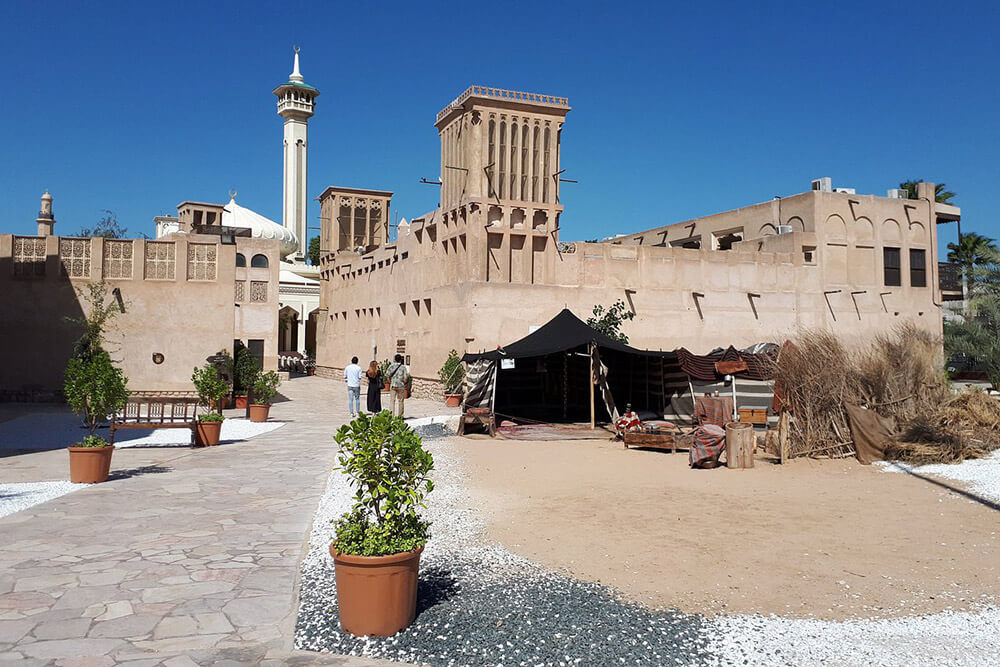 Al Fahidi
Dubai's historic district of Al Fahidi offers a variety of fascinating sights and experiences, including the 18th-century Fort, the Dubai Museum, and the Sheikh Saeed Al Maktoum House. The Sheikh Mohammed Centre for Cultural Understanding educates visitors about the diverse religions and cultures that make up the United Arab Emirates, while the Textile Souk and Diving Villages feature colorful pashminas and mud-hut replicas. Iftar dinners during Ramadan offer traditional Emirati cuisine, while the Al Khayma Heritage Restaurant & Cafe offers traditional cuisine in a charming courtyard. Coin collectors should visit the Al Fahidi Coins Museum, which displays 470 different coins and provides extensive information. The Arabian Tea House offers authentic Arabic brunches, salads, barbecue, biryani, and Machboos, with turquoise seats, white rattan chairs, and over 150 tea varieties. Captain Dunes is an established tour company that provides exciting opportunities to learn about Dubai's history and culture firsthand.
Al Fahidi Attractions
Al Fahidi is a residential area of Dubai that's known for its history. It's home to the 18th century Fort, which now houses the Dubai Museum's exhibit on pearl diving. The nearby Sheikh Saeed Al Maktoum House is a former royal residence that has displays of old photos.Other attractions in Al Fahidi include Diving Villages, which feature replica mud huts. In addition, there's the Textile Souk, where you can find handicrafts and colorful pashminas.
Sheikh Mohammed Centre for Cultural Understanding
The Sheikh Mohammed Centre for Cultural Understanding in Al-Fahidi is an educational organization dedicated to promoting Emirati traditions and culture. The centre provides various educational programs that help people learn about different religions and cultures. Besides that, the centre also helps people improve their religious awareness.
The Sheikh Mohammed Centre for Cultural Understanding is a non-profit organisation that promotes the culture and traditions of the Emirati people. It also runs cultural awareness programs and teaching lectures. The centre also holds regular Ramadan Iftar parties and provides visitors with traditional Emirati cuisine.
The Sheikh Mohammed Centre for Cultural Understanding is located in the historic Al Fahidi neighbourhood. The centre is housed in a restored wind tower house and offers a range of cultural activities. The centre also offers guided tours to some of the city's historic sites. It is also home to the only mosque in the UAE that is open to non-Muslims.
Al Khayma Heritage Restaurant & Cafe
The cuisine at Al Fahidi Heritage Restaurant and Cafe is authentically Emirati, and the setting is reminiscent of a traditional courtyard. Tables are set on thatched palms and lanterns hang from the walls. A wide range of food is served and the staff offers free walking tours to guests. The restaurant also offers an extensive breakfast menu. Guests can choose from a wide range of dishes, and the generous portions are sure to please any taste buds.
The cafe is located in the Al Fahidi historical neighborhood, which was formerly known as Al Bastakiya. The area is home to the Ruler's Court Mosque, a beautiful fort, and a quaint collection of old residential houses. Some of these have been converted into cafes and art galleries. Al Fahidi is also home to the Dubai Museum.
Coins Museum
The Al Fahidi Coins Museum is situated in Al Bastakiya, a historical neighbourhood in Dubai. It exhibits 470 different types of coins. Visitors can inspect the coins up close using magnifying glass screens. These screens also provide detailed information about each coin, including the minting date, shape, and the words and pictures that were composed on it.
The Coins Museum in Dubai is a must visit for coin enthusiasts. The exhibits are one-of-a-kind and are sure to amaze you. This museum was converted into a museum in 2004. It comprises two stories and is built from coral, stone, mortar, teakwood, and palm tree leaves.
Arabian Tea House
Located in the historical area of Al Fahidi, Arabian Tea House Restaurant offers traditional Emirati food and culture. Guests can sample an Arabic breakfast, salads and barbeque. The restaurant also offers Arabic Biryani and Machboos, as well as Arabic coffee.
One of the most popular tourist attractions in Dubai is the Arabian Tea House. There are several branches throughout the city, and one of the oldest is in the Al Fahidi Historical Neighborhood. It is decorated with turquoise benches and white rattan chairs. The cafe also offers an outdoor terrace, with white canopies draping over the tables.
In addition to traditional Arabic food, the restaurant also serves healthy, delicious salads and sandwiches. In addition, it features an impressive selection of Arabic tea. There are over 150 types of tea to choose from, including a house blend of black tea and herbs.
Tours that Includes
Al Fahidi