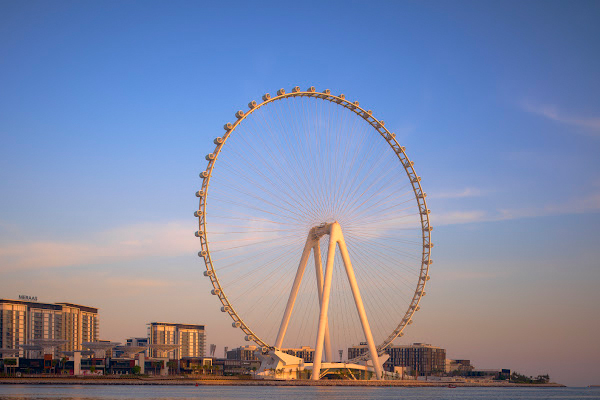 Ain Dubai
Ain Dubai, the highest observation wheel in the world, is a symbol of Dubai's commitment to architectural innovation and perfection. From the top of the 250-meter-tall structures on Bluewaters Island, visitors can take in breathtaking panoramas of the surrounding city. Ain Dubai is a symbol of Dubai's ambitions to become a major tourist hub and business center. It has a reputation for having eye-catching attractions thanks to its assortment of restaurants, live music, and captivating performances, as well as a wheel lit up at night by LEDs. Captain Dunes, a reputable travel service in Dubai, provides exciting excursions. Ain Dubai is an iconic landmark that represents the creative spirit behind Dubai's architecture and entertainment industry, and it is a must-see for anyone visiting the city. Book a tour with Captain Dunes to explore Dubai's attractions in style and comfort.
AIN DUBAI: THE WORLD'S HIGHEST 360-DEGREE VIEW WHEEL
Ain Dubai is one of the most distinctive structures in Dubai, a city known for its modern-day buildings and revolutionary construction initiatives. This majestic construction will astound visitors to the man-made marvel that is Bluewaters Island. The Ain Dubai universe, with all its breathtaking peaks, revolutionary structure, and ancient significance. Interesting new points of interest, eating places, nightlife. Captivating midnight lighting, additionally makes itself a shining attraction site in the Dubai skyline.
Ain Dubai and its location
Incredible Buildings within the Bluewater Island
One of the most famous emblems in Dubai is Ain Dubai, prior was known by the name of "The Dubai Eye". Located on the man-made island of Bluewaters, which is a quick distance from the shorelines of Jumeirah Beach Residence (JBR), this shape is certain to leave travelers in awe.
Dubai's host island, Bluewaters Island, is an architectural surprise in and of itself. Because there may be an avenue and a pedestrian bridge that join this island to the mainland, it is a well-liked place for consuming, buying, and sightseeing. Bluewaters Island is a tremendous location to spend the day since it, like Ain Dubai, has many one-of-a-kind points of interest to see.
Ain Dubai Record
Reaching Unprecedented Heights: 250 Meters of Wonder
The Ain Dubai observation wheel is 250 meters (820 feet) tall, making it the best in the world. This superb feat of engineering has strengthened Dubai's recognition as a city that pushes the boundaries of architectural perfection. The views of the city and its environment from Ain Dubai's statement deck are exceptional and breathtaking.
Breaking facts and creating memories
Dubai's exceptional prominence not only invites visitors from everywhere around the globe but also encourages locals to see their city in a new light. It is a symbol of Dubai's willpower to push the boundaries of city-making plans.
Layout and engineering features of Ain Dubai
Intricate Hub-and-Spoke System: Precision in Motion
The structure and engineering of Dubai are extremely good examples of human creativity. The wheel has a complicated hub and spoke design to provide reliable movement. This format guarantees the safety and comfort of passengers, especially during the heavy winds that now and then hit Dubai.
Built to resist nature's fury
Because of its perseverance in bad weather, Ain Dubai has grown to be an icon for the city of Dubai. It can stand up to heavy winds and harsh temperatures because of its robust shape and materials, giving operators and travelers peace of mind.
Significance of the Construction of Ain Dubai
A Monumental Feat of Engineering
The completion of Ain Dubai became a watershed moment in the evolution of architecture. It took years of cautious planning and execution, with massive elements being constructed and hoisted into roles, to complete this task. Ain Dubai represents more than the bodily beauty of the city; it additionally represents the city's dedication to innovation and internationalization.
Ain Dubai symbolizes Dubai's unyielding dedication to development. It's evidence of the town's capacity to make lofty plans a fact. Ain Dubai is more than just a global file in peak; it is also a symbol of Dubai's ambition to grow to be a major international destination for tourism, leisure, and innovation.
Entertainment and dining options at Ain Dubai
Elevated Dining: Culinary Delights in the Sky
Dubai has a huge variety of restaurants and nightlife venues to make everyone's trip more memorable. As a person visits dizzying heights, stop in at one of the many eating places and bars housed within the observation wheel for a chunk to devour. Ain-Dubai is a paradise for foodies because it provides a wide variety of eating places serving everything from rapid meals to haute delicacies.
Entertainment Beyond the Horizon
Ain Dubai is home to more than just restaurants, but Visitors can also have a one-of-a-kind night full of unforgettable experiences, including stay songs and interactive well-known shows. The observation wheel is more than just a vacationer enchantment; it can additionally host activities and offer a one-of-a-kind setting for them.
Ain Dubai Illuminate at Night and it is a Visual Attraction
A Dazzling Nighttime Spectacle
At dusk, Dubai's Ain gets a panoramic makeover. The outside is decked out with cutting-edge LED lighting fixtures that illuminate the wheel in a kaleidoscope of colors and designs. This nightly show, which may be seen from a long way away, has turned out to be an icon of Dubai's power and inventiveness, drawing in crowds of viewers and photographers each day.
A Radiant Beacon in the Skyline
The metropolis's lights at night demonstrate Dubai's commitment to generating aesthetically captivating activities. Whether an individual is looking at it up close from the statement wheel or from a far, this gleaming landmark inside the Dubai skyline is a sight to behold.
Captain Dunes: Gateway to Luxurious Tours
Explore the greater Dubai with Captain Dunes earlier than or after your journey to this attraction. Captain Dunes is a prestigious travel agency that gives interesting tours, including wilderness safaris and city sightseeing journeys.
Conclusion
In sum, Ain Dubai is a superb new tourist attraction in Dubai's dynamic skyline. Tourists and locals alike will want to check out this landmark due to its extraordinary peak, contemporary structure, and beautiful vistas. Ain gives an incredible revel that embodies Dubai's spirit of ambition and grandeur with its beautiful lighting at night. Plan a journey to this well-known Ferris wheel and get a new perspective on the limitless opportunities in Dubai. Visit the official website for more details.