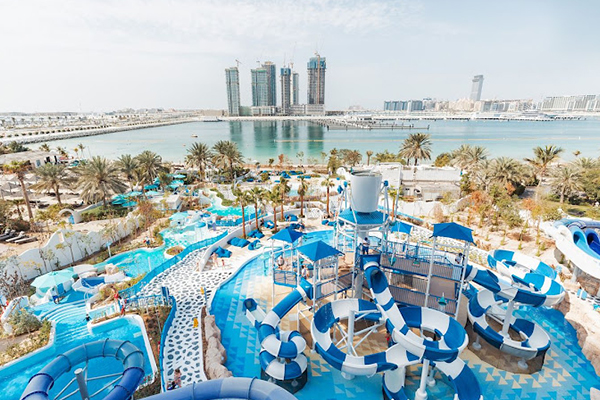 Jungle Bay Waterpark Dubai
Jungle Bay Waterpark Dubai is a unique underwater wonderland that combines desert and paradise. With 25,000 square meters of land, it offers a variety of rides and activities, including Ocean Waves, a wave pool, a River, Hydro Slides, and a Kids' Playground. Captain Dunes Tours provides exceptional transportation and special packages, including entry and a delicious meal. There are also several restaurants and snack shops in the park that serve a variety of foods, tropical drinks, and small bites. Ticket options include general visits, VIP passes, and family packages, with special rates for large groups. To maximize the experience, guests should arrive early, apply sunblock, dress properly, store items in lockers, and arrange meals in advance. The park's central location in Dubai makes it easily accessible via taxi, public transit, or hotel shuttles. With Captain Dunes' expertise and first-rate assistance, a visit to Dubai's Jungle Bay Waterpark is a memorable experience.
JUNGLE BAY WATERPARK DUBAI: YOUR PASSPORT TO AQUATIC PARADISE
Jungle Bay Waterpark in Dubai is a magical place where the desert meets paradise. If individuals are looking for an aquatic adventure in the middle of Dubai's beautiful dunes, go to Jungle Bay Waterpark Dubai. This tropical paradise has everything one could want, from heart-pounding thrills to peaceful calm. For a safe and comfortable journey, Captain Dunes is the ideal partner. Visitors should prepare their swimsuits because their desert fantasies are about to become a mesmerizing reality at Jungle Bay Waterpark in Dubai.
An oasis in the desert
Jungle Bay Waterpark Dubai is an incredible display of human creativity, despite its location in the middle of Dubai's desert. This waterpark is an astonishing 25,000 square meters in size, and it takes guests to a breathtaking tropical paradise. The vast foliage, swaying palm trees, and pristine sandy shoreline will make them feel like they've stepped into a genuine jungle paradise the moment they walk inside.
Rides & Attractions: Family-Friendly Thrills
All ages and aquatic interests are catered to at Dubai's Jungle Bay Waterpark. Indulge in some much-needed rest at these fantastic destinations.
Swimmers and those just looking for some peace on the beach may both enjoy the thrill of the giant wave pool that simulates the ocean's ebb and flow. Powerful waves and mild currents create a true beach-like ambiance in the wave pool at Jungle Bay Waterpark, making for an unforgettable experience. Everyone who visits this site will have a fantastic experience, whether they want to surf the waves or just chill out on the beach.
Relax under the warm Dubai sun as they float peacefully down the Lazy River, which winds through beautiful tropical surroundings. If one is searching for a place to relax and let the current sweep them away, go no farther than the lazy river at Jungle Bay Waterpark. They may float about while taking in the beautiful surroundings and tranquil atmosphere of the park. It's quite peaceful, so visitors will come out of it feeling revitalized.
Joy to the world, adrenaline junkies! Water slides at this park are certain to get pulse racing, and they all end in a refreshing pool. Visitors will feel like they're flying when they plummet from the top of the slides at breakneck speeds. These water slides are certain to give an exciting experience for everybody, thrill seeker or not.
Young explorers may have fun in safety at the designated children's play area, which contains kid-sized slides, splash pads, and other exciting water attractions. The water play area is constructed to keep youngsters safe as they splash about and have a good time. With its vibrant colors and engaging features, it inspires hours of creative water play.
Adventures to the Exciting Jungle Bay Waterpark
Captain Dunes is the best tour company to choose if one wants to see Dubai's Jungle Bay Waterpark in style and comfort. Their journey through this underwater wonderland will be nothing short of extraordinary with Captain Dunes, who is known for providing a premium and exquisite experience. Whenever visitors hire Captain Dunes, they may count on them to do the following:
High-Class Transportation
Transportation to and from the waterpark will be provided in air-conditioned comfort while their safety and convenience are prioritized.
Visitors may upgrade their time at Captain Dunes with one of their special packages, which includes park entrance, gourmet lunch choices, and more. Captain Dunes has knowledgeable guides that can help visitors get the most out of their time at the waterpark.
Delicious Variety of Food and Drink
Visitors can satisfy their cravings at one of the several restaurants in Dubai's Jungle Bay Waterpark after a day of water fun with their exotic cuisines, tropical beverages, or fast bites in this paradise.
Take a load off at one of the coastal eateries serving up anything from burgers to salads while taking in the breathtaking scenery.
Places to Drink in the Tropics
Relax poolside with a tropical drink while taking in the park's serene ambiance and vivid hues.
Enjoy delicious meals and a touch of elegance at the waterpark's fine dining facilities.
Ticket Prices and Details
Get familiar with the admissions policies and prices at Jungle Bay Waterpark before go out on excursion. The normal ticket to the waterpark provides access to all of the rides and attractions.
To enjoy a more exclusive event with amenities like reserved seats and free drinks, get a VIP ticket.
Packages are available for families to ensure that everyone, from babies to grandparents, has a fantastic time.
Discounts for Larger Groups
There are group discounts also available, so if visitors want more discount they should  must ask inquire for the group discounts.
Children and elders get discounts, making Jungle Bay Waterpark Dubai an economical family outing.
Adventure Planning Advice
Here are some insider suggestions to make the most of their time at Dubai's Jungle Bay Waterpark:
Get there early to avoid the crowds and make the most of their time at the park. This will result in less waiting time and a more comfortable environment.
The sun in Dubai may be quite powerful. Applying sunscreen, wearing hats, and protecting eyes from UV radiation should be top priorities.
Choose practical swimwear and carry shoes fit for walking the park's trails.
Lock up belongings in the lockers provided so visitors can focus on having fun at the water park.
To plan meals, visitors should perusing the available restaurants and avoiding the busiest times of the day.
Location and Availability
The location of Dubai's Jungle Bay Waterpark, which is in the heart of the city, is a major selling point for the attraction. It's easy to get to the park from anywhere in Dubai, whether visitors are staying at a nearby hotel or just wandering out into the city.
Visitors can take a cab from just about anywhere and get to the waterpark in a matter of minutes.
The waterpark in Dubai is easily accessible via the city's extensive public transportation network, which includes buses and the metro.
Transportation Services for Hotels
Conveniently, several nearby hotels provide shuttle services to and from the waterpark.