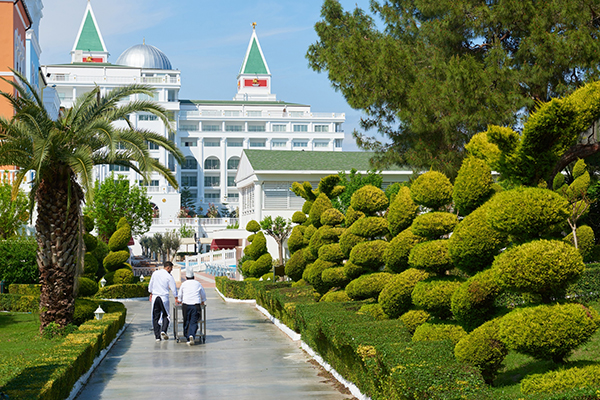 Mushrif Park
Mushrif Park, a 300-hectare oasis in Dubai, boasts 70,000 Ghaf trees and native birds. It also features the International Village, a charming attraction with scale models of global buildings. The park comprises the International Village, with scale models of global buildings, and Aventura Parks, offering rope walks and zip lines for thrill-seekers. Astronomy fans will love the Al Thuraya Astronomy Centre's planetarium, astronomy gallery, and largest telescope. Mushrif Park offers two indoor pools open from 9:00 a.m. to 9:00 p.m. for visitors to cool down during the day. This is a perfect spot for picnics, learning about local history, adventures, stargazing, or relaxation after a long day. If you want to make the most of your time at Mushrif Park, hire Captain Dunes, who is known for being the best tour service provider in the area and you can experience unforgettable natural wonders with their knowledge and dedication.
Mushrif Park
Welcome to Mushrif Park, one of Dubai's oldest and most beloved parks. This 300-hectare oasis is home to 70,000 Ghaf trees and countless local birds. In addition to its natural beauty, the park features an International Village, an astronomy center, and barbecue facilities. Whether you're looking to relax in nature or explore man-made attractions, Park has something for everyone. Thank you for visiting!
Lay out the picnic spread
If you're looking for a fun and unique way to spend time with your family and friends, why not go on a picnic? Park is the perfect place to enjoy the beautiful outdoors while enjoying some delicious food and drinks. There are plenty of picnic tables and benches to choose from, as well as barbecue pits for grilling.
Explore the International Village At Mushrif Park
Come explore the international village, where you can find miniature replicas of traditional houses from all around the world. This is your chance to see what a German Hausbarn, a traditional Thai floating house, and an English Tudor house look like up close. With 13 different houses to choose from, there's something for everyone at Mushrif Park!
Explore Aventura Parks At Mushrif Park
If you are looking for some challenge and adventure, then Aventura is the perfect place for you. Situated in Mushrif Park and surrounded by a natural Ghaf tree forest, this ultimate family adventure park is perfect for outdoor enthusiasts. With heart-racing rope walks and tree-surfing zip lines, there's something for everyone to enjoy. So come on down and experience the thrill of Aventura today!
Visit the Al Thuraya Astronomy Centre
Park is home to the Al Thuraya Astronomy Centre, a must-visit for anyone interested in astronomy or curious to learn about the celestial bodies. The centre includes a Planetarium, Astro Gallery, and an exhibition of science-related games, making it the perfect place to explore everything related to the world of astronomy. Make the experience unforgettable by ensuring you stop by at the huge telescope, the largest of its kind in the region.
Go for a Swim At Mushrif Park
Looking for a refreshing way to cool off? Take a dip in one of the two enclosed swimming pools at the Park. One pool is for women and the other is for men, both open from 9:00 am to 9:00 pm.