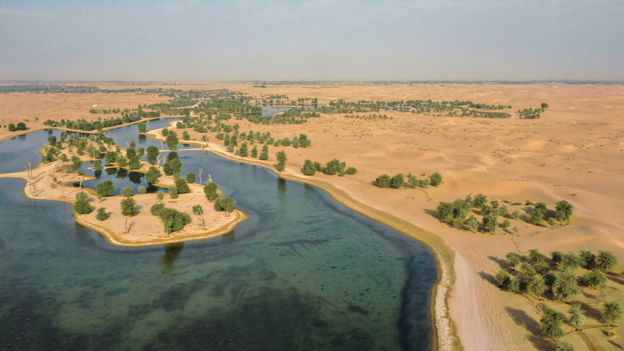 Al Qudra Lake
Al Qudra Lake, situated in the Al Qudra Desert, offers a serene escape from the city's hustle and bustle. The lake is designed to provide guests with a taste of the outdoors, offering activities such as bird watching, cycling, eating, dog walking, and exploring natural dunes and artificial lakes. The ecosystem is home to various species of steppe eagles, mammals, and birds, such as black swans, flamingos, Steppe Eagles, and even the odd gazelle, rabbit, or fox. The low light pollution in Al Qudra makes it an ideal location to see the stars. The camping area, surrounded by enchanting sand dunes, is ideal for peaceful camping experiences. Captain Dunes, a trusted tour operator, ensures a memorable experience with knowledgeable guides and well-organized trips in Al Qudra. They offer activities like riding dunes, bird watching, and camping under the stars.
Al Qudra Lake Dubai
Al Qudra Lake is a popular spot for campers and BBQ lovers in Dubai. This part of the Al Qudra Desert has been developed to allow travelers to experience the wilderness, calm, and serenity of the desert. The desert comprises a bunch of enjoyable activities such as cycling,dining, dog walking, and bird watching. You'll find each lake has towers for bird watching, in addition to this, you can witness breathtaking sunsets and sunrises with a waterfront view. Bear in mind to explore the famous Love Lake near the entrance. You can see the giant red heart shape fenced with red flowers in the garden which is absolutely admiring.
If you're looking for a natural oasis away from the hustle and bustle of city life, Al Qudra Lake is the perfect place for you. This man-made desert lake is surrounded by beautiful artificial lakes, dunes, and wildlife, making it a great destination for eco-tourism. In recent years, the lake has become increasingly popular with tourists looking to experience the unspoiled beauty of Dubai's desert landscape. With its wonderful climate and low light pollution, it's also a great spot for stargazing and nature lovers. So pack your bags and head to Al Qudra Lake for an unforgettable experience in Dubai!
Visit the Love Lake
Welcome to Love Lake, a place of natural beauty and romance. This stunning spot consists of two lakes joined together in the shape of two interwoven hearts, and is home to a variety of plant and animal life. Love Lake is one of the most popular romantic places in Dubai, and is perfect for taking Instagram-worthy photos. So come and explore all this magical place has to offer!
Explore the Local Fauna
Al Qudra Desert is home to a wealth of indigenous bird species and wildlife. The man-made attraction provides a natural habitat for many animals, making it a perfect destination for wildlife enthusiasts. Visitors can expect to see black swans, ducks, flamingos, Steppe Eagles, and many other beautiful migratory birds. Additionally, gazelles, rabbits, and foxes can sometimes be spotted roaming free around the area. Enjoy an amazing wildlife excursion tour with your family and friends today.
Enjoy Cycling
There's no better way to see the sand dunes of Dubai than from the seat of a bicycle. Al Qudra is one of the best places to go for a ride, with an 86km trail that winds through the desert. You can rent a bike from the cycling workshop and start your trip at Al Qudra lake. There are two starting points: the first is from the Al Qudra cycling Car Park in the Mira Oasis and the second is from the Seih Al Salam Teck Bicycle Shop. No matter which route you take, you're sure to have an enjoyable and memorable experience.
Pitch up a tent and camp the night away
Al Qudra Lakes camping ground is the perfect place to enjoy a peaceful barbecue or stargaze with friends and family. The artificial lakes are surrounded by stunning sand dunes, making it the perfect spot for an outdoor adventure. make sure to come prepared with all the necessary equipment for a fun and safe experience. You won't want to miss out on the great BBQ and campfire experience at Al Qudra Lakes!
Catch the sunset over the man-made desert oasis
If you're looking for a breathtaking escape from the hustle and bustle of everyday life, look no further than Al Qudra. This man-made desert oasis is the perfect place to reconnect with nature's beauty and enjoy some peace and quiet with your loved ones.
One of the best spots in Al Qudra is situated away from the busy highways and high-rise buildings. Here you can snap some stunning pictures of the beautiful landscape and witness an incredible sunset over the golden sand dunes. And at night, you can spend time stargazing as the sky shimmers like diamonds. For anyone who appreciates a colorful sky, Al Qudra is a must-visit destination. So what are you waiting for? Come experience all that this amazing place has to offer!