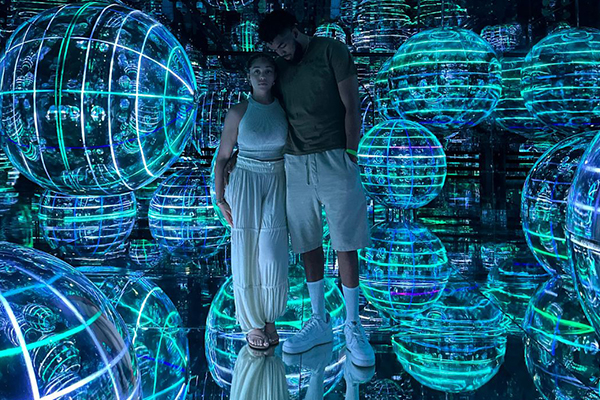 Aya Universe
Aya Universe Dubai is a first-of-its-kind cosmic adventure in Dubai. It has fun space exhibits, astronaut training simulators, heavenly food, educational events, and space-themed souvenirs for people of all ages. The main attraction is the astronomy exhibits, which include simulators that train astronauts for weightlessness and G-forces. The restaurant offers heavenly food in stunning space-themed surroundings, while hands-on activities and gift shops provide a unique experience. Captain Dunes offers a Dubai tour package featuring Aya Universe Dubai entry and a deluxe desert safari, offering easy transportation and early access. Aya Universe Dubai is open from 10 a.m. to 10 p.m. daily and offers booking prices to accommodate different financial constraints. The attraction is dedicated to safety and accessibility, welcoming customers with impairments. To enjoy the experience, tickets should be purchased in advance; visitors should arrive early, drink enough water, and have a camera or phone to record their unforgettable experiences.
AYA UNIVERSE DUBAI
Aya Universe Dubai is the newest feat of engineering and design to come out of Dubai, a city known for its lavishness and innovative ideas. Located in the middle of this magnificent city, and guarantees its guests an otherworldly adventure. It is more than just another tourist attraction; it's a journey through the cosmos. AyaUniverse Dubai is a unique experience for people of all ages thanks to its fascinating space exhibitions, exciting space simulator rides, delicious heavenly dining experiences, informative educational events, and unique souvenirs. If you're looking for a genuinely luxurious and hassle-free cosmic journey that blends the wonder of Aya Universe Dubai with the undeniable charm of Dubai's desert, go no further than Captain Dunes' unique package. This collaboration ensures you'll have an adventure that will have you staring at the stars long after you've returned home.
The Portal to the Cosmos
In addition to being a popular tourist destination, Aya Universe Dubai also serves as a gateway to the cosmos. Right in the middle of everything, this unearthly attraction represents Dubai's persistent dedication to pushing the envelope of what may be expected from a tourist or entertainment destination. When a visitor step into AyaUniverse, they'll be transported to a parallel universe where you may experience stunning cosmic landscapes, complex space reproductions, and a wide range of activities designed to make you feel as though you're an actual astronaut.
The Entire Aya Universe in Dubai
It is an immersive adventure that integrates learning with fun and awe-inspiring spectacle. Here's a little peek at what's in store for you:
Astronomical Displays
The celestial presentations are the beating center of Aya Universe Dubai. Guests are taken on a captivating tour of the cosmos, complete with life-like reproductions of planets, stars, and galaxies. These shows provide comprehensive schooling while making the universe seem more handy.
Astronaut Training Simulators At Aya Universe
Aya Universe Dubai offers contemporary area simulator rides, so buckle up for an interesting revel in. You'll experience the feeling of weightlessness, G-forces, and the immensity of area, all whilst on this kind of ride designed to make you experience like you are in reality in space. Get ready for an intergalactic adrenaline blast.
Heavenly Cuisine
Aya Universe Dubai offers a whole lot of eateries with a space motif, taking diners' revelations to new heights. Enjoy a meal of worldwide delicacies at the same time as enjoyable in a dazzling space-themed setting. It's a risk to experience high-quality dining under the night sky.
Academic Coursework
It presents several lessons and seminars for people interested in mastering more about the cosmos. Explore the cosmos, decipher the secrets and techniques of celebrities, and learn more approximately the universe through interactive sports.
Gift Shops At Aya Universe
Be sure to stop by the gift stores at Aya-Universe Dubai before you leave this out-of-this-world attraction. They carry a wide variety of apparel, toys, and memorabilia with a space theme, so you may take a piece of your cosmic adventure home with you.
A Link to Captain Dunes
The premier tour company in Dubai, Captain Dunes, has put together a special package that includes a visit to the incredible Aya Universe Dubai as well as a sumptuous desert safari. This comprehensive offer features:
Transportation
Your trip to and from Aya Universe will be relaxing and trouble-free thanks to Captain Dunes. Their well-orchestrated conveyance ensures a trouble-free descent from orbit.
Priority Entry
Captain Dunes offers exclusive entry to Aya Universe Dubai. This will allow you to make the most of your intergalactic experience by avoiding long lines and enjoying early access to all attractions.
Your interplanetary adventure concludes with a desert safari led by Captain Dunes. Here, you may relax in style while exploring the beautiful dunes of Dubai's desert.
For visitors to Dubai who want to combine the cosmic grandeur with the natural magnificence of the Dubai desert, Captain Dunes is the obvious option.
Time and Location Of Aya Universe
Aya Universe Dubai's central location makes it convenient for visitors from everywhere in the city to visit. You'll have plenty of time to learn about the stars and planets since the attraction is open every day from 10 a.m. to 10 p.m.
Entry and Cost
Aya Universe Dubai offers a range of ticket pricing to suit a variety of budgets and tastes. Tickets for general entry start at AED 150, while VIP packages with exclusive perks may be purchased for AED 250. Children and elders are eligible for discounts. The venue sells tickets both in advance and at the door.
Accessibility
All tourists are welcome at Aya Universe Dubai since the attraction is dedicated to diversity and accessibility. Careful planning ensures that guests with disabilities will be able to enjoy the celestial adventure.
Security Precautions
At Aya Universe Dubai, guest security is a top priority. Regular cleaning, personal space separation, and mask use are just a few of the health and safety measures used to ensure everyone's safety at the attraction.
Advice for a Perfect Trip
Booking in Advance
You may avoid waiting in line and ensure your desired viewing time by purchasing tickets in advance.
Be There Early
If you want to enjoy every feature of Aya-Universe Dubai, especially during peak hours, it's best to be there early.
Water up regularly!
Due to the high temperatures, it is important to drink enough water when in Dubai. There are water fountains strategically positioned throughout the whole attraction.
Preserve the Moments
Bring a camera or your phone so you may record the breathtaking views and thrilling moments in space. Visit the official website for more details.