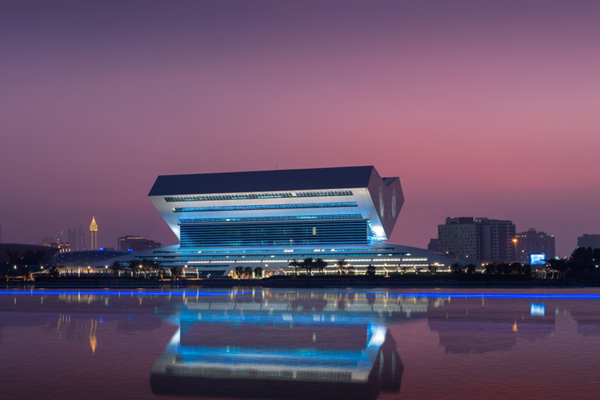 Mohammed Bin Rashid Library
The Mohammed Bin Rashid Library is a futuristic architectural masterpiece in Dubai, inspired by Arabic calligraphy. With over 4.5 million volumes, it reflects the diverse cultural and linguistic diversity of the city. The library hosts community events, art shows, and seminars and utilizes digital literature and cutting-edge capabilities to encourage creative problem-solving. It is a model of diversity and acceptance, accessible to people of all abilities. The library is constantly expanding its collection, research resources, and cultural offerings, preserving rare texts for the digital era. It collaborates with other organizations to provide scholarships and opportunities for young people's potential. The library also preserves archive materials and manuscripts, providing valuable insights into the region's past. The library promotes cultural exchange and conversation through the visual arts and social activities in Dubai. Captain Dunes, a top-tier travel agency, offers luxurious extras for tourists visiting the library and other cultural attractions.
MOHAMMED BIN RASHID LIBRARY
The Mohammed Bin Rashid Library stands as a symbol of education, diversity, and progress in the heart of Dubai. His Majesty Vice President and Prime Minister of the United Arab Emirates and Ruler of Dubai Sheikh Mohammed bin Rashid Al Maktoum recognized the transformative power of education and lifestyle, and this modern institution is a testimony to his foresight. More than just a building, the Mohammed Bin Rashid Library is a symbol of knowledge, a way of life, and progress. Its vast archives, iconic form, diverse collections, and commitment to accessibility serve as a representation of Dubai's commitment to education and intellectual growth.
Construction and Development
On February 28, 2018, the library opened to the general public for the first time. Since then, it's been a famous destination for readers and scholars. The library has a growing collection of books, manuscripts, and virtual sources to help a wide variety of studies and look at needs.
A Unique Structure
The layout of the Mohammed Bin Rashid Library is lovely. The well-known architect Wael Al Awar changed liable for the futuristic layout of the library, which was inspired by the form of an open eBook. The Arabic calligraphy on its famous front is a nod to the location's lengthy history of artistic achievement.
Various Cultural Assortments
A broad variety of themes, from history and science to literature and the arts, are represented in the library's enormous book and manuscript collection. Over 4.5 million books are available for scholars and readers to peruse.
Supporting Linguistic Diversity
The library is a celebration of the many languages and cultures that make up Dubai. It's a welcoming place for individuals of different backgrounds because of the wide range of languages spoken there.
Activities in the Arts
The Mohammed Bin Rashid Library is more than just a place to study; it also serves as a hub for the local arts community. The community is encouraged to participate in and support ongoing activities, exhibits, and workshops. The feeling of community and the desire to keep learning are both bolstered by these events.
Evolution of Technology
The Mohammed Bin Rashid Library is a digital pioneer in an age of fast technological change. It provides easy access to a wealth of knowledge in the form of digital books, journals, and databases.
Modern amenities like as computer laboratories, multimedia classrooms, and group study areas may all be found in the library. These services are geared toward academics, scientists, and business owners and they encourage original thought.
Availability and Acceptance
The mission of the Mohammed Bin Rashid Library is to make information available to everybody. It welcomes locals and visitors alike, and its membership rolls span the demographic spectrum.
To ensure that no one is disadvantaged in their quest for knowledge, the library offers a variety of services for persons with impairments. Some of the tools at our disposal for creating an accessible and inclusive educational environment include Braille materials, sign language interpreters, and user-friendly software and hardware.
Future: Constant Changes
The Mohammed Bin Rashid Library is not a fixed structure, but rather a living, breathing place that adapts to the requirements of its patrons. The library's already amazing collection is expected to grow even more shortly. The addition of new buildings, improved research facilities, and more cultural areas will provide visitors with an even more fulfilling experience.
Change in the Digital Age
The library is at the front of adopting new technologies in today's increasingly digital society. It has begun the process of digital transformation by, among other things, scanning and making available online a collection of rare manuscripts. This foresighted strategy guarantees the library's continued usefulness in the information era.
Helping Children and Youth through Education
Education is a top priority at the Mohammed Bin Rashid Library, which aspires to spark curiosity in young people and instill a lifelong love of learning. It works in tandem with educational institutions to provide supplementary programs and materials to students. These programs aim to equip the future generation with information and the ability to think critically.
The library provides financial aid in the form of scholarships and awards to students who demonstrate academic distinction. These scholarships and grants encourage students to continue their studies and participate in research in Dubai, strengthening the city's knowledge base.
Protecting History via Archival Collections and Manuscripts
Antiquity's Precious Relics
The historical records and rare manuscripts housed by the Mohammed Bin Rashid Library are among its most valuable resources. The region's history, culture, and customs may be better-understood thanks to these priceless artifacts. The library puts forth a lot of time and effort to restore and preserve these items so that they may be used by future generations.
An Attempt at Conservation
The preservation and care of fragile manuscripts and historical records is the full-time focus of skilled conservationists. The library's dedication to cultural preservation goes beyond its physical boundaries, as seen by its partnerships with foreign organizations.
The library serves as a center for the visual arts as well as the written word. The library's cultural offerings are enriched by the regular display of artwork by local and international artists.
Programs for Cultural Interaction
The library often holds events that convene international creative, authors, and thinkers to foster cross-cultural dialogue and understanding. Cultural exchange is fostered and enriched via these activities in Dubai. Visit the official website for more details.
Captain Dunes, the Premier Tour Operator in the Dubai
Captain Dunes is the best tour company to choose if a person want to see the cultural sights in Dubai. Captain Dunes is a trusted tour company that provides high-end services that are the perfect addition to a trip to the Mohammed Bin Rashid Library.