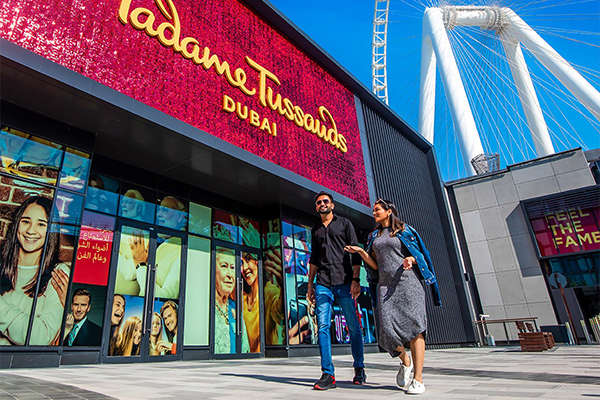 Madame Tussauds Museum
Madame Tussaud's Museums are a captivating blend of art, history, and entertainment, located in major cities worldwide. Marie Tussaud, a French wax sculptor, began her career in France in the 18th century and became a wax modeling instructor at the Palace of Versailles. She created lifelike death masks of nobility during the French Revolution. In 1802, she opened the first permanent wax museum in London, Madame Tussauds. The wax sculptures are an exacting art form, requiring extensive study, clay sculpting, casting, pouring molten wax, painting every detail, and adding real hair. The final step is giving the figures a wardrobe that reflects the subject's taste and posing them so they seem natural. Madame Tussaud Museums display wax figures ranging from contemporary celebrities to historical luminaries. Visit Captain Dunes, a luxury tour operator, for custom itineraries at Madame Tussauds, an entertaining and educational exploration of recognizable faces throughout history.
MADAME TUSSAUD'S, A MARVELOUS WAXWORK OF A FRENCH WAX SCULPTOR MARIE TUSSAUD
The world-famous Madame Tussauds Museums may be found in the centers of major cities all around the globe. Its remarkably realistic wax statues of historical people and contemporary celebrities have enthralled tourists for years. The Madame Tussauds Museum is a fascinating combination of art, history, and fun for people of all ages. Don't miss opportunity to see Madame Tussauds Museum and experience the world of historical figures and famous faces brought to life through wax.
A Glance Back in Time
Dive into Madame Tussauds's complex tapestry by learning about its fascinating 18th-century roots.
Marie Tussaud, the museum's namesake and creator, was born in Strasbourg, France, in 1761. She learned the ins and outs of wax modeling from medical expert Dr. Philippe Curtius.
Interestingly, Marie's abilities caught the eye of King Louis XVI's sister, Madame Elizabeth. She extended an invitation to Marie to teach her the craft of wax modeling at the Royal Palace of Versailles. The turmoil of the French Revolution, however, upended her life and inspired her to carve eerily realistic death masks of murdered nobles.
Marie Tussaud relocated from France to London in 1802 and opened the world's first permanent wax museum there. The now-famous Madame Tussauds Museum grew from these modest beginnings and has stayed in London ever since.
The Creativity in the Numbers
Dive into the fascinating technique used to create the astonishingly realistic wax sculptures.
The trip starts with an intensive study of the topic at hand. Images, videos, and dimensions are all carefully examined for veracity.
Professional sculptors use clay to create a likeness of the subject. The meticulous procedure of meticulously crafting the subject's appearance might take months.
The clay sculpture is use to meticulously construct a mold, which in turn serves as the basis for the wax figure.
Pouring molten wax into the mold creates a hollow wax shell that serves as the figure's framework.
Painting a human body requires painstaking effort so that artists can accurately depict the subject's skin tone, wrinkles, and other defects. Human hair is used and meticulously placed on the doll's scalp.
How to Get the Look?
The figure is dressed formally in garments that are reminiscent of the subject's sense of style.
Putting the figure in a realistic pose, complete with real-life objects and accessories, is the finishing touch.
The Fallacy of Perceived Realism
Artistic skill, careful attention to detail, and cutting-edge technology all come together to create replicas of famous people that are so realistic that visitors have trouble telling them apart.
Traveling to the World's Madame Tussauds Museum
Discover the best of both worlds at the many Madame Tussauds Museum locations throughout the world.
Originating in London, the display features lifelike wax replicas of famous people from the worlds of movies, music, sports, and history. It's a chance to rub elbows with the likes of the British aristocracy, the Avengers, and the Bard himself.
The excitement of Times Square is captured unforgettably at Madame Tussauds New York. The likes of Marilyn Monroe, Albert Einstein, and the Avengers are all on hand for visitors to meet and greet.
With interactive exhibitions and photo ops next to stars like Lady Gaga and Leonardo DiCaprio, Madame Tussauds in Las Vegas elevates the traditional wax museum experience to a whole new level.
Bangkok's Madame Tussauds features a whopping horde of wax figures of famous people from all over the world, including Angelina Jolie and King Rama IX.
What to Anticipate from Trip
One must visit Madame Tussauds Museum, where fun and learning combine, for an experience a person won't soon forget.
An Explosion of Interactivity
Madame Tussauds promotes more active participation from visitors than traditional museums. Visitors may take pictures with the wax figurines while touching, posing with, and even hugging them.
The museum's variety is on display in the wide range of celebrities it honors, from actors and singers to historical figures and athletes. Every tourist will find something that piques their attention.
Insights for the Classroom
Madame Tussauds Museum is more than just a fun place to visit; it also serves as a fascinating learning experience. The interactive displays provide new perspectives on famous figures and pivotal moments in history.
The immersive settings at many Madame Tussauds Museums allow guests to be transported to another period or region. It's not enough to just study characters; one must immerse oneself in the environments they inhabit. Visit the official website for more details.
Reliable Luxury Tour Operator, Captain Dunes
The quality of visit to Madame Tussauds Museum depends heavily on the tour company a visitor chooses. Give Captain Dunes the chance to take trip to the next level of comfort and ease. Captain Dune's trips are led by knowledgeable guides who are enthusiastic about Madame Tussauds Museum and the surrounding areas.  At Captain Dunes, one may choose from a variety of packages that can be tailored to one's specific needs. They provide a range of tours that may accommodate a variety of budgets and preferences.