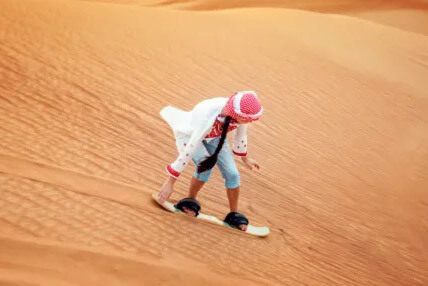 Sandboarding
Sandboarding in Dubai's deserts is thrilling. Everyone who visits the deserts of Al Faya, Al Badayer, or Lahbab can experience the thrill of sliding down steep and tall sand dunes, similar to surfing or skating on the soft desert sands. The best company to try this desert sport with is Captain Dunes, known for its reliability and excellent tour services. The Al Badayer desert, only an hour from Dubai, is home to the world-famous "Big Red Dune" and several smaller, wave-like dunes that make for an incredible sandboarding experience on any budget. Meanwhile, a camel farm and red sand dunes in the Lahbab desert offer breathtaking and panoramic views. Visitors seeking relaxation and adventure can visit the Al Faya desert, a half-hour drive from the city, with its red sands and pop-up cafés. Sandboarding in Dubai is affordable for all skill levels, with boards available in various sizes and some with snowboard binding inserts.
Sandboarding in Dubai Desert
If you're looking for some fun in the desert, Sandboarding in Dubai may be just the thing. There are many options to choose from in the Al Faya, Al Badayer, and Lahbab deserts. Read on to find out more about Sandboarding in Dubai. And don't forget to take a couple of friends!
Sandboarding in the Dubai desert
Sandboarding is a sport similar to surfing or skateboarding. It is a fun, relaxing, and safe way to experience Dubai's desert scenery. In order to enjoy this sport, you need to be a little familiar with the sport and learn the proper techniques. You can purchase sandboarding tours in Dubai that will teach you the basics.
Sandboarding works best on sand dunes that are steep and high. The idea is to stand on top of a dune and slide down. There are some differences between carving sand and carving snow, and expert sandboarders can even do backflips in the air! Other options for exploring the desert include camel riding and quad bikes.
Al Badayer desert
You can go sandboarding in the Al Badayer desert in UAE. This desert is less than an hour away from the city of Dubai. The Al Badayer area is a hidden oasis in the desert and boasts the famed "Big Red Dune" and smaller, wave-like dunes. This activity is not only fun but also inexpensive, so it's worth a visit if you're in the area.
Sandboarding is a sport that is similar to snowboarding, but requires more challenging terrain and a heavier board. This activity is best for those with an adventurous spirit and are up for warm weather. Just remember to wear sunscreen and drink plenty of water.
Lahbab desert
If you want to experience sandboarding in the desert, you can go to Dubai's Lahbab desert. This desert offers spectacular red sand dunes and 360-degree views. Before you embark on your sandboarding adventure, you can visit a camel farm to get a firsthand view of the area.
Before you go on your sandboarding excursion, you should know that sand will inevitably get into your shoes. This is not recommended for open-toed sandals. Instead, opt for closed shoes. You will also need to bring a camera or phone that is fully charged. The last thing you want to do is get stuck in the desert with no way to get your phone's reception.
Al Faya desert
If you're looking for a great adventure in the desert, Dubai's Al Faya desert is the perfect place to try sandboarding. It's about half an hour's drive away from the city and boasts red sand and plenty of places to try the sport. There are also pop-up cafes and campsites to make your stay more convenient. This desert is also great for desert safaris, and sandboarding is just one of the activities.
Al Faya is considered the world's largest contiguous sand desert, stretching almost 650,000 square kilometers. Visitors can take a jeep or a camel ride through the vast desert.
Artisan sandboard
If you want to have fun in the desert but you don't want to get a car or a four-wheel drive, you can try sandboarding. This sport is safe, and it's not as challenging as snowboarding. In addition, sand is much softer than snow, so falling is less of a risk. It's also an inexpensive sport – you can hire a sandboard for a few dollars and try it for yourself.
A flat board is a medium-performance board, which uses velcro straps to secure your feet. High-performance boards use snowboard bindings, and they cost more. A board wax helps smooth out the bottom surface. A professional sand boarder's goal is to reach maximum speed.
Semiprofessional sandboard
Sandboarding is a sport where people use a sandboard to glide over the sand dunes. These boards can vary in size. Professional sand boarders use larger boards, which are more difficult to control. In contrast, amateurs can use small and medium boards, which are easier to handle. Typically, sandboards are 115cm wide, but can be as large as 158cm. Sandboards are also available with snowboard binding inserts for better balance and speed.
The sport is safe for beginners and requires no prior experience. It is completely safe and does not require four-wheel-drives. Sandboarding also doesn't cost much. You can either buy your own sandboard, or rent one for a few dollars.
Tours that Includes
Sandboarding