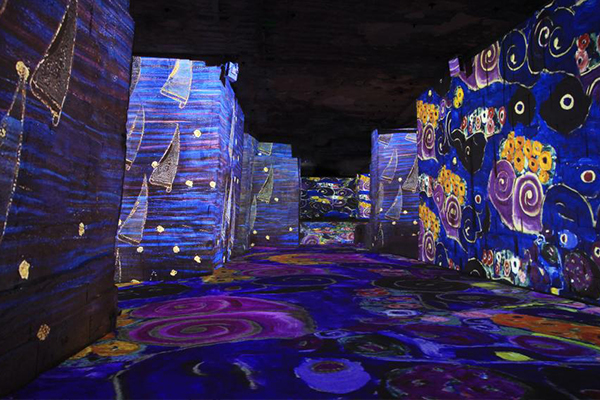 Infinity Des Lumieres
Infinity Des Lumieres is a groundbreaking digital art experience in the Middle East, blending ancient culture with modern technology. As the largest of its kind in the Gulf Cooperation Council (GCC), it explores the impact of art and technology on various levels. As a beacon of creative expression in Dubai, Infinity Des Lumieres allows visitors to discover the limitless possibilities of the digital canvas. The immersive experience transports visitors to another universe through a symphony of light and music, making it a cultural achievement of the Gulf Cooperation Council (GCC). Captain Dunes, a reliable travel agency, offers tailor-made tours to the Middle East, ensuring tourists can experience the region's stunning landscapes and storied past in style and comfort. Infinity Des Lumieres serves as a platform for encouraging artistic innovation, conversation, and mutual appreciation, showcasing the infinite potential of digital art in the Middle East.
DISCOVER THE MAGIC OF INFINITY DES LUMIERES, A PLACE WHERE CREATIVITY AND TECHNOLOGY UNITE
Infinity Des Lumieres, located in the heart of the Middle East, is a captivating digital art experience that is revolutionizing the definition of art and creativity. It's the biggest of its kind in the GCC (Gulf Cooperation Council) region, and it combines traditional art with modern technology in a way that leaves visitors speechless with amazement. Infinity Des Lumieres is more than a location; it's an out-of-this-world adventure. It exemplifies the ability of art and technology to move people emotionally, intellectually, and socially. A shining example of artistic expression in Dubai, it welcomes visitors to discover the boundless potential of the digital canvas.
Infinity of Lights
The Infinity of Lights is more than simply a gallery; it's a window into the future. It invites viewers into a fantastical realm where the actual world is transformed into a work of art. Every nook and cranny has a tale to tell, every pixel has life, and each visitor adds to the overall artistic experience.
Fundamental Creativity Meets Innovation
The spirit of invention drives Infinity Des Lumieres. Light dances and shadows tell stories and audience members become the brushstrokes in a digital painting at this venue, which expertly blends art and technology. It's a dynamic backdrop that pushes artistic limits in new directions.
The Fascinating Occurrence of Virtual Utopia
More than just an exhibition, Infinity Des Lumieres is an all-encompassing sensory feast. The instant you step inside, you'll be surrounded by a kaleidoscope of colors, noises, and emotions. It's a magical spectacle that transports you to another world via the interplay of light and music.
Artistic Paradise in the Heart of Middle East Civilization
The cultural crowning glory of the Gulf Cooperation Council (GCC) area is Infinity Des Lumieres. It's not only a place to see shows; it's a hub of culture where new ideas may flourish and tradition can be challenged. It's a melting pot where ideas may flourish without restriction.
Luxury Travel Begins Here with Captain Dunes
Trustworthy Travel Agency
Captain Dunes is a reliable and elegant tour operator offering custom trips to the Middle East, allowing visitors to explore stunning views and fascinating history without sacrificing comfort or luxury. Their reliable customer service ensures a once-in-a-lifetime experience, showcasing the region's natural beauty and cultural diversity. Book a tour with Captain Dunes to experience the limitless imagination and breathtaking vistas of Infinity Des Lumieres.
Pixels as Cultural Bridges Expressing through Art
The universality of Infinity Des Lumieres is undeniable. Art serves as a common language for those who visit this place. It helps people connect on a deeper, more meaningful level. In a world where differences may sometimes serve to separate, Infinity Des Lumieres strives to bring people together through the shared experience of art.
Connectivity's Blank Canvas that is Alive and Moving
Infinity Des Lumieres' artwork is dynamic and ever-changing because it responds to visitors' movements and interactions. Visitors' motions activate new experiences and create a one-of-a-kind bond between artist and viewer as they make their way around the space.
An Electronic Voyage Exploration of the Void
A digital adventure awaits you at Infinity Des Lumieres. Each step is an adventure into undiscovered terrain on this trip into the unknown. It's an exciting journey where the final objective is up to you and the journey itself is a creative endeavor.
Explore Imagination's Starting Point
The mind may go to Infinity of Lights. Here, your imagination may set sail from the beaches of reality and explore the boundless ocean of your mind. It's a haven for artists, thinkers, and dreamers.
Light-Based Sculpture Artistic Medium
In this context, light is the ultimate form of expression, not merely a means of lighting. It's manipulated to produce mind-blowing images that test the limits of our vision. Shadows come to life, and the very nature of reality is questioned.
Integrating Skill and Creativity
Infinity of Lights does more than simply motivate; it teaches as well. The facility hosts several classes and seminars that will help you learn more about digital art. It's a hub for intellectual exploration and innovative thought.
The Effect on the Community's Art Scene
There's more to Infinity Des Lumieres than meets the eye; it's also a fertile ground for artistic development. It has revitalized the local art community by giving up-and-coming artists a place to show their stuff and experiment. It's crucial in revitalizing the region's creative scene.
Virtual Peaceful Garden
Visit Infinity Des Lumieres and experience the digital age's equivalent of a Zen garden. Even in the middle of all the creative activity, there are times for quiet contemplation. Here, modern conveniences and tranquility may live side by side without ever clashing.
 Summary
Infinity des Lumieres promotes openness, creativity, dialogue, understanding, knowledge, flexibility, and community in art spaces, transforming them from exclusive to vibrant centers that demonstrate the limitless possibilities of digital art in the Middle East. Visit the Official website for more details.