Are you searching for an exciting journey that will take you deep into the desert? If you're looking for the best way to see the Arabian Desert, your search might end with a trip on a Hummer Desert Safari in Dubai.
The desert is a one-of-a-kind destination, with its untamed landscape, vast sand dunes, and breathtaking sunsets. And with Hummer Desert Safari Dubai, you can do it in style, safety, and the company of expert drivers and guides in a custom-built Hummer.
Captain Dunes is the best choice for guided excursions in the United Arab Emirates. Anyone looking for a thrilling experience in the desert should choose Captain Dunes. So, what exactly do you get from a Hummer Desert Safari with Captain Dunes in Dubai? What if we examine it more closely?
A Fun-Filled Hummer Desert Safari Dubai Adventure
When you go to the meeting area, your professional driver will guide you to your Hummer. These desert-ready cars are equipped with robust motors, bigger tires, and strengthened chassis to provide a comfortable and secure ride, no matter how rough the going gets.
After everyone has checked in, we'll leave for the desert. Leaving the city behind, the anticipation of reaching the sand dunes grows. The driver will take you on an exciting journey across the sand dunes to experience the vehicle's impressive power. The Hummer's excellent suspension system makes driving over even the most severe sand dunes an adventure you'll never forget.
You can also try dune-bashing and sandboarding with our expert guides. As you reach the dune top, the desert landscape will unfold, with nothing but sand and sky. And when the sun dips below the horizon, the sky's palette will create a scene you won't soon forget.
Fun Around the Campfire
It's time to kick back and enjoy the evening's festivities after an exciting dune ride. Your driver will transport you to a classic Bedouin camp to relax and enjoy the desert environment. A tasty BBQ supper with many options will be served at the campground. You may try something new, like traditional Arabian food, or stay with what you know and still enjoy it here.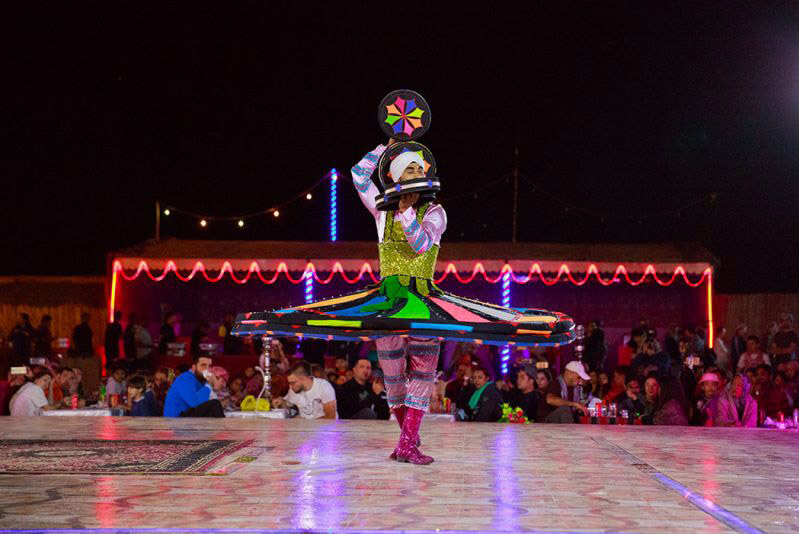 Belly dancers trained in Tanoura Dance, fire displays, and live traditional music will keep you engaged during your meal. These shows are an excellent introduction to the UAE's rich cultural heritage and will spice up your desert safari.
Camping out for the night and stargazing
It's time to retire for the evening after a satisfying meal and lively entertainment. Camping out in the dunes for the night is possible with Captain Dunes, letting you spend more time taking in the serene landscape of the Arabian Peninsula.
When nighttime arrives, you can take in one of nature's most spectacular shows: the sky aglow with stars. The absence of city lights allows for a good night sky view, revealing the grandeur of space beyond.
And when you turn in for the night, you'll have nothing but the soft rustling of the sand and the tranquility of the desert to keep you company. It's the kind that leaves you feeling like you've been transported to another world.
We Prioritise Your Safety in the Hummer Desert Safari Dubai Adventure
Even though your time on a Hummer Desert Safari with Captain Dunes in Dubai will be exciting and memorable, your safety and comfort are our primary concerns. That's why Captain Dunes will never put you in harm's way on your desert trip.
All of Captain Dunes' Hummers are custom-built and regularly serviced to endure the rigours of the desert environment. They have every precaution, including safety belts, roll cages, and first aid kits. In addition, Captain Dunes only hires professional drivers with years of expertise in the desert. We have the most up-to-date safety gear and undergo rigorous training to guarantee the comfort and security of all visitors.
In addition, Captain Dunes abides by all applicable rules and regulations to guarantee that their business practices have little impact on the local ecosystem. The company's mission is to provide visitors with a genuine and memorable experience in the desert without compromising the delicate ecological balance of the area.
Make a Reservation for a Hummer Desert Safari Dubai with Captain Dunes
Booking a Hummer Desert Safari Dubai adventure with Captain Dunes is a breeze if you're ready to experience the excitement and beauty of the Arabian Desert. Day, evening, and overnight trips are available, and the firm caters to a wide range of budgets and tastes.
Booking your trip with Captain Dunes is easy and safe via their website, where you can also choose the tour package and date of your choice. You may also schedule your trip or get more information by calling or emailing the business directly.
Conclusion
Anyone searching for excitement, beauty, and adventure should book a Hummer Desert Safari Dubai tour with Captain Dunes immediately. Captain Dunes provides the best possible desert experience with dedication to safety and sustainability.