Learn how to get the most from your time in the Marina area.
Dubai Marina Landscape
Dubai Marina is a beautiful location. The canal is lined with skyscrapers, and luxury yachts wait patiently for their next adventure. This area, which extends from Al Sufouh Road to Jumeirah Beach Residence JBR (JBR), has become one of the most populated areas in the city. There is so much to do, but these are just a few highlights to get you started.
Take a cruise
A cruise is a great way to see the beautiful water area. Captain Dunes will take you on a traditional dhow to explore Dubai Marina's waterways. You can join the cruise at any hour of the day from the Marina Promenade. The large vessel is spacious enough for passengers to spread out on bean bags while it merrily moves along, displaying the amazing architecture and scenery of the area, before reaching the outskirts of Palm Jumeirah Island.
Book an evening cruise with Xclusive Yachts for a VIP experience. A 125-foot yacht will take you on a delicious dinner cruise departing from Pier 7 in Dubai at 8:30 pm. For the best views, book a seat on top deck.
Shop, eat, and swim
The Beach is an impressive outdoor entertainment complex located right next to JBR's The Walk. The beach is a hub of activity. Its modern, low-rise design makes it a desirable location. There are more than 70 dining and shopping options, including the local favorite Cupagahwa. You can buy souvenirs from I Love Dubai and then take a dip in the ocean or do some sports on the sand. After a long day, enjoy grilled seafood from Mediterranean Find Eat Greek or mega burgers from The Cheesecake Factory.
The Bluewaters Island, home to the second Caesars Palace Dubai in Dubai and the chic Cove Beach Club is just 15 minutes away from The Beach.
Enjoy al fresco dining
Dubai Marina Walk offers a variety of delicious, sun-filled meals that will make your day memorable. Bateel Cafe is a must-see, known for its delicious gourmet dates. The perfect spot for a quick bite is Bateel Cafe, with its exquisite European-inspired cuisine as well as date-infused creations.
Nearby, Pier 7 at Dubai Marina has made a name as one of the city's most exclusive dining venues. Each floor of the cylindrical, all-glass structure is home to seven dining options. It is located adjacent to Dubai Marina Mall. The Scene by Simon Rimmer is the top of the list, serving British comfort food. You can continue the party at Pier 7's Cargo and Asia Asia.
Fly high-speed over the marina
You don't have to look out from a high building to see the marina. This is 2016, not 2015. Since 2017, the longest urban zipline in the world opened, and thrill-seekers have been coming to it since then. Every day, the X-Line Dubai Marina team runs flights up to 170m from one of the JBR's Amwaj Towers and across to the other side on top of Marina Mall. It's not for the faint-hearted as participants can reach speeds up to 80 km/hr while they hurtle across water.
Shop for high-street favourites
Dubai Marina Mall is a popular community spot with an exceptional dining experience, a children's playground, and a selection of high-street shops such as Monsoon, COS, River Island, and H&M. It can be bustling on weekends but it is a great place to shop and browse at your own pace. Little Explorers is a specialized edutainment center for children aged 2-7 years old. This place is a great choice for families with young children.
The mall's outdoor area hosts seasonal events such as street carnivals and al fresco cinema celebrations.
Take time to relax and enjoy the poolside spa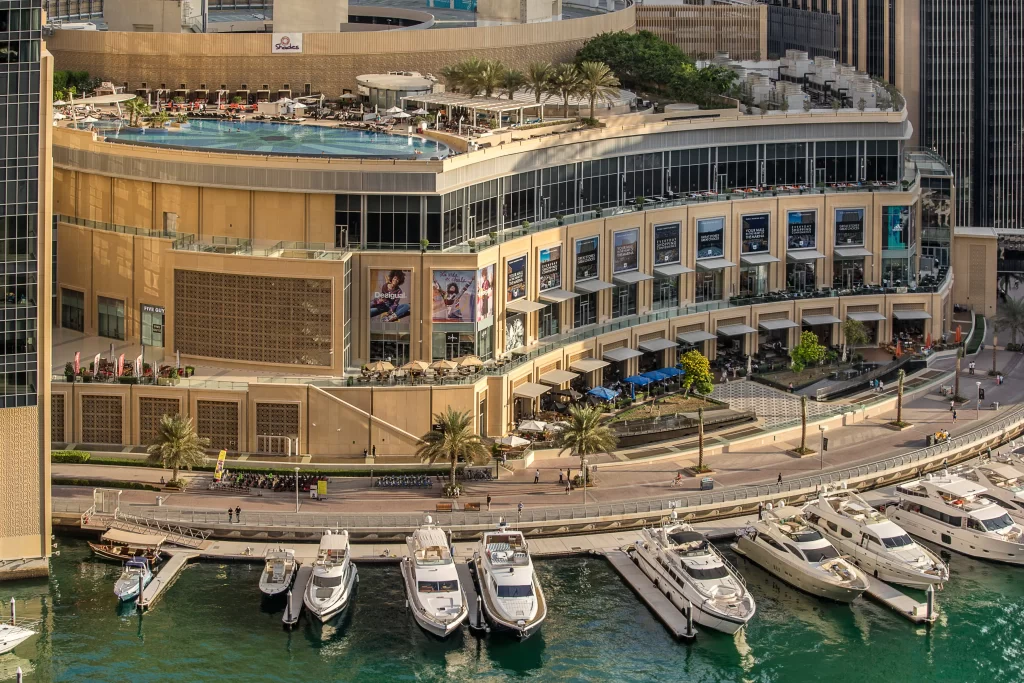 Dubai Marina offers many options for those looking to enjoy some sun at a pool or beach club. You can take a dip at the Zeta Seventy Seven Infinity Pool, or relax on the beach at Bla Bla, an adults-only entertainment center. Bla Bla offers a variety of lounges and restaurants, or you can choose a lounger near the pool or beach. Day W Dubai – Mina Seyahi's Ginger Moon is a great place to tan and transform at night as DJs and performers take the stage. If you want something more energetic, try the inflatable Aquafun water park obstacle course.
Five-star Ritz-Carlton Dubai Spa is renowned for its signature massages. It also boasts luxurious facilities that allow guests to relax and unwind. Dreamworks Spa is a more relaxing option. It offers professional therapists who are highly trained and can help you relax.