Hatta Damani and Hatta Sedr Dubai
There's a better way to enjoy the sloping paths of wadis, hills and farms in Hatta than by riding back on mountain bikes. A variety of trails suitable for beginners to advanced riders have been arranged at the Hatta Mountain Bike Trail Centre, spanning 52 kms. The trails are free for riders and self-guided by distinct markers.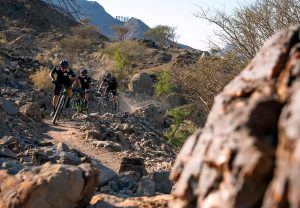 Long-time Dubai resident and mountain biking fan Andy Whitaker visits Hatta almost every weekend to get his riding fix. He suggests starting in Dubai early to make the most of the trip.
"I would head to Hatta mountains from Dubai at 5am, to aim to be riding by 6-6:30am. Ride for three hours, then take a dip in one of the pools along the Green trails," he adds.
Visitors who are brave can explore these trails by themselves, or join one of the many group of enthusiasts, some of which have weekly rides. You should allow for 2 to 3 hours for an outing, including breaks to relax and enjoy the stunning landscape.
The Bike Trail at Hatta Mountain Centre is closed in summer, however the trails remain open for avid cyclists throughout the year Just remember to pack the essential items you require and plenty of water.
Enjoy a hike that will be unforgettable
It is surrounded by Hajar Mountains; Hatta is filled with undulating peaks and troughs, which are perfect for walking. It's possible to walk through the winding wadis at the base of the mountains close to where the borders meet with Oman. There you will find a variety of terrain that ranges from sandy patches to sharp rocks.
An extremely popular location is situated behind the popular Hatta Dam, one of the largest bodies of water in Hatta. In the distance, you'll find rough rockwith breathtaking views from vantage points that allow you to enjoy the beautiful scenery, and there are a few wildlife sightings. If you're lucky, you could be lucky enough to spot the rare Arabian Sand cat.
Experiences in hiking can be booked through Hatta Wadi Hub. Hatta Wadi Hub which is located near the well-known accommodations which include Hatta Damani Lodges, Hatta Sedr Trailers and Hatta Dome Park.
Take an excursion
The scenery of Hatta contains some of the most stunning natural landscapes of the UAE. You can enjoy the shifting scenery from mountain to desert when you arrive in Hatta. From there, proceed south to Hatta Dam. Hatta Dam, which is an unmistakable sight: serene turquoise waters against rough-hewn mountain ranges.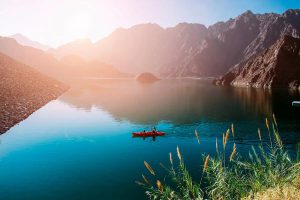 Another attraction can be found in the Hatta Heritage Village located in the center of town. The museum has been restored and is a perfect example of Emirati living in the past. It has 30 buildings comprising huts and homes which were rebuilt like they were years ago. The Village also has documents and artifacts from earlier times, where you can be able to learn about Dubai's Arabian culture, from folklore to food. Visit the Village and you'll find two watchtowers, an fort and an old mosque. The museum also holds occasions in the course of UAE holidays, including National Day (2 December).
A short distance to the Heritage Village is Hatta Hill Park which is a sprawling green space that is often used for barbecues and picnics. You can climb to the top point, which is a tower, to enjoy stunning views of the region.
There's been a lot of talk regarding The Hatta Honeybee Garden and Discovery Center and with good reason. You don the beekeeper's attire as you get to know the amazing creatures, but you'll also finish your visit on a high note with samples from their gift store.
Get ready for thrills and spills
Visitors can take on something new, by engaging in enjoyable Hatta mountain activities like paddling through the expansive Hatta Lake. Residents and tourists can hire kayaks and paddle boats from the kiosk located in the reservoir for peaceful rides across the crystal-clear water of the turquoise-colored lake and meet the wildlife, including birds and fish. There are many hidden regions by taking curved pathways that are concealed behind mountains, that aren't accessible from the viewpoint of the reservoir.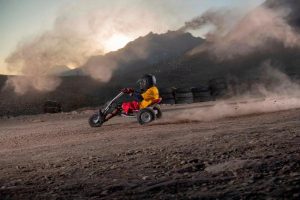 In addition, Hatta Wadi Hub is the city's hub for excitement and action. In winter, there's plenty of thrilling paid and free activities to choose from. Take a shot at archery or axe throwing or keep your heart racing by ziplining over the stunning mountain landscape. Visitors are also able to try a brand-new multi-purpose adventure ropes course. You can also engage in vigorous yoga classes, as well as four-wheel offroading with electric motors and rock climbing, thrilling water slides at the Hatta Drop-in, and more.
Do you want to get that adrenaline pumping up even more? Opt to paraglide using the appropriately called Bird Eye Parachuting Club that sends you flying in the air for 500 feet above the ground.
Stay the night in style
After a tiring day of exploring and experimenting with Hatta activities, set up your tent and relax beneath the stars on the designated Hatta Campsite. If you're looking to fuel up the campers can cook an enticing meal in the BBQ area or walk down to the food trucks located at Hatta Wadi Hub. Hatta Wadi Hub.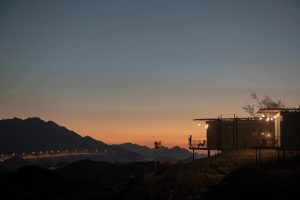 To experience a glamorous and unique experience take a look at booking a stay in one of the Hatta Damani Lodges as well as Hatta Sedr Trailers Both with chic lodgings within the mountain ranges. New stay options comprise Hatta Dome Park – the ideal choice for those seeking the ultimate camping experience along with Hatta Caravan Park, the first luxurious caravan park in the region.
The JA Hatta Fort Hotel is ideal for those seeking a luxurious stay. The hotel offers its own spa, restaurants mini golf, petting zoo. Additionally, every room and suite has views of the mountains.
Larger groups that visit Hatta can select any of the farm houses available for rental, including The Reef and Happiness Farm which are both equipped with amenities including barbecue areas as well as pools for kids to play in.
What is the future awaiting us?
Hatta is already known as a tourism hub, but there will be more activities that visitors can take part in in the mountain town. There's an upgraded public transportation system currently in being developed which will make it easy to move around and explore the area within the next few years.
Other plans include a 5.4km-long chairlift as well as a top-of-the-line hotel. And the Hatta Waterfalls project – a green initiative which will see the water taken from Hatta Dam recycled and reused and the creation of trails for hiking up to the purpose-built Jebel Umm Al-Nisour peak that will provide stunning views from 1,300m up.
To aid in continuing tourism initiatives at around 200 homes for holiday rentals are being built and will be available to the public in the next couple of years.