What happens in Dubai for the largest football event in the world? Here is where you can watch all live broadcasts.
BudX FIFA Fan Festival
Dubai is among the six cities scheduled to be hosting official FIFA Fan Festivals all over the world. Bring your friends along to attend the local version at Dubai Harbour, which is certain to keep 15,000 football enthusiasts entertained through the competition. Get your team's name in the game as you enjoy DJs in live and revel in the game with an ambiance that is pulsating.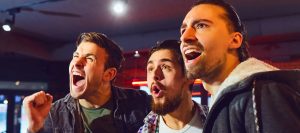 FanZone by McGettigan's
The popular lounge McGettigan's is all out to set the world's biggest television in the Dubai Media City Amphitheatre. Officially, Dubai's England Fan Zone will include many food trucks with upbeat music, football-related events, and a dedicated area for kids throughout the game.
Zero Gravity
Enjoy the beach at the popular beach club Zero Gravity to catch a football match on the massive screen, for no cost. Beautiful views from Dubai Marina. Dubai Marina, guest DJs spinning music and tasty food through every day. The pulsing 4000-capacity venue is a must.
The Football Park at DIFC
Sports and luxury collide on the DIFC's The Football Park. The upscale fan area will live stream games at the Gate Avenue's podium level. In addition you can dine at any of the many restaurants within the area or reserve an exclusive room to watch the game with your closest group of friends.
Barasti
Barasti has become a favorite spot for football enthusiasts in the city because of its thriving waterside setting with a lively atmosphere and delicious food items. Come down for the matches and have fun with your friends as well as thousands of other sports enthusiasts.
Soul Beach
Improve your experience of watching by booking a room in the JA Beach Hotel. The hotel's lively Soul Beach Club will be broadcasting the entire game live, on HD screens set on the beach and in the pool area. The venue's waterside location is able to hold 3,500 fans. You are able to sit in their restaurant, or book a cabana or pergola, the beach bed or pool bed.
ISD World Cup Fanzone
The Dubai Sports City's ISD World Cup Fanzone at The Square is the place to be if seeking a venue that is family-friendly with multiple large screens. Tickets for entry are refundable in any one of the F&B restaurants and food trucks. Be early for fun activities such as beach soccer that are organized by an indoor football team and training in the footlab.
McCafferty's Fanzone at Wafi
Every fan zone in the city offers something unique to offer, and if you're looking for an amazing, uninhibited experience under the sky, then McCafferty's fanzone located at Wafi Amphitheatre is just the right spot for you. Live music, delicious food and an electric atmosphere during games will ensure that you enjoy an enjoyable time with your friends in this outdoor spot.
Sofitel Downtown
The Sofitel Dubai poolside is the perfect spot to relax between November 20 and 18 December. The Downtown Dubai social destination, with stunning perspectives of the Burj Khalifa is broadcasting the matches live throughout the tournament. Select a seat that you prefer, because with their massive screen, there are no bad seats in this place.
Fan Zone by Hilton Dubai Jumeirah
If you're seeking an area for families to enjoy the beach that is free to enter take a look at Hilton Dubai Jumeirah. Their huge outdoor space is divided into four zones – The Beach Stadium, Tiger Bar the Wavebreaker Deck and the Garden each one of which has distinct features for those who love to play. Reservations are required prior to the event and you must make a call prior to your visit.
Expo Fan City
For an unmatched fan zone experience, check out Expo Fan City. It is located inside Expo City Dubai; this spectator area is split into two parts. Go to Jubilee Park for a family-friendly sporting day or, if you're seeking something special, Al Wasl Plaza will show all fixtures on huge screens with live images projected onto the dome.
JBR Football Village
Prepare yourself for fun at the beach with football in the DoubleTree in Hilton Dubai. People of every age are welcome to visit JBR Football Village. JBR Football Village for live broadcasts of all matches. In addition, you can take in breathtaking views of the marina, delicious menu options, live entertainment and mid-game volleyball and football games.
Social Distrikt
Visit Social Distrikt at The Pointe to watch a football match on the large screen. The stadium will be bustling with influencers and local celebrities who are cheering on their favorite teams. In addition, guests will be able to enjoy a meal from local eateries such as Pinsanity Zaroob, Pinsanity, and many more. Make sure to make sure to reserve tables at this outdoor-indoor restaurant that has capacity for up to 1,200 guests.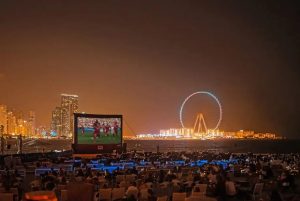 Waterfront locations
Take a look at the beach or choose a perch by the pool
QD's
Support your team at this most talked about football match of the season at QD's. Excellent service and tasty food will make sure you are in the spirit when you stop by this place located at Dubai Creek Golf & Yacht Club.
Cabana
Enter the Address Dubai Mall's restaurant by the pool Cabana for thrilling football games. The restaurant serves fresh Mediterranean food and stunning views at The Burj Khalifa, so you can watch all that sport with other soccer fans in the middle of the city.
Vida Emirates Hills
If you're looking for the ideal family-friendly fan zone experience, then reserve an appointment for yourself at Vida Emirates Hills' all-day restaurant Origins. The venue by the pool will have huge screens to its area so that you can sit down with your family and friends to take in the action live.
Nikki Beach Dubai
Enjoy a relaxing time on the sandy shores of Nikki Beach's private waterfront and take in the live football action throughout the day from 20 November until 18 December. Their fantastic hospitality and tasty food can only enhance your watching experience, so take away your footwear and take advantage of the beachfront venue's amenities.
Intimate stadiums for passionate football enthusiasts
Vuvuzela Sports Bar
If you're looking for a comfortable place in Palm Jumeirah in which you can gather with your friends, then Vuvuzela Sports Bar located at Fairmont the Palm fulfills all your requirements. Armchairs with leather, memorabilia from sports, as well as an enormous television are most prominent features along with plenty of refreshing and other refreshments available.
Nezesaussi Grill
Food that is delicious and related to sports draws the crowds of Nezesaussi Grill at the Arabian Ranches Golf Club. A huge screen and several televisions will ensure that you have the best view, even in the midst of 250 other golfers. You can arrive early to play the pool table or enjoy your favorite music on the music player.
Polo Bar at Habtoor Palace Dubai
Anyone looking for a posh venue must visit Habtoor Palace Dubai's Polo Bar. Wooden and leather interiors are the perfect decor for this elegant area. The entry fee is not charged, but reservations are required prior to arrival as seating is restricted to 60 guests.
Carpenter's Sports Bar
Get your group together gets your team together, don your football shirt and head over to Hyatt Regency Dubai's Carpenter's Sports Bar located in Deira. The restaurant is a hot spot with its own band, as well as large screens which makes it an ideal spot to relax with your guests over light snacks and a chat.
Bridgewater Tavern
Enjoy your football in JW Marriott Marquis Hotel's relaxed Bridgewater Tavern. Get a taste of food and drinks from their menu of a la carte while watching the best teams in the world compete for the title.
Movenpick Hotel Jumeirah Beach
Movenpick the Hotel Jumeirah Beach is where all the action takes place. Eat delicious food and take advantage of their F&B deals while taking part to the field in the West Beach Bistro & Sports Lounge. For those who like to dine outdoors can reserve a table on The Back Door, the restaurant's garden-side ambiance.
The Brick Wall Sports Bar
Relax and unwind in The Brick Wall Sports Bar which is located in a variety of Holiday Inn Express hotels around the city. This bar with a casual atmosphere is an ideal spot to get together to watch live football games. The locations that will be showing every game will include Holiday Inn Express Dubai Jumeirah, Holiday Inn Express Dubai Airport and Holiday Inn Express Internet City.
Focus Bar
An ideal viewing location with a buzzing atmosphere and fantastic discounts on drinks are one of the many reasons you should go to Focus Bar at Hyatt Place Dubai Jumeirah. The service is always excellent there, so relax and relax while watching the game. Reservations are necessary because the venue can hold only 40 people.
Players Bar
Neighborhood nightclub Players Bar, located at La Quinta by Wyndham Dubai in Jumeirah is sure to ensure that soccer fans have the most enjoyable time of their lives. Tickets to the games cost include refreshments and snacks throughout the match.
The Grandstand
The excitement of the year's largest football tournament will be amplified by the Park Regis Kris Kin Dubai's The Grandstand Sports Bar. This intimate venue will be crowded with fans of sports who want to watch their favorite team play and win.
The Docks at Crowne Plaza
The newly-opened neighborhood spot in Jumeirah One boasts large screens all over the place and high-tech sound systems for the ultimate watching experience. You can order your Game Platter, which includes various appetizers, including chicken wings along with beef brisket sliders as well as mozzarella sticks that are the perfect snack on match days.
Garden on 8
It is a Media City terrace spot has always been a favorite by football lovers. Live dancing, music, the national attire of the participating countries, as well as delicious bites, such as their famous 50cm hot dogs is sure to ensure you'll have fun during each match. Tables are sold out quickly so make sure you reserve your table now.
Bedrock
Watch uninterrupted action on one of one of the 20 television screens that are located in this lounge for sports at Pier 7. Stay around after the fixtures to play darts or enjoy a game of golf on their state-of-the-art indoor simulator during half-time. Anyone interested in booking The Bunker – their private viewing room that has 200-inch screens set in a warm and cozy environment.
Goose Island Tap House
Get your football team together and head towards Goose Island Tap House at FIVE Jumeirah Village for an thrilling game day experience. This neighborhood hangout not just features several screens for football fans but also offers fun games like Billiards, pool, X-Golf simulator and many more to keep you entertained throughout the day.
Qube Sports Bar
The Meydan Hotel's Qube sports venue is ready to welcome fans to an unparalleled football watching experience. In the indoors, you'll discover 16 LCD screens and big 'Qube' projections that are four-sided to ensure you don't miss an ounce of action. You can also go outside on Meydan's terrace.
Locations with views
Scenic spots that offer an elevated experience
Privilege at SLS Dubai
Go to Privilege on the 75th level in the SLS Dubai hotel in Business Bay for an unforgettable experience that offers city views. It is possible to dine outside or indoors and both spaces are equipped with games, entertainment programs or play spaces.
The Lotus Lounge
Enjoy a live soccer match while enjoying delicious pastries and admiring the stunning images of the Arabian Gulf. Its Lotus Lounge at the Anantara the Palm Dubai is an favorite to visit, so be sure to visit this Thai-inspired eatery to watch a football match with other soccer fans.
Dubai Polo Bar
Get stunning views that are lush and green from the Dubai Polo Bar in the Dubai Polo & Equestrian Club while cheering on your team. Small groups are able to reserve the luxurious club's private space, with the pool table to entertain guests.
Jumeirah Emirates Towers
Fans of football must head towards The Terrace Plaza at Jumeirah Emirates Towers in order to be among 500 other fans. The extravagant location not only offers an incredible view at The Museum of the Future but is also home to a range of international cuisines as well as live entertainment. If you're seeking something special, reserve a seat inside the lounge.
Ikandy Ultralounge
Are you looking for a place to watch the football game while enjoying breathtaking views of Burj Khalifa? Head to Ikandy Ultralounge at Shangri-La Dubai. The menu in the outdoor restaurant includes delicious snacks, so you'll be able to get plenty of food during the sporting events.
High Note Pool & Sky Lounge
The Al Mina's High Note Pool & Sky Lounge will broadcast every game on a huge 192-inch screen during the season's most anticipated football championship from November 20 to 18 December. Take a trip to the roof of the venue to applaud each goal with unrivalled excitement while enjoying breathtaking views from the poolside.
Ritz Carlton Dubai
The Ritz-Carlton Dubai has offered football fans two places to enjoy the matches all through the event. Relax in their swimming pool of the La Baie Lounge as well go to their outdoor area where you can enjoy traditional game day food such as loaded nachos and jalapeno poppers, and take in breathtaking views of the JBR skyline.
Malibu Deck and Pool Bar
Visit the Malibu Deck and Pool Bar at the Paramount Hotel Dubai for football food, drinks and amusement. The outdoor venue will have two massive screens to display every game between November 20 and 18 December. Take a bite of the delicious BBQ grills, or taste their distinctive Californian drinks that are a part of the coastal region during the event.