Dubai's debut in the Michelin Guide is marked by a stunning selection of restaurants. Michelin-starred Restaurants in Dubai highlight Dubai's exceptional culinary standards, varied cuisines, and unique flavors. Check out the list to see which hotspots were included and plan to add them to your next gourmet itinerary.
Two Michelin Stars: Il Ristorante – Niko Romito
Il Ristorante Niko Romito is a restaurant that serves fine Italian cuisine. It is one of two Michelin-starred Restaurants in Dubai. This restaurant is located at Bulgari Hotel & Resorts and was designed to highlight traditional culture through its cuisine. This eatery offers a variety of Italian favorites, including Parmigiano Reggiano soup, roasted langoustines salad, and spaghetti with sea-urchins. The variety of seafood on offer will please seafood lovers, with the best being the oven-baked black cod.
Two Michelin Stars: STAY By Yannick Alleno
STAY by Yannick Allenzo features traditional French dishes prepared using modern techniques and a Pastry Library that allows you to create custom-made desserts. The spit-roasted beef for two includes whole wild turbot, milk-fed lamb leg, and beef aged for 28 days. This dining spot at One&Only The Palm is just as visually stunning as the food itself. From the white pillars and high timber walls to the intricately designed ceiling and black chandeliers, the space has plenty of style.
One Michelin Star: 11 Woodfire
This chic restaurant is located on Jumeirah Beach Road. It's casual and chic, with a focus on the idea of warming up around a warm fire. Akmal Anuar, a chef and restaurateur, is the culinary genius behind 11 Woodfire. He offers a simple menu with natural flavours. The dishes are prepared using specialized grill techniques and different types of wood. You can try the wagyu steak, seabass with hay-salted crust, tamarind and Australian T-bone steak.
One Michelin Star: Al Muntaha
Al Muntaha, located on the 27th Floor of Burj Al Arab's iconic Burj Al Arab, is renowned for its excellent food and stunning views. Every dish is prepared by Chef Saverio Sbaragli, who ensures that his expert touch is evident in each dish. Each plate is perfectly plated to elevate your fine dining experience. The warm salad with truffle and the king crab tartlet are both delicious. If you're looking for sea flavours, the blue lobster and sea bass with artichokes are great options.
One Michelin Star: Armani/Ristorante
Armani/Ristorante is the Armani Hotel's epitome in class and style. If you're looking for a place to dine in authentic Italian cuisine, this is it. Armani/Ristorante is a traditional Italian restaurant that uses the gastronomic traditions from Italy. It offers a refined yet classic menu.
One Michelin Star: Hakkasan Dubai
After making a splash around the world, Chinois-chic Hakkasan, a UK-bred, has settled in Dubai's Atlantis hotel. The marble-topped tables are accented with Cantonese dishes and wood. You can expect signature dishes such as baskets of steamed dimsum, crispy duck pomelo and tea-smoked Wagyu Ribs. There are also newer vegetarian and vegan options.
One Michelin Star: Hoseki
Hoseki at Bulgari Resort offers authentic omakase. Each course is prepared by Japanese sushi master Masahiro Sugyama and his team. The intimate setting, nine people and effortless service make for a memorable experience. You can read more about why many foodies want to check this restaurant off their list.
One Michelin Star: Ossiano
The iconic, Michelin-starred Ossiano, Atlantis, The Palm offers a unique dining experience in Dubai. Gregoire Berger, a chef, is a rite of passage for culinary enthusiasts. His kitchen offers a multi-course, immersive degustation menu in a grand, blue-hued setting with breathtaking views of the ocean. The plates, which are primarily seafood-focused, are just as impressive as the surrounding. You can watch over 65,000 marine animals pass your table from atop glistening chandeliers. This is the perfect place for couples looking to enjoy a romantic evening with fine European cuisine and an adventure into nature.
Tasca by Jose Avillez, one Michelin Star
The celebrity chef is known for modernizing and elevating Portuguese cuisine. This is why so much attention is paid to Tasca, Jose Avillez's first restaurant outside of his native country. The elegant venue is located on the sixth floor at Mandarin Oriental Jumeira and offers spectacular views as well as the star's signature dishes. His avocado tempura, a technique that was first used by the Portuguese to Japan, and tuna tartare cones are a must-try. There are many options for mains, from traditional Piri Piri chicken and roasted cod to a Josper roasted lamb shank. Custard tart is the star of this sweet selection, which is served with coffee ice cream.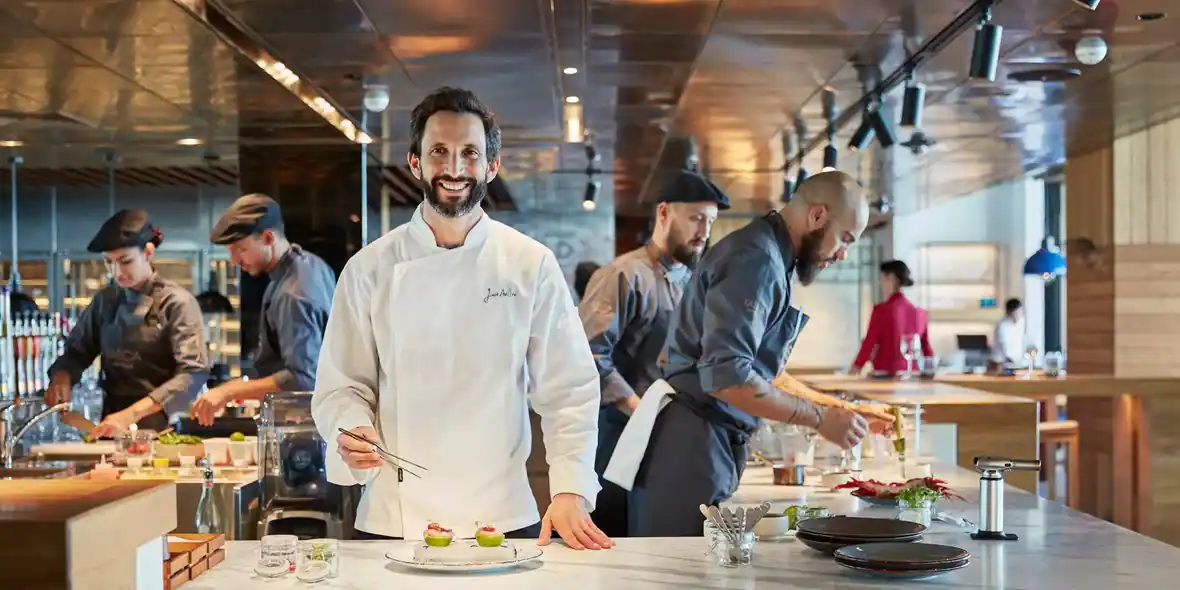 One Michelin Star: Torno Subito
Massimo Bottura's casual restaurant Torno Subito can be found in the heart of Venice. This is a beachfront spot that's perfect for a casual lunch or dinner. It's his first venture out of his homeland Italy. You will find simple, yet delicious, Italian favorites in the primerisection as well as a selection of classic pizzas or pastas. You can also enjoy a delicious tasting menu featuring hand-picked favorites, such as the tiramisuboto.
One Michelin Star: Tresind Studio
Tresind Studio, run by Chef Himanshu Saini, is widely regarded as one the most prestigious Michelin-starred Restaurants in Dubai and the world. This reputation has been reinforced by the Michelin star. His curated tasting menus, featuring carefully-choreographed dishes, take diners on an Indian-accented culinary journey that can't be forgotten. Saini's stories and personal experiences are often woven into every dish's story. Fine dining techniques and Instagram-friendly plating add to the excitement.
Michelin Green Star: LOWE
LOWE's dishes are a mix of different cuisines and flavours. They create delicious plates you will want to return to again and again. Their commitment to sustainability has earned them a loyal following and a place on many top of lists, including MENA's 50 Best Michelin-starred Restaurants in Dubai List and the Michelin Guide.