Dubai Marina, situated along a two-mile stretch of the Arabian Gulf, is one of the city's most sought-after areas. It's renowned for its luxury lifestyle, entertainment options and shopping malls. Dubai Marina Walk, a waterfront residential neighborhood, is home to The Beach at JBR – an idyllic leisure complex featuring outdoor dining and sandy stretches for relaxation. Alongside it, trendy cafes and pop-up craft markets line Dubai Marina Walk while Dubai Marina Mall showcases chain and luxury fashion brands alike.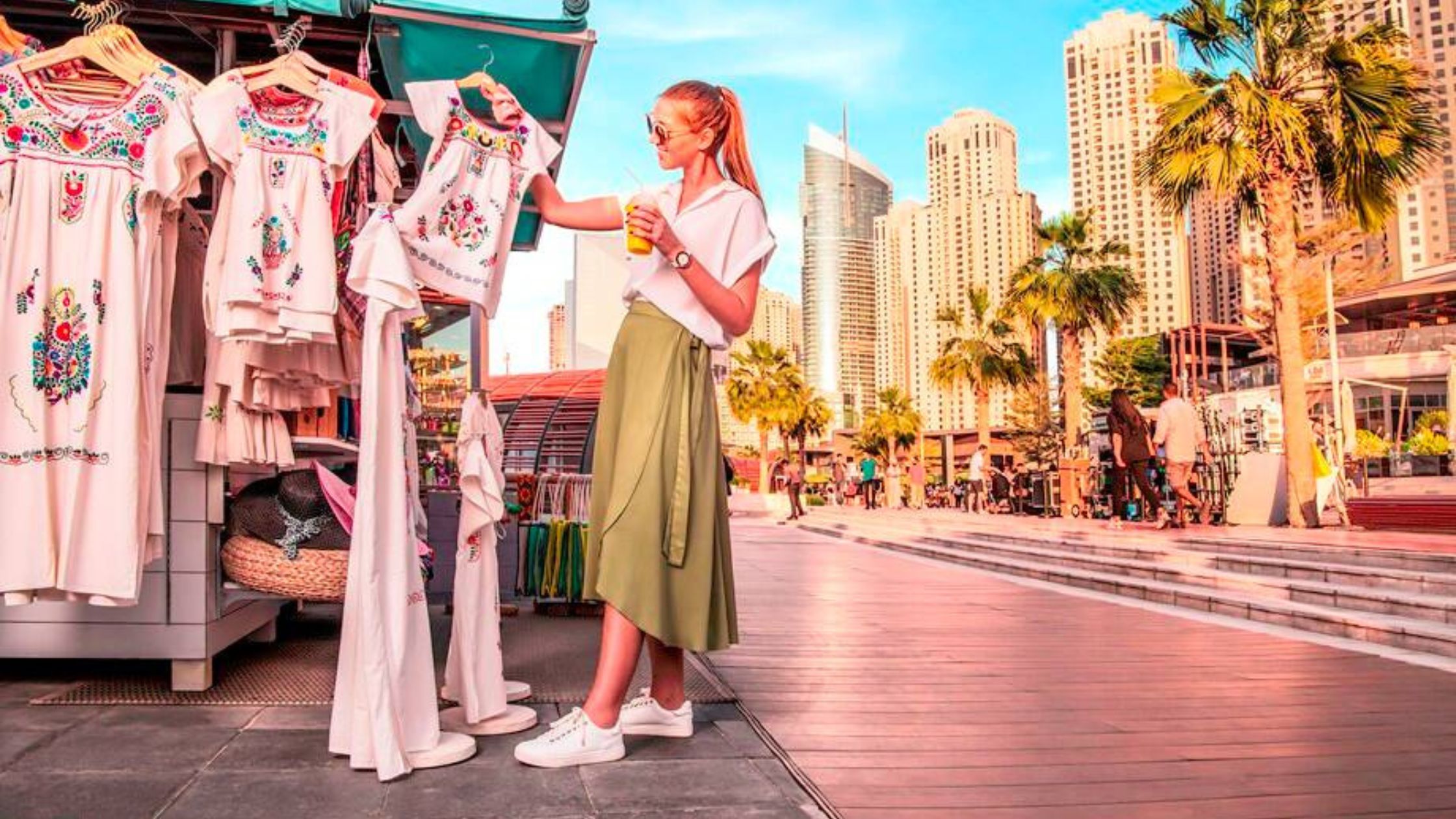 The Walk
The Walk at Dubai Marina offers a vibrant promenade lined with lush greenery, an uptown atmosphere and breathtaking views of the city's skyline. Whether you're in the mood for an evening stroll, energetic jog or day out with the kids, The Walk has something to suit everyone! The promenade features numerous chic cafes and restaurants. On weekends, it also hosts street shows and dance performances.
Experience breathtaking views of Palm Jumeirah and Ain Dubai by taking a stroll along the waterway. Alternatively, board a cruise to explore the region's waterfront from above. At the marina, many dhow and yacht cruises depart for dinner, sunset, or sightseeing excursions that showcase the magnificence of Dubai Marina as well as Palm Lagoon.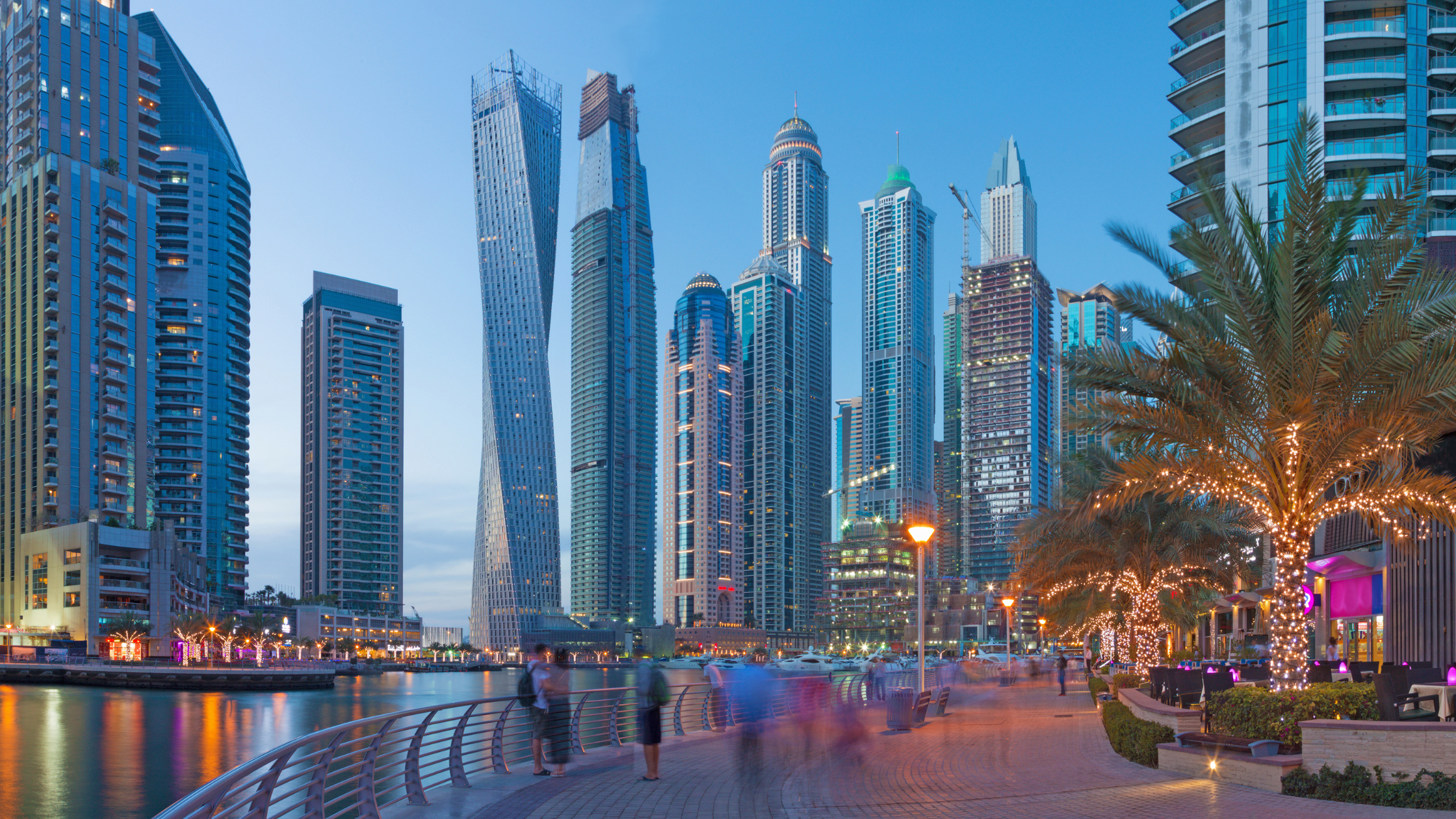 You can rent bicycles to explore The Walk and its surroundings. Look for BYKY stands scattered along The Walk, where you can register for a bike and use your mobile phone to rent it. Families with young children will love the area's abundance of activities, from inflatable waterparks to miniature trains. Furthermore, there are countless family-friendly restaurants, bars and cafes that serve delicious food with an Emirati flair.
If you're in the mood for some shopping, there are several malls nearby. The largest is Marina Mall with 130 shops and a cinema. In the Marina area, there are plenty of markets and other shopping destinations. At Covent Garden Market, you can purchase handmade clothes, jewelry, cosmetics, and crafts for an affordable price.
You can get to The Walk conveniently by taking public transportation from either Jumeirah Lakes Towers Metro Station or Dubai Marina Metro Station. Moovit's transit app can even assist in planning the best route for you.
The Marina Mall
Marina Mall is a shopping paradise that features numerous retail outlets and dining establishments on the waterfront. If you're in Dubai Marina, make sure to visit this must-visit destination! By Dubai standards, this area is quite small but offers a good selection of shops and restaurants as well as a cinema. Additionally, there's both a community supermarket and Waitrose supermarket nearby.
High street fashion brands such as Diesel, H&M, Ted Baker and La Senza can be found here along with jewellery stores like Damas.
Families will love this mall, with its assortment of kid's stores like Petit Bateau, Carter's, Mango and Early Learning Centre. There are also waterfront eateries and Waitrose supermarket, plus there's a kids playground as well as luxurious 6-screen Reel Cinemas. At the mall, there are plenty of top cafes and restaurants with an extensive menu featuring European, Middle Eastern and Asian dishes. Some of the better establishments include Cafe Bateel for delicious breakfasts and Wagamama for Japanese dining fans.
Shoppers at Dubai Mall will find an impressive selection of cosmetics, gift items and other accessories in its stores. It's the ideal destination to pick up a souvenir from Dubai or shop for a new outfit. Many shoppers take advantage of the mall's loyalty card, which offers discounts on certain products and services. Signing up is free, plus you can earn points every time you spend money.
The mall is connected to the Address Dubai Marina Hotel, a five-star property boasting 200 rooms as well as its spa, swimming pool and fitness center. At just 11 minutes' walk from Dubai Marina Mall Tram Station, it makes for an easy destination for visitors visiting the city.
The Water Park
Dubai boasts some of the most thrilling water parks in the world. Whether you're looking to get your adrenaline pumping or take a leisurely day in the sun, Dubai has something special for everyone when it comes to waterparks. Wild Wadi offers something for everyone at Wild Wadi! With big thrill slides, wild waves and relaxing river rides alike – from Jumeirah Sceirah's giant tandem slide that reaches speeds of 49mph to Breakers Bay – Wild Wadi's huge wave pool which can accommodate 1.5 metres of water – there's something here for everyone.
Aquaventure is one of the largest water parks in the world and provides a thrilling adventure for the whole family. With high-speed chutes, wave riders, splash areas and even the beach to relax on, it's ideal for families or couples who want to experience all that Dubai has to offer – rides and attractions included! bTo avoid any last-minute stress or disappointment, book your ticket to the park ahead of time. This way, you can enjoy all of the main attractions without needing to worry about organizing everything yourself.
Experience something truly unique at Dubai Marina with a gondola ride to view the fountains dancing in the evening. You'll get closer to them than on Burj Khalifa lake and have an unrivaled view of the city's skyline too! At Address Dubai Marina, you'll enjoy all the luxuries of a five-star hotel while being close to some of Dubai's top attractions. With on-site dining and free parking, as well as personalized services galore, this hotel has it all.
The Cayan Tower
Cayan Tower is one of the most iconic structures in Dubai Marina, boasting a twisting, helical skyscraper that stands out among other buildings along the waterfront. This distinctive design was created by Skidmore, Owings & Merrill – known for such projects as Burj Khalifa in Dubai and Trump Tower in Chicago. The tower's helical floor plates were an expression of the idea that buildings should adhere to their structural framework. This subtle gesture provides several architectural benefits, such as reduced wind load and solar heat gain, plus better views for its residents.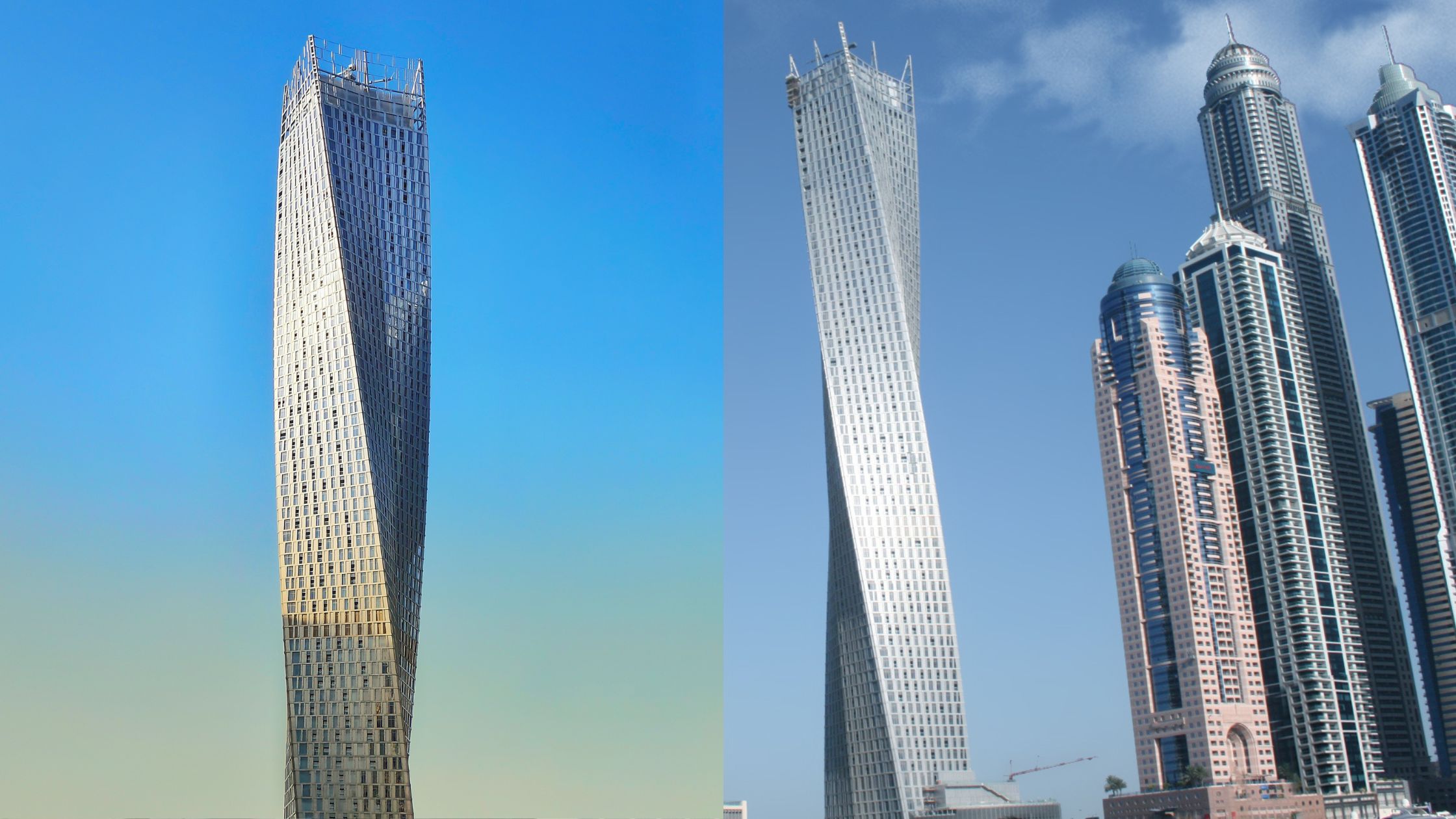 To achieve this effect, the architects created repeated floor plans with a slight indent on two sides of each. This makes each plate appear slender even from afar away; the symmetry created is striking. Symmetrical floor plans simplify construction and save energy, while also giving Cayan Tower a distinctive architectural presence that stands out among other skyscrapers along the waterfront.
More significantly, the staggered screen panels and deep window sills that filter direct sunlight to the units create a subtle, shady effect that softens the tower's angular profile from afar. These subtle design details are an expression of the architects' philosophy – an amalgamation of art and commerce. This luxurious apartment offers guests a range of amenities such as a kitchenette, free WiFi, LCD TV and private balcony. A separate bathroom with rain shower and bathrobes complete the package.
Gourmet Restaurants
Dubai Marina is a top destination for gourmet foodies in the city, boasting an array of delicious options to choose from. No matter what your preferences are, you're sure to find something here that tickles your taste buds! No matter if you're in the mood for Japanese, Mexican or Mediterranean cuisine, there is no shortage of restaurants in Marina to satisfy your appetite. If grilled meats are more your style, one of South American or Brazilian restaurants won't disappoint either.
The restaurant's buffet menu offers a wide selection of dishes to choose from. Enjoy as much food as you'd like and it's freshly prepared for you. Fogueira also offers a delicious brunch every Friday from 12:00 to 15:30 on top of their buffet. Their menu features various kinds of meat, vegetables and starches for guests to enjoy.
More Dining Options
Two Michelin-starred restaurant STAY by Yannick Alleno is a must-visit when in Dubai. Chef Alleno expertly blends classic French cooking with an innovative 'less is more' philosophy that pushes the boundaries of haute cuisine. Though the restaurant may be pricey, its food is well worth it. The signature starter of Alaskan king crab with Beluga caviar and saffron-infused hollandaise is an indulgent delicacy; similarly, Chilean sea bass with smoked sweet potato provides another decadent option.
For an intimate dining experience, check out Fish Beach Taverna at The Address Dubai Marina. This Santorini-inspired restaurant overlooks the vibrant waters of the marina and you can dine under a teepee for added romance. At 200 meters above sea level, Social by Heinz Beck is another high-end Italian eatery in Dubai that offers stunning views of the Marina. The stylish interiors evoke classic luxury with a modern edge; expect classic Italian dishes like tiramisu and carbonara turned on their head with inventive twists; you can also opt for their multicourse tasting menu with suggested wine pairings.