Dubai offers a variety of adventure options, including ziplining between skyscrapers and gliding across desert sands or flying over the Arabian Gulf.
Dubai: Freefall
Skydive Dubai is the perfect place to skydive if you have been contemplating the possibility of skydiving. Freefalling from 13,000ft above the Palm Jumeirah will allow visitors to enjoy the stunning Arabian Gulf waters and the iconic cityscapes. You can swap your city views for the Arabian Desert. Easy. A desert drop zone is also available by the company, which is located approximately 30km from the city center. Skydive's Sky Hub offers a gyrocopter flight, which is a less risky option. This small, two-seater aircraft is similar to a helicopter ride and will provide you with an amazing bird's-eye view of the Emirate from 1,500 feet.
Desert Quadbiking
You can feel the wind whipping against your face while riding a quadbike or desert dune buggy. These vehicles are designed for high-energy thrills and are called pared-back dunes buggies. They are completely open-air vehicles with no windows, doors or roofs.
They have a roll cage, bucket seats, safety harnesses, extra suspension, and extra suspension to tackle the sands at high speed. Big Red Adventure offers a variety of desert safari packages, including morning, evening, and overnight options. This allows you to tackle dunes with 45-degree slopes.
Urban Ziplining
Zipline Dubai Marina is one of Dubai's most popular adventure attractions. As you glide through the city at 80km/h, take in the views of the glittery yachts and high-rises before landing on the terrace at Dubai Marina Mall. Officially, XLine is the longest urban zipline in the world and measures 1 km long. It has a 16 degree gradient. You can share the thrill with a friend by using two ziplines at once.
Flyboarding is fun
Do you want to conquer the waves Flyboarding is a great way to enjoy Dubai's calm waters. A combination of wakeboarding, kitesurfing and flyboarding, this extreme sport will propel you 10m above water due to a powerful turbine. This sport is suitable for all levels, novices to professionals. You will soon learn how to balance in the air and possibly master some backflips. Sky & Sea Adventures is a top watersports company that has expert instructors. Flyboarding doesn't suit everyone. Parasailing, scuba diving and kitesurfing are all options at Kite Beach.
Every mountain must be climbed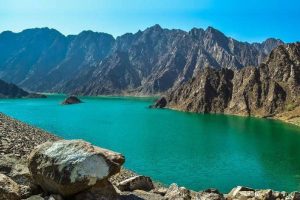 Hatta mountains is the perfect destination for adventure-seekers who love mountain biking, hiking, and kayaking. The Hajar Mountain range is located 90 minutes from Dubai's Downtown. Hatta is now a popular destination for adventure sports enthusiasts. Hatta was once known for its desert farms and fort. Hatta Wadi Hub offers activities like mountain biking, archery, and kayaking. Zorbing is a sport where you can ride down a hill covered in a transparent orb. You can also opt to stay at Hatta Fort Hotel or glamp at Hatta Damani Lodges or Hatta Sedr Trailers if you wish to take in the beautiful natural surroundings for a longer time.
Explore new depths
Deep Dive Dubai is the best place for aqua enthusiasts. The 60.02m deep pool at the recreational centre is recognized as the best for diving. Deep Dive Dubai adventure offers more than just its incredible depth. It also features a'sunken town' and year-round diving classes. Divers of all levels, from 10 years old to advanced, will enjoy exploring its submerged areas. If you're a short filmmaker, you can even rent the media room and play pool.
Get on your bike
The heart of Mushrif Park is the location of one of the city's newest attractions for cyclists. Recently, the park opened the first 20km of a 50km track for mountain biking. It is located close to the park's main gate and can accommodate up to 3,000 cyclists daily. There are trails for all levels of cyclists, so no matter your skill level, there is something here to suit you. Aventura Parks' treetop obstacle courses offer more excitement.
Take a different approach to the city
Sky Views Dubai is the best Dubai adventure, located at 219.5m above the ground, is the latest attraction that will sweep you off your feet. It offers breathtaking views of Downtown Dubai and the magnificent city skyline below. This architectural wonder is perched high above the Address Sky View hotel and offers three distinct options for thrilling sightseeing adventures: the Observatory, Glass Slide, and Edge Walk.