It's whether it's ziplining through skyscrapers or gliding across desert sands or flying over the Arabian Gulf, Dubai has the perfect adventure for all.
Freefall in Dubai
If you've been mulling the idea of skydiving the Skydive Dubai provides the perfect reason to try it out. Skydivers can take off from 13,000 feet above the stunning Palm Jumeirah, and admire the shimmering blue waters of Arabian Gulf and iconic cityscapes on the way. Are you looking to exchange city views for Arabian desert? Easy. The company also offers the desert drop zone situated about 30kms away from the city center.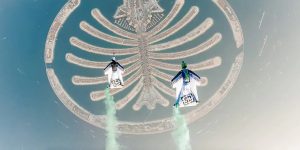 Desert quadbiking
Feel the sand rushing across your face while riding an desert dune buggy, and quadbike. Pared-back dunes are vehicles that are specially designed for thrills that are high-energy. They do not have doors, roofs and windows. They have the bucket seat, a roll cage with safety harness and an additional suspension to tackle the sands with speed. Experience it by partnering with Big Red Adventure, a tour operator that offers a selection of desert safaris with afternoon, evening, and overnight options to conquer.
Urban ziplining
One of Dubai's most popular adventures can be XLine Dubai Marina. Keep your eyes on the ground as you glide through the city at speeds of 80 km/h as you soak in the stunning views of the glittering yachts and gleaming high-rises before reaching the rooftop at the top of Dubai Marina Mall. The world's longest Zipline in the city, XLine measures one kilometre in length and has an angle to 16 degrees. There are two ziplines running concurrently which means you can enjoy the thrill with a companion.
Flyboarding fun
Do you want to conquer the waves? Dubai's calm waters are great to relax on the beach in style , but if you would like to go for a more challenging experience take a trip to flyboarding. This thrilling sport, which is which combines wakeboarding and kitesurfing, can see you soaring 10m above the water due to an impressive turbine. It is suitable for all levels from beginners to professionals You'll soon get knack of being able to balance in air, and hopefully be able to master some backflips.
Begin by climbing every mountain
Hatta mountains is the ideal spot for nature lovers and thrill seekers who are into mountain cycling, hiking, and kayaking. Follow the highway to explore this area known as the Hajar Mountain range, which is just 90 minutes away of Dubai's Downtown. Hatta was once famous for its forts and desert farm, now is home to a variety of sports enthusiasts. Take a look at Hatta Wadi Hub for activities like archery, mountain biking, and kayaking. It is also possible to try Zorbing, in which you slide down a hill by an opaque orb.
Take a leap into new heights
Deep Dive Dubai is the spot to be for all water enthusiasts. The leisure center's 60.02m-deep pool is recognized as the world's deepest pool to dive in. In addition to its impressive size, Deep Dive Dubai features many other unique amenities including a'sunken city' that is open all year round, as well as diving classes and guided excursions. Divers of all levels, 10 and over will be delighted to explore the submerged areas.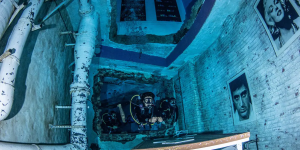 Get your bike on
One of the latest places to visit for city cyclists is located in the center of Mushrif Park. The park has recently opened the initial 20km of what will ultimately become a 50km mountain biking route. It is located near the main gate of the park, and can accommodate 3,000 cyclists per day. No matter what your level of biking ability, you're guaranteed to find something that you take pleasure in here there are trails of various difficulties aimed at beginner to advanced bike riders.
Explore the city in a different way
At 219.5m above the ground, Sky Views Dubai is the latest attraction that is sure to sweep guests off their feet with stunning views of Dubai's stunning landscape below and the stunning city skyline to the left. It is perched on top of the Address Sky View hotel, this stunning architectural wonder offers three distinct options for memorable and adrenaline-inducing sightseeing adventures that include it's the Observatory, Glass Slide and Edge Walk.