Dubai offers a variety of thrilling activities that will get your heart pumping, from the high-rises to the deep blue waters.
Zipline Dubai
A variety of watersports can be done in the warm waters of Arabian Gulf. Flyboarding is one of the more adrenaline-fueled activities available in Dubai, along with traditional pursuits like windsurfing and scuba diving. Flyboards are basically a water-powered jetpack that is strapped to your feet. They allow you to soar high into the air and, with some practice, perform amazing acrobatics. Hydro Water Sports is the best place to book your flyboarding session. It's located next to Jumeirah Beach Residences' Ritz-Carlton Dubai hotel (JBR).
Jet-skiing can be a great way to enjoy high-pressure water adventures closer to shore. It is easy and extremely fun. There are many places to rent one in Dubai Marina or at the city's top seafront hotels.
Wakeboarding is a great way to challenge yourself. It offers high speeds, some learning curves, and some of the most thrilling thrills. Although it sounds simple, once you are able to stay upright and steer a board behind a boat, you will be able to do fancy tricks. Parasailing involves being pulled behind a boat by a sail-like parachute. Parasailing is where physics takes care of the rest. You are lifted into the air by a large parachute-like sail to enjoy stunning views of Dubai's coastline. Sky & Sea Adventures can book parasailing and wakeboarding sessions.
Dubai's waterparks offer more controlled water-based entertainment. Laguna Waterpark La Mer is a lifestyle destination in Jumeirah that offers five high-speed water slides and a variety of fun activities for all ages. Other popular waterparks are also located in the city, where you can take record-breaking dips.
Deep Dive Dubai is the city's most famous adventure attraction. You can take the plunge to 60m below the surface. You will find a'sunken world' in the city's record-breaking depths. It is waiting for you to discover its amazing finds, which range from an abandoned streetscape to two submerged but dry habitats.
Hot Air Ballon Ride in Dubai
Dubai's tallest building is not the only one offering a super high experience. XLine Dubai Marina is the longest, fastest, and steepest urban zipline in the world. You can speed through Dubai Marina at approximately 80 km/h and reach a height of 170m. The video recording attached to your helmet will allow you to enjoy the entire experience again. Register at the XLine Desk in Dubai Marina Mall.
You can also jump from a plane if a zipline is not high enough. Skydive Dubai offers tandem skydives to anyone, as well as skydiving lessons and solo jumps for experienced skydivers. You can choose from the desert dropzone, or jump over Palm Jumeirah to get the best views of the city and island.
Dubai's mountains and deserts
Captain Dunes offers a variety of unforgettable desert experiences, including a safari through Dubai's rolling dunes. The desert is home to endless adventures, including falconry lessons, overnight Astrology sessions, and hot air balloon rides at dawn.
Dubai's main area is flat. However, the Hatta region near the Hajar mountains offers stunning views and rugged beauty. You can take an organized tour with Arabian Adventures, or another tour operator. Or you could go further and hike or mountain bike through the mountains. Hatta Wadi Hub also offers exciting activities such as waterslides and mountain biking.
For the ultimate adrenaline rush, head down to Dubai Autodrome. More than just an internationally-renowned race track – it is a must-visit destination for thrill-seekers from around the world."
Be competitive
Dubai hosts many international sporting events, including tennis, golf and rugby. This spirit of competition draws many visitors. The Al Qudra Cycling Track in Dubai has been a popular choice for both pros and beginners. It offers a variety of rest stops and beautiful views of Dubai's skyline. Trek UAE offers bikes for rent. You can also take a taxi to Al Qudra to enjoy a day full of adventure.
Dubai Autodrome offers faster thrills. Visitors can drive an Audi TT, R8 V10, or a rally car around the track. To really test your skills, race your friends on the attached Kartdrome to see who can get through the 17 difficult turns fastest.
Indoor thrills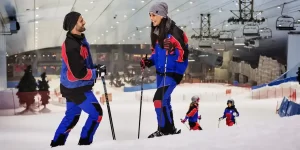 Dubai offers indoor skydiving, ski and swimming with sharks when the weather isn't ideal.
The city's most famous indoor ski slope is Ski Dubai at Mall of the Emirates. You can spend an entire day here, with five different tracks and snowboarding and zorbing options, as well playing with penguins.
Skydiving is possible at iFly City Centre Mirdif. You can walk into a vertical wind tunnel with protective gear and feel the thrill of freefall just a few feet away.
The Dubai Aquarium & Underwater Zoo at The Dubai Mall allows visitors to get up close and personal with sharks. You can dive for 30 minutes in a shark-proof enclosure to get close to these amazing creatures.