Enjoy the excitement of crowd-filled stadiums featuring entertainment, live music, and mouthwatering food.
Join us for this year's BudX FIFA Fan Festival at Dubai Harbour
Prepare yourself for an unforgettable soccer experience as Dubai is among the six cities scheduled to be hosting FIFA Fan Festivals that are officially sanctioned by FIFA around the globe. Don't miss your chance to see the local version in the picturesque Dubai Harbour, which is certain to keep soccer fans entertained from the 20th of November until 18 December. Participate in the fun and revel in the beauty of the game in an ultra-modern immersive and comfortable atmosphere.
Huddle in the official Dubai England fan zone in McGettigan S Fanzone Media City Amphitheatre Dubai
The excitement is rising as the most anticipated football tournament is getting closer. Anyone looking for a lively arena crammed with supporters who support their favorite team, the Three Lions must make their way to the Fanzone by McGettigan's in the Dubai Media City Amphitheatre to enjoy games on the Dubai's biggest TV screen. There are also plenty options for food truck, entertainment for kids as well as soccer-related events as well as a winter festival and live entertainment every day in the fan village as well.
Enjoy your football with your whole household in the Sports City Fan Zone
Prepare for an unforgettable match day experience with 5,000 other supporters on The Square at ISD – an outdoor venue that is located in Dubai Sports City. The venue will have multiple screens placed all over the place, providing the best viewing from all locations during the tournament. You can also reserve the spacious VIP area with gourmet food with butler service, and much more great for corporate gatherings or those seeking an extravagant excursion.
You can watch the action at the heart of DIFC at Footbal Fans The Football Park DIFC Dubai
If you're seeking an exciting place to watch all the action from football, check out the DIFC's upscale fan zone, The Football Park, where you can eat delicious dishes from more than 300 restaurants in the area. This outdoor viewing deck that has huge screens set up around the podium that is located on Gate Avenue also offers exciting activities and games on the premises with chauffeur drivers, as well as private screening rooms for those who like something more intimate.
Enjoy kicks and beats in the Meydan hotspot located at Soho Garden, Meydan's Mega Fan Zone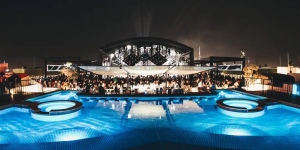 There's nothing better to watch football than in the company of thousands of fans cheering you on as well. Soho Garden Meydan set to offer you an unparalleled football experience. Don your jersey and make your way into the Mega Fan Zone that will show all games live on their huge screens. The hotspot for socializing is known as the Mega Fan Zone. many dining options, delicious food as well as exciting competitions, and regular live shows.
Get out to the sands to watch live football games in Zero Gravity in Dubai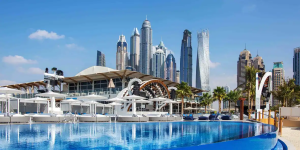 The fans of football have a treat because Zero Gravity will set up a area for fans at the beach. It will feature an enormous screen that will be able to show every match at the biggest event in the calendar. Take in the action with a spectacular views at Dubai Marina and the Arabian Gulf and listen to DJs spinning top tracks to keep the party going. Most importantly, the club will be open from 10am every day. There's no entry fee for patrons over 21 years old.
Experience it all at Expo Fan City at Expo City Dubai Fan City
Expo City Dubai is pulling out every effort to create one of the largest soccer fan zones in the city. The huge football-themed zone known as Expo Fan City, will be split into two parts which include a space for families located at Jubilee Park and an elite experience at Al Wasl. Jubilee Park, which can accommodate as many as 10,000 fans is set to host plenty of fun activities, including games on the table with penalty kicks, penalty kick activations and face-painting for kids, as well as live performances by local DJs.
Enjoy cheering on champions during City Walk at Stadium Lounge is an FIFA World Cup fan zone in City Walk Dubai
In the middle of Dubai, Stadium Lounge at City Walk Dubai offers fans the ultimate experience on game day. The stadium, which is purpose-built and adjacent to The Green Planet is able to accommodate over 700 people at one time, and boasts one of the biggest outdoor screens that the city has. You can sit inside the section for VIPs or go outside to the family-friendly space during games.
Family-fun at Dubai Digital Park at Dubai Silicon Oasis fan zone Dubai
People living in Dubai Silicon Oasis and nearby neighborhoods have their football watching plans covered due to Dubai Digital Park. This outdoor facility, which is family-friendly with a total area of 1,500 square meters is able to accommodate as many as 1,000 people . It will be showing every match live from the 20th of November until 18 December. There are food vendors, a pop-up in the OUI Bar and Terrace and an area for gaming for players of all age groups.
Big prizes are on the line during every day games in City Centre Mirdif at City Centre Mirdif family-friendly fan zone Dubai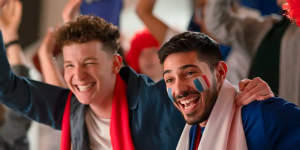 Enter the City Centre Mirdif and take an elevator up to the terrace, which is a area for viewing that is family-friendly and will show all games live throughout the biggest football tournament. The space splits into a double-match-screening zone that can hold up to 700 guests as well as 150 people in an F&B section. There's also a range of themed activities and games for the young ones, so make sure to reserve your seats early.