Tips for a Memorable Journey
Dubai is one of the world's most popular tourist destinations because of a combination of many natural and man-made attractions, along with its thriving culture. Among many activities, the dhow cruise Dubai is something no one wants to miss. It is always the most memorable experience for most of our tourist clients. The cruise is planned so that you can enjoy both the naturally historic and the contemporary city attractions. The cruise captivates you so much that you won't want to blink. However, if it is your first time, you must know a few things first. We call it the dos and don'ts of the dhow cruise Dubai. Before discussing these, you may also need to know a few things before starting the trip! Let's dive into the details.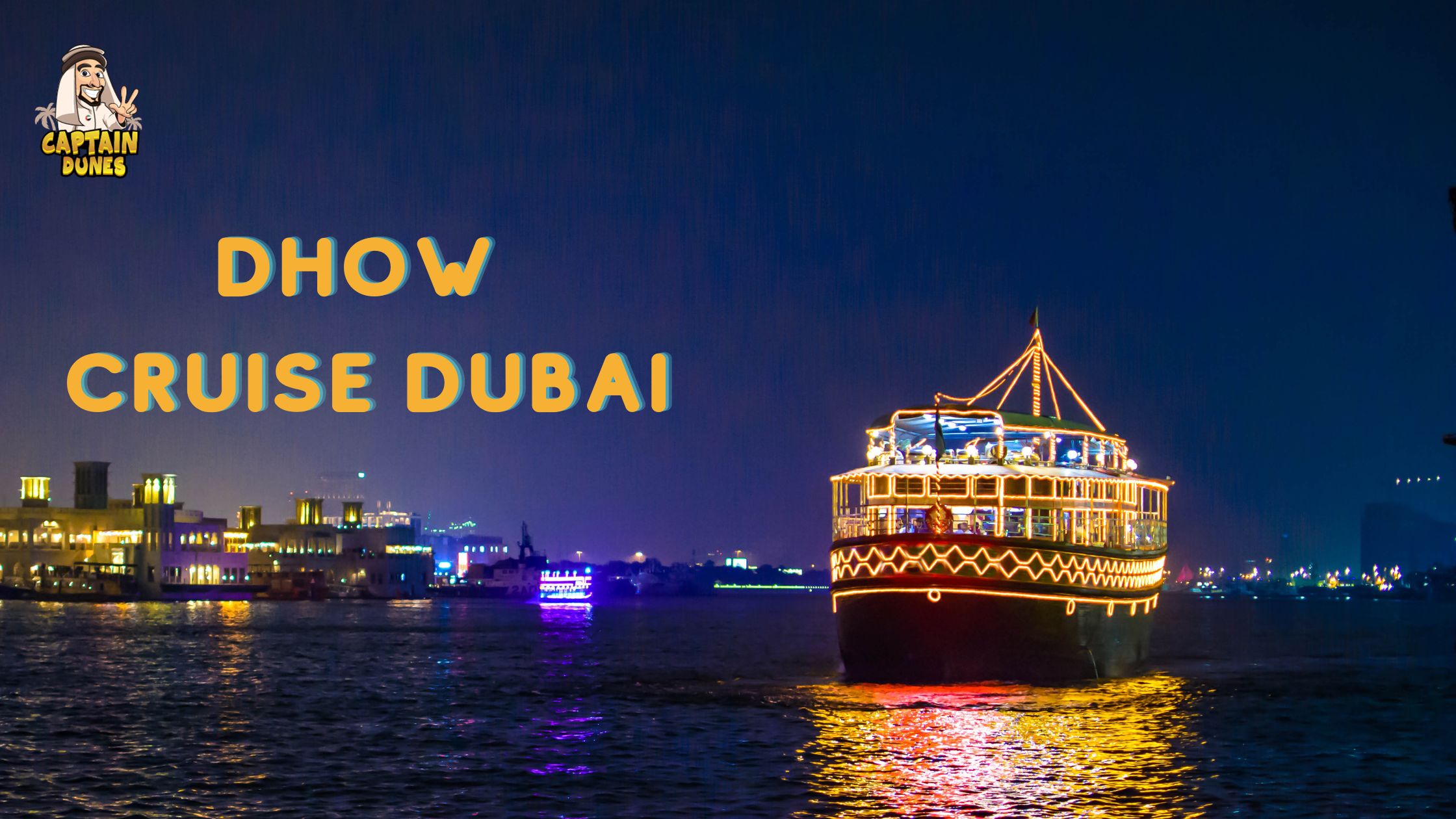 Types of Dhow Cruises
So, when discussing the Dhow Cruise Dubai, we are not referring to a single trip. You can choose from many different options available. These options vary according to your budget, your taste, and time. For example, if you want to explore the city's skyscrapers, amazing waters basking in the magnificent sun, and the general beauty of Dubai, daytime cruises should be your choice. However, the night-time cruise is your deal if you plan to go out on a romantic dinner date. Also, you can choose the dhow cruise Dubai based on the type of dining that you want. You can, for example, choose between live shows, buffets, five-star restaurants, and VIP lounges. We recommend you think carefully before you choose the cruise. You can also talk to our experts; we will help you make the right choice.
Booking in Advance
You may know that Dhow Cruise Dubai is common in the UAE. Travelers worldwide try to enjoy this luxury during their trip. We, therefore, recommend you book these cruise trips in advance to prevent disappointment. It ensures your place in your desired Dhow Cruise Dubai. Advance booking also gives you ample time to choose the right cruise.
Dress Code
Dubai is famous for its unique dress codes and luxury culture. Nonetheless, the Dhow Cruise Dubai offers you to be yourself! In most cases, you can get away with dressing casually and comfortably. Although formal wear is not required, it is recommended if you want to eat on one of the more costly dinner cruises. Sturdy shoes are necessary to wander about the dhow's open deck.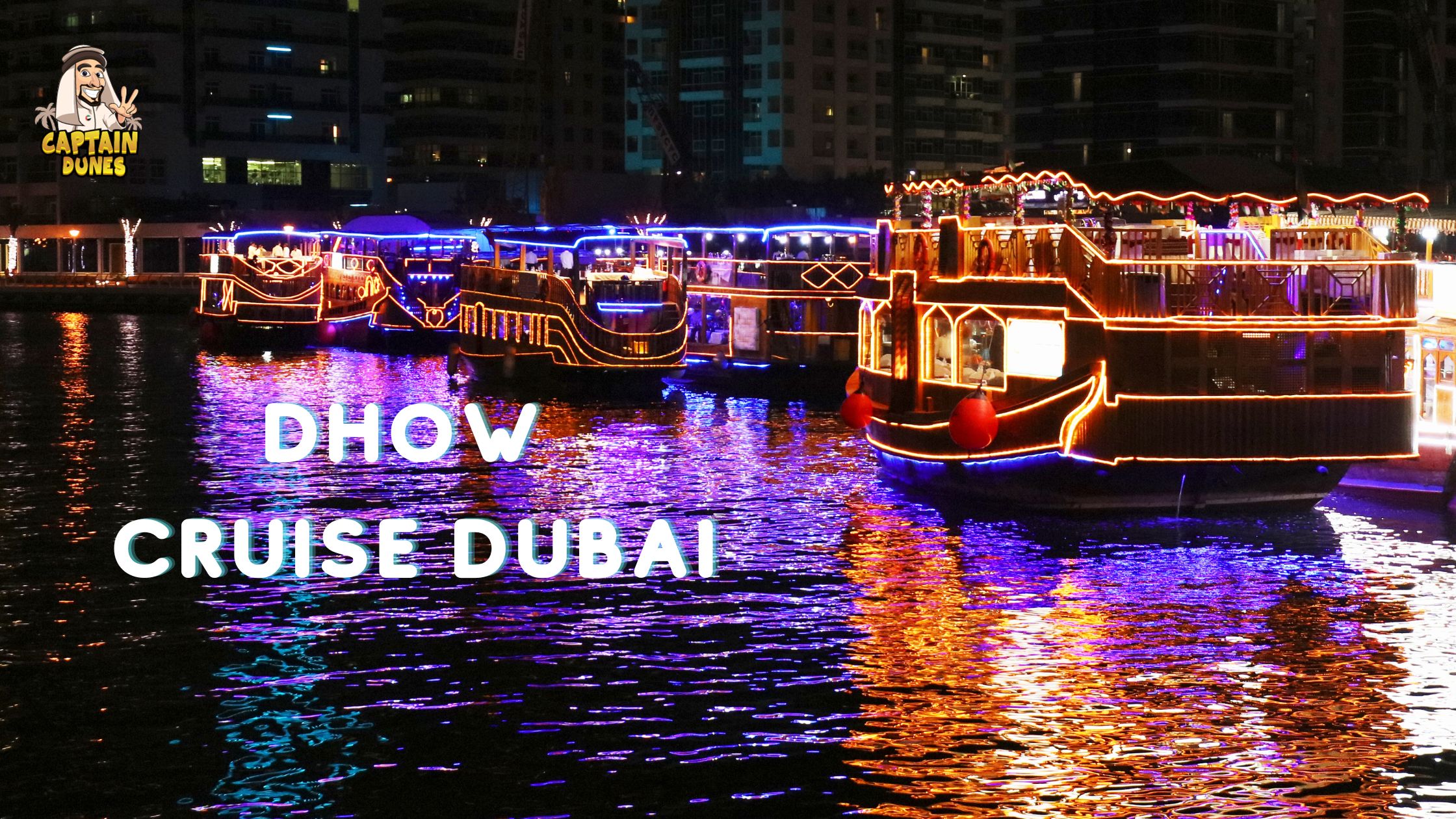 Duration of the Cruise
The duration of Dubai's dhow cruises varies. Two to three hours is typical for an evening cruise, giving passengers plenty of time to enjoy the views and the entertainment. Some daytime cruises may only run for an hour. Plan your day around the cruise's departure time and length.
Sightseeing Highlights
The city's skyline is breathtaking, whether on Dubai Creek or at Dubai Marina. The Burj Khalifa, the Burj Al Arab, the Dubai Mall, the Palm Jumeirah, and many historical sites are just some things you can look forward to seeing on your dhow trip. You can also enjoy the amazing time-to-time commentary by cruise operators shedding light on Dubai's endearing past, magnanimous present, and amazing future.
Entertainment on Board
The Dhow Cruise Dubai is home to beautiful music, dance, and many other entertainment forums. You will surely enjoy live (traditional and international) music, cultural dance performances, and, if you are lucky, magic shows. Native to the Peninsula, the tanoura dance will be in the limelight. However, you might want to take precautionary measures if you are sensitive to heavy lighting and loud music.
Dining Options
The food served on a dhow cruise Dubai is a major draw for many people. The buffet and the plated dinners provide a tasty fusion of local and international cuisines. If you have any special dietary needs or limitations, such as a vegetarian or vegan diet, you can let us know in advance, and we will take care of it.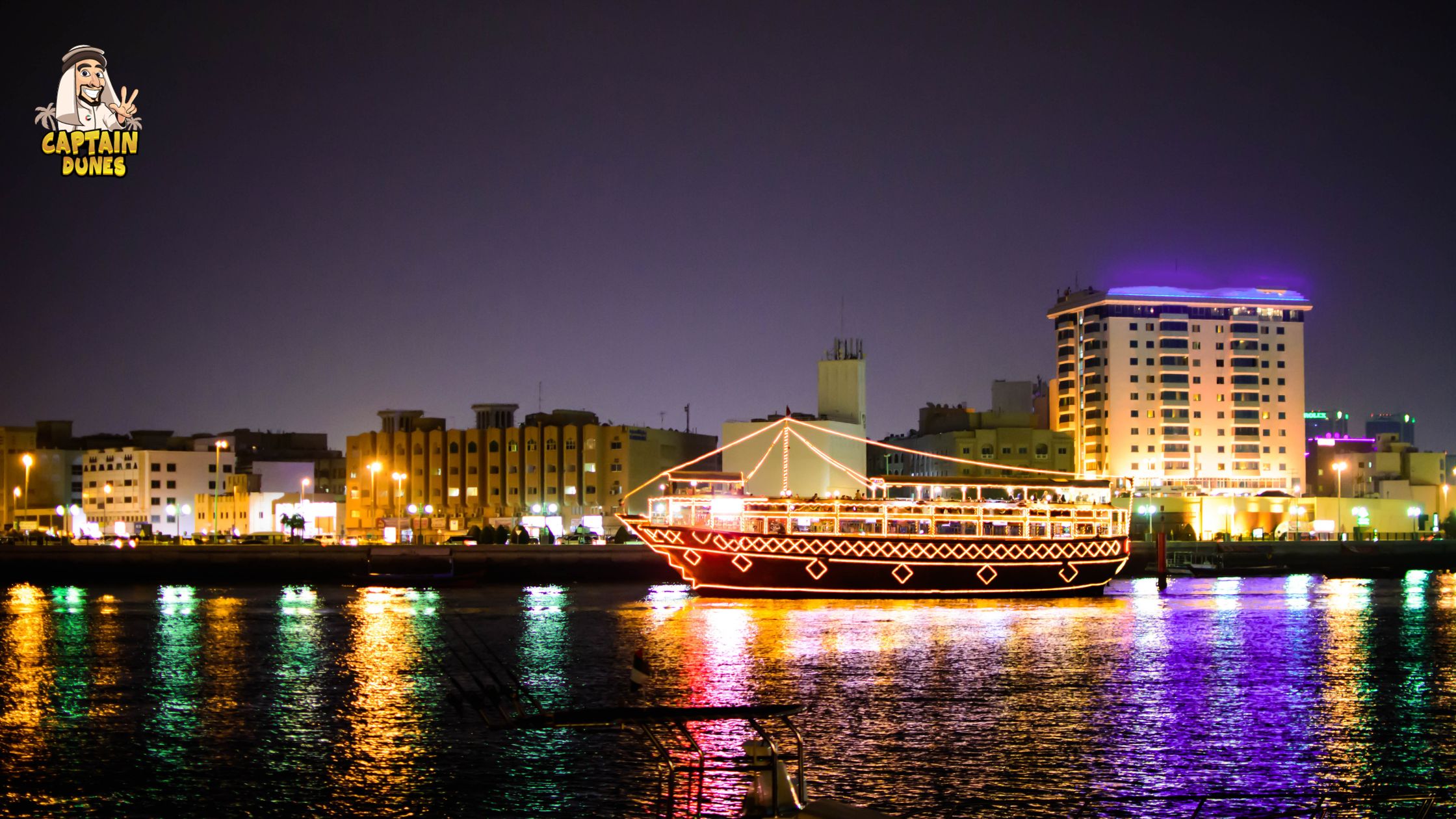 Beverages
Water, soft drinks, and sometimes coffee and tea are available on most dhow trips. However, ordinary packages seldom contain alcoholic beverages. You may need to buy a separate package or place an order at the bar if you want to drink alcohol while on your trip.
Photography
Dubai's skyline is a photographer's dream, and a dhow cruise provides excellent opportunities for capturing breathtaking views. Bring your camera or smartphone to capture memories of your cruise. Additionally, some cruise operators offer professional photography services, allowing you to purchase high-quality images of your experience.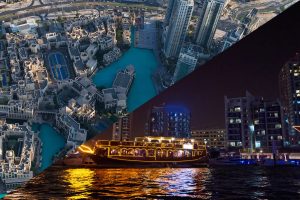 Safety Precautions
Last, although dhow cruises are mostly risk-free, following the operator's safety protocols is important. Follow all safety precautions and wear life jackets as directed. The dhow's open deck may entice little explorers, so keep an eye on them if you're taking the family out for the day.
How to Have a Wonderful Trip Aboard a Cruise Ship
A cruise vacation is the perfect way to unwind, explore, and indulge. Cruise etiquette refers to the unspoken norms and principles that govern conduct on board and may make or break your experience. Following these dos and don'ts can help you get the most out of your cruise, whether you're a first-time traveler or a seasoned pro.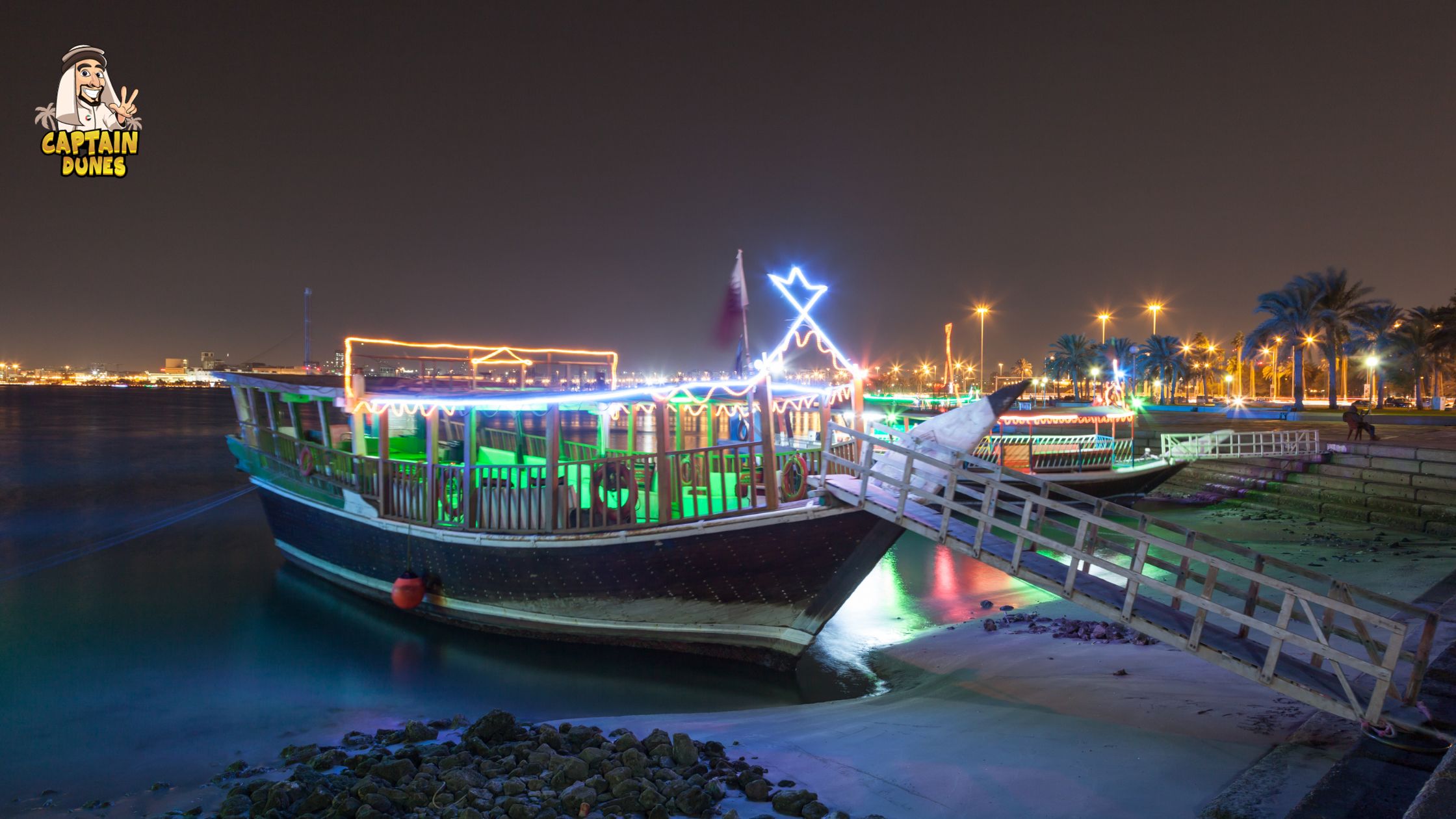 The Dos
1. Be Punctual
Schedules aboard cruise ships are rather strict. Be on time for everything, from embarkation and disembarkation to scheduled activities and dinner reservations. You will want to take advantage of all the fun activities and excursions on board because you ran late.
2. Respect Your Fellow Passengers
Kindly interact with the personnel and other passengers. Keep your pleasant mood even when you're busy, or someone is a pain in the neck. Kind words like "please" and "thank you" and a kind expression go a long way.
3. Follow Dress Codes
Various on-board restaurants and shows may have stricter dress requirements. Prepare for your trip and dress appropriately to prevent awkward encounters. Formal and informal eating venues are usually available aboard cruises.
4. Attend Safety Drills
Every dhow cruise Dubai begins with a mandatory safety exercise. Take advantage of the drills. Learning what to do in a crisis is important for everyone's well-being.
5. Use Hand Sanitizers
Due to their restricted nature, illnesses may easily spread aboard Dhow cruise Dubai ships. Use the many hand sanitizer dispensers throughout the Ship to help keep everyone healthy.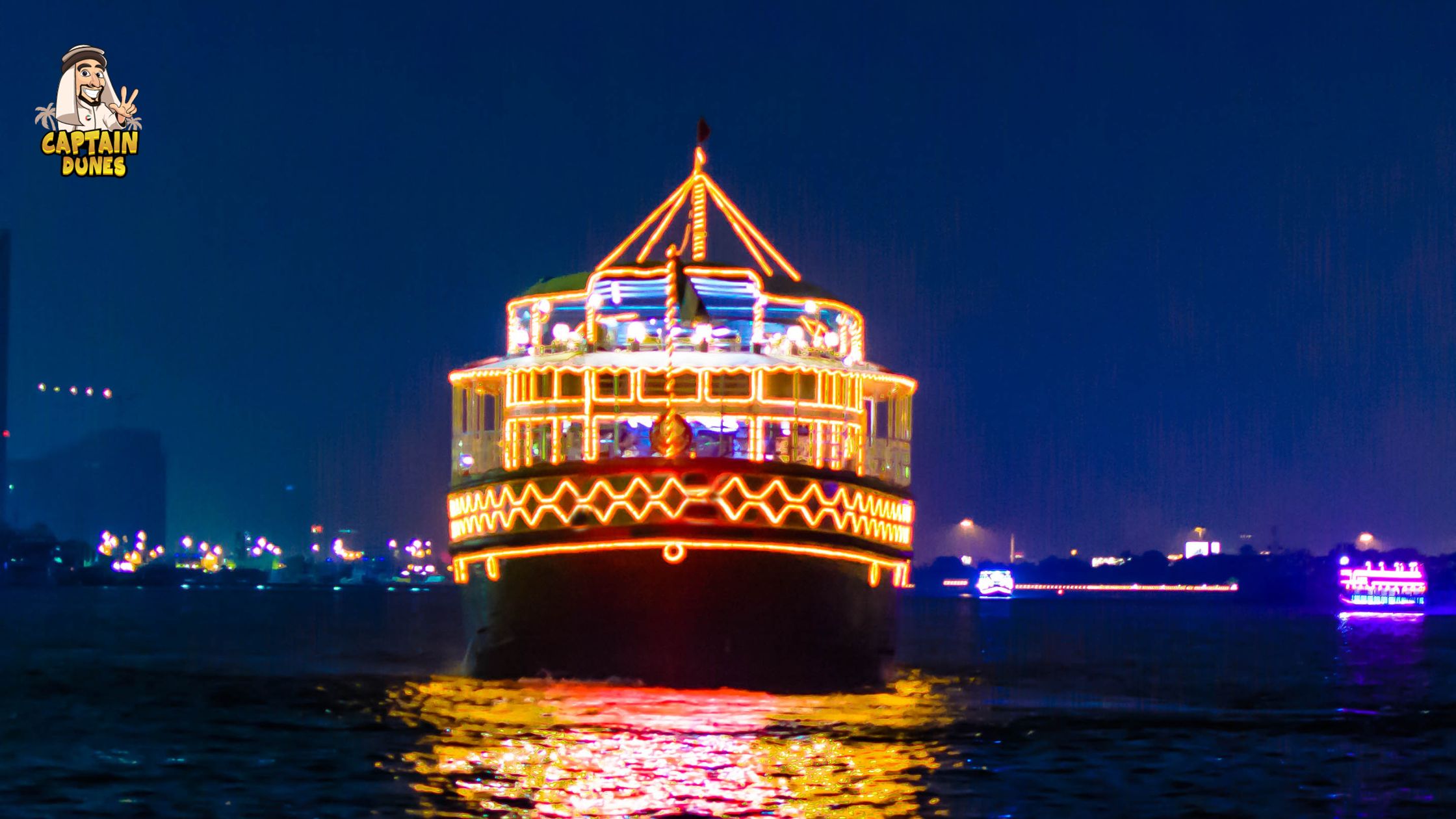 6. Tip Appropriately
While gratuities may be included in your cruise's price, you are still expected to tip the personnel if they exceed your expectations. Find out the cruise line's suggested tipping amount and have extra cash if you want to tip more.
7. Participate in Onboard Activities
Onboard activities on cruise ships may vary from learning how to cook or dance to competing in a trivia contest. Make the most of your time at sea by exploring new activities and making new friends.
The Don'ts
1. Don't Reserve Deck Chairs
Holding a deck chair with a towel or other personal item is rude. Be mindful of others and give up your seat as you depart so that others may use it.
2. Don't Overindulge
Since everything is available in excess, people often overindulge in the cruise. However, keep a check on your eating and drinking. A lot of eating can make you nauseous, especially if you are prone to it. Similarly, excessive drinking can lead to erratic behavior, which may lead to inappropriate disturbance on the dhow cruise Dubai.
3. Don't Be Late Returning to the Ship
Since the cruise stops at several locations, we plan excursion tours for our clients. However, being back on the cruise at the scheduled time is mandatory. If you are not back on time, the cruise will have to wait, and we might miss the transportation arrangements at the next stop. Moreover, if you are too late, the cruise may leave you behind, and we will not be able to stop it since other people are also aboard.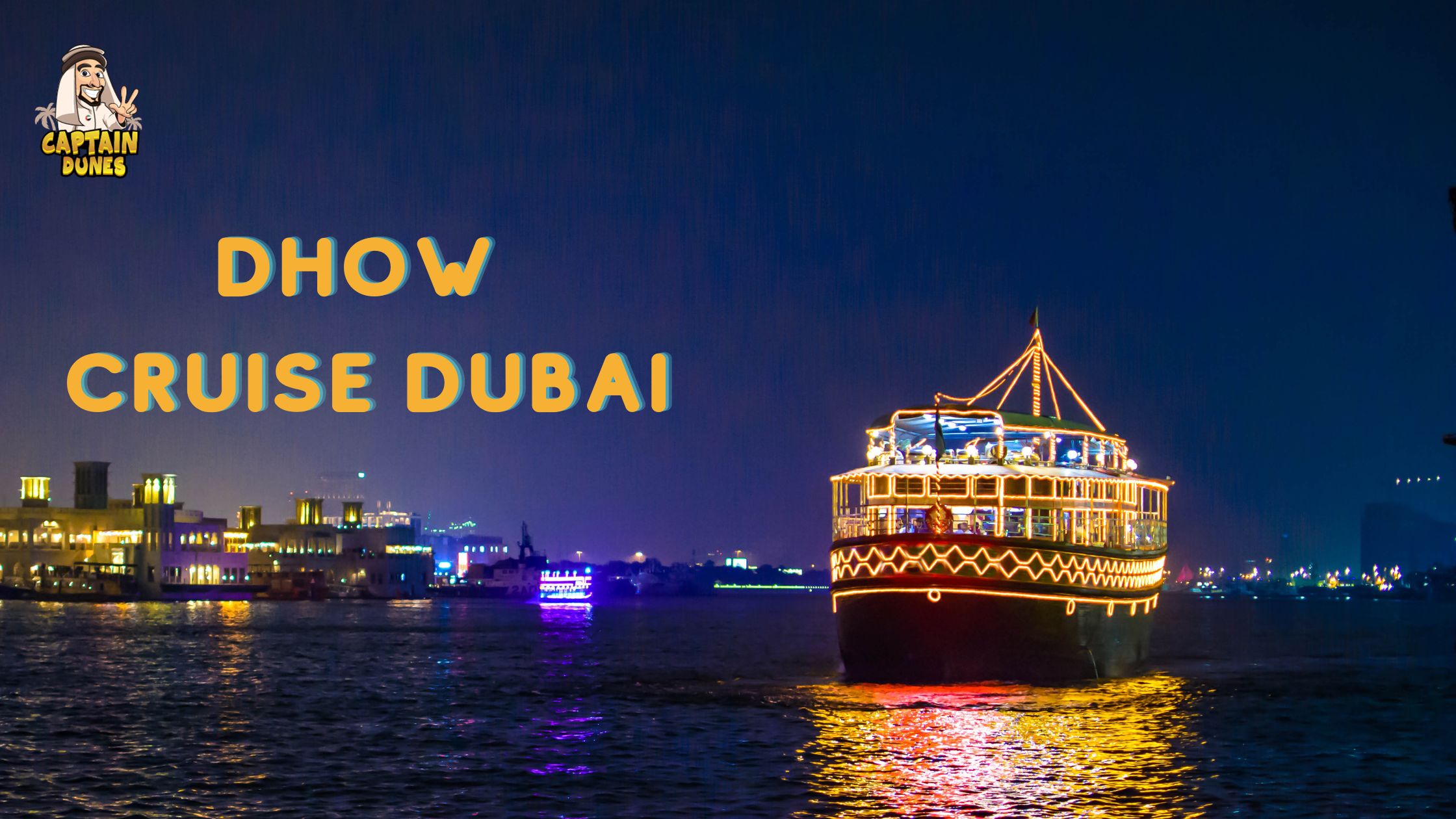 4. Don't Neglect Hygiene
Keep up with your regular hygiene routine while on board. Keep in mind that there are many other people on board and make use of the Ship's showers and locker rooms. Maintaining a tidy communal space shows consideration for others. Besides making other passengers uncomfortable, failing to maintain adequate personal Hygiene might contribute to the rapid spread of infectious diseases. Use everything and keep yourself clean to ensure everyone has a relaxing and healthy voyage. Don't do anything that would make other people uncomfortable, like smelling bad or fidgeting.
5. Don't Save Seats at Shows
It's also rude to save seats for concerts or other events on the Ship, just like reserving a deck chair. Seat reservations are often frowned upon since they allow others to enjoy the concert. You should be there early if you want to get a good seat or make other seating arrangements. Get there early to guarantee a seat, but don't keep it warm for those who may not attend.
6. Don't Be Disruptive
Peaceful and enjoyable environments abound aboard cruise ships. You should respect other people's need for quiet by not making much noise in public spaces, especially late at night.