Are you up for a one-of-a-kind desert adventure in Dubai at night with us, "Into the Wild" style? If you want to see the gorgeous Arabian Desert in style, an evening desert safari Dubai trip is the way to go. This exciting adventure with Captain Dunes will provide lifelong and memorable experiences.
The spectacular splendour of the desert will astound you as you set out on your tour. The endless horizon of golden dunes is a stunning contrast to the pure blue sky above. There is no better way to experience the beauty of the desert than on a safari in the sunset.
Dune Bashing Dubai; A Must-Have Adventure
An exciting part of a Dubai desert safari at night is dune bashing. Driving across the desert's massive sand dunes in a four-wheel-drive vehicle is an exhilarating experience. Despite the rugged terrain, the expert drivers will take you on a thrilling ride across the sand dunes.
The ups and downs, twists and turns, and sheer trip speed across the dunes will excite you. It's a wild trip in the middle of nowhere! While racing through the sand dunes, you will feel the wind in your hair and see the sand whip past you.
Perking the Evening Desert Safari Dubai Up With Sandboarding
However, that's not the end of the fun. You'll get to try sandboarding after dune bashing. Sandboarding is a lot like snowboarding. Only you ride down sand dunes instead of snow. It's a thrilling experience that people of all ages may enjoy.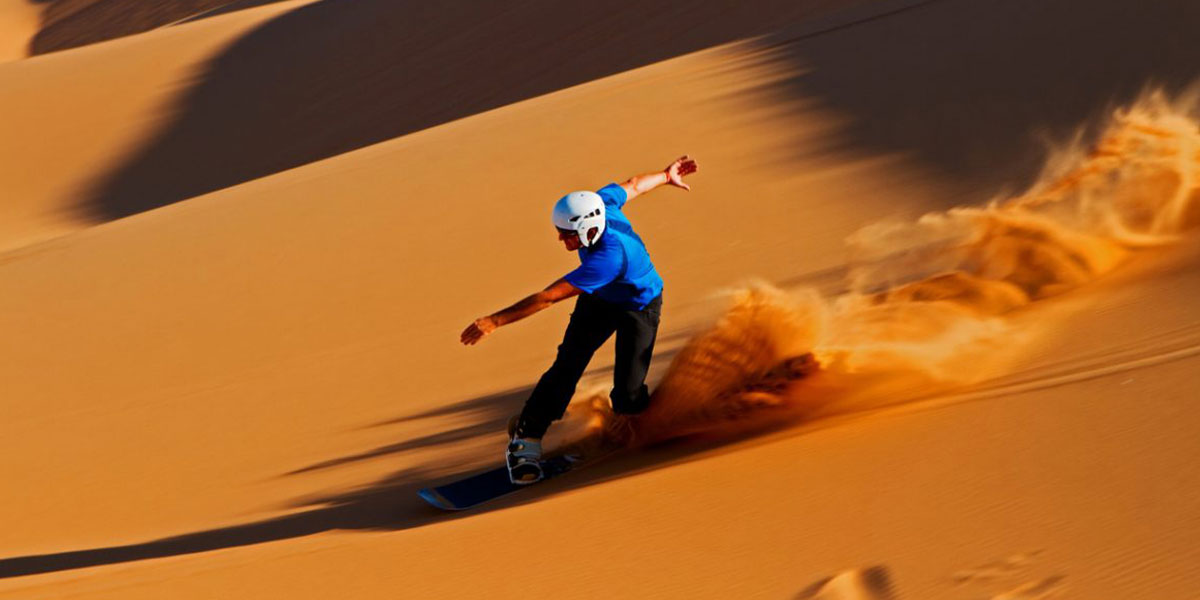 You'll be given a surfboard and a brief tutorial before entering the sand dunes. It may take some time and effort to master, but the rewards are unparalleled once you do. Feel the adrenaline pump as you race down the dunes, sand carving as you go.
If you feel very adventurous, you may also go dune buggying or quad-riding in Dubai. Dubai's sand dunes are no match for a dune buggy, a little vehicle designed just for breaking through the sand. The wind in your hair and the sand whipping past you as you cruise across the desert is a fantastic way to see the landscape at your leisure.
Quad Biking Dubai; Another Memorable Adventure
Quad riding in Dubai is also quite common, and it's a great way to see the desert landscape from an unusual angle. The sand dunes may be explored at your leisure on a quad bike provided to you. It's an exciting way to see the desert and all its wonders.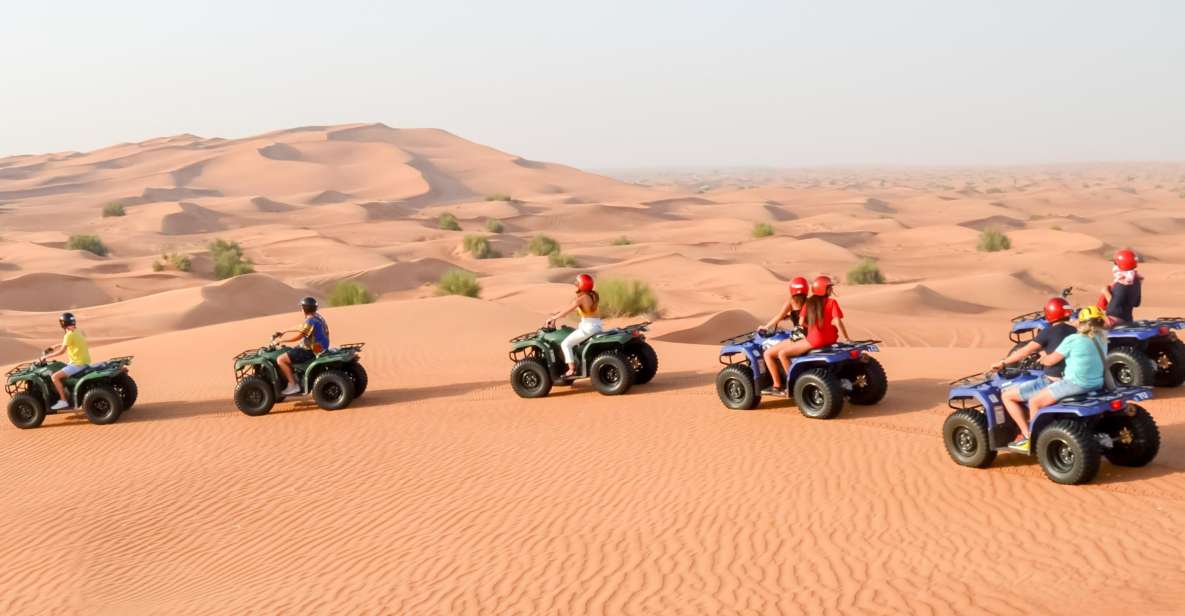 Now that the festivities are over, everyone can kick back and enjoy the show. The Tanoura dance show highlights the evening desert safari in Dubai. The Tanoura dance is an Egyptian traditional folk dance performed by men in colourful skirts. You can't find anything like that anywhere else in the world; it's unique.
We'll be eating our BBQ meal beneath the stars. The event is a culinary extravaganza featuring classic and cutting-edge delicacies on the menu. Grilled meats and vegetarian dishes alike will be available for your dining pleasure. An excellent environment is created while you dine to the sounds of traditional Arabian music. It's the cherry on top of a great evening of adventure on a desert safari in Dubai.
A Trip That Offers Joy, Thrill, and Endless Adventures
An evening desert safari Dubai trip is the best way to see the splendour and excitement of the Arabian Desert. There is a wide variety of fun things to do in Dubai, from dune bashing and sandboarding to quad-riding and dune buggies.
However, these pursuits are only part of the story. Dubai's desert at night is beautiful and a great way to learn about the region's history and culture. Dinner accompanied by traditional Arabic music and Tanoura dance performance offers an exciting glimpse into the local culture.
It's also worth mentioning that an evening desert safari Dubai trip is a fantastic chance to get away from the city and enjoy some time outdoors. The desert's tranquillity and stillness provide a welcome respite from the hustle and bustle of metropolitan life.
Are You Ready for Your Evening Desert Safari Dubai Trip?
There are a few things to remember if you're considering going on a desert safari in Dubai in the evening. This activity is popular, so reserve your spot early to avoid disappointment. Second, pack cool, lightweight clothes appropriate for the arid environment. Wear light, loose clothing as well as shoes that cover your toes. Protect yourself from the sun by bringing a hat, sunglasses, and sunscreen. Lastly, carry a camera to record all the unforgettable moments of your evening desert safari in Dubai.
In conclusion, a Dubai evening desert safari is a once-in-a-lifetime experience that will be with you forever. A wide variety of thrilling activities are available in the desert, from dune bashing and sandboarding to quad biking and dune buggy Dubai.
However, these pursuits are only part of the story. The Tanoura dance performance and traditional Arabic music on a desert safari in Dubai's twilight hours provide an insight into the region's rich culture and customs.