Get Ready to Be Amazed: Dolphin Show in Dubai
Dubai is home to many exotic activities. People of all genders and ages can enjoy a range of activities. For example, sand surfing is an activity for young adults, paddleboarding is for teenagers, kids love camel riding, and all ages equally enjoy safari rides. One activity that's equally enjoyable for everyone is the dolphin show Dubai at Dubai Dolphinarium. It is claimed as one of the top entertainment shows in the world and our tour package is the icing on the cake. The bottlenose dolphins and energetic seals are the limelight of the dolphin show Dubai. Whether you are a fan or just a curious tourist, the show will leave you spellbound.
The Aladdin Extravaganza
The show promises to be great, and the management fulfills this promise by allowing you to experience an Aladdin extravaganza. You must be thinking what it is. Well, we will talk about it later in this blog, but first, let us tell you that if you book the tour with us, you won't miss anything. You have to be there on time for the Aladdin entertainment, and we assure you that with our on-time communication and travel services, you will have a blast at the show.
Choose Your Show and Seating Arrangements
The most exciting part of this tour is choosing which show you want to see and its seating arrangements. Our customers are our top-most priority, and we try our best to give them the best experience. That's why we always communicate the possible shows, the best timings, and seating arrangements to the tourists. If you want, we can also suggest the most preferable options. Getting the best seating arrangements means you can view the show without any disturbance, the music is just right, you get the right wide view, and you can move in and out easily. Moreover, you can always change the arrangement before the show at Dubai Dolphinarium. For instance, if you booked standard seats earlier but want to switch to VIP seats, we will do our best to accommodate you.
The Asian-Inspired Restaurant
You can always enjoy Asian cuisine at the dolphinarium's restaurant. They serve many snacks and drinks (including hot and cold). The Happy Valley restaurant offers affordable and delicious snacks. Although the restaurant is Asian cuisine-inspire, it is open to all park guests and offers many mixes that appeal to everyone's taste. The restaurant is open from 10:00 AM to 7:30 PM and is only closed on Sundays.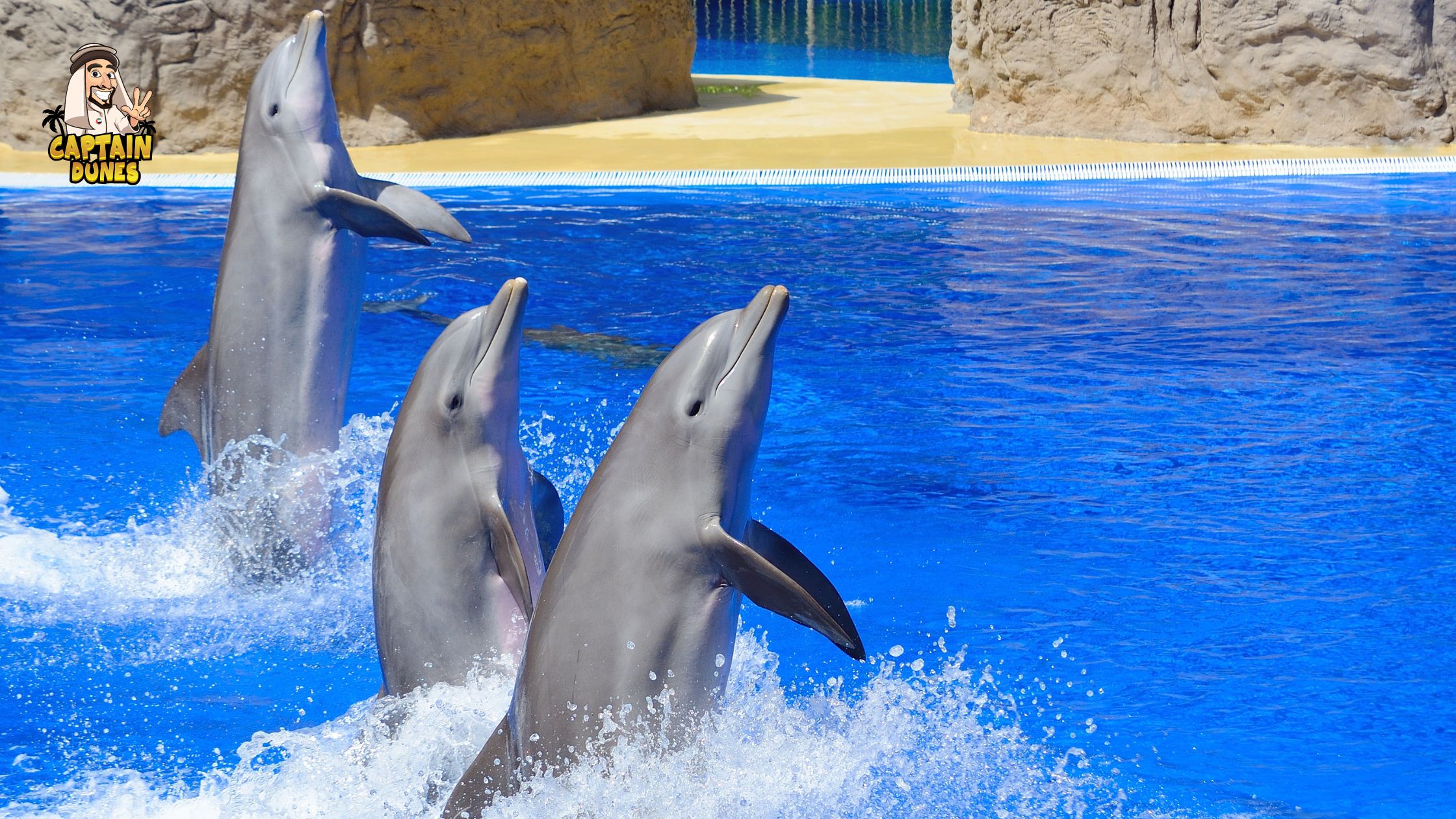 Show & Prices of the Dolphin Show Dubai
The dolphinarium sets six daily shows from 9:45 AM to 5:45 PM. Each show is about twenty minutes long, called 'Swim with Dolphins.' It is a dolphin interaction program. You can also choose a non-interacting show and watch the dolphins and seals doing the tricks. It is, however, important to note that the shows were temporarily closed in September 2023. However, they will be reopened in October, so your worrying days are over, and it's time to pre-book these shows! The shows take place inside the fully air-conditioned indoor area and are safe for everyone. Plus, all the shows are family-friendly, so you can pick anyone.
Back to the Dolphin Show Dubai
Have you ever had the chance to witness a live performance featuring dolphins and seals? Don't miss this incredible opportunity to be amazed by these charming and skillful marine animals. Come to the Dubai Dolphinarium and be captivated by the Dolphin & Seal Show. In this 45-minute indoor interactive event, you'll be privileged to witness these remarkable creatures demonstrate their astonishing talents. Prepare to be mesmerized as dolphins and seals showcase their abilities by dancing, singing, juggling, playing with balls, leaping through hoops, and crafting their artistic masterpieces.
Other Activities at the Show
Dubai is full of surprises, and so is its dolphinarium. If you are not a big fan of dolphins or want to enjoy more than the 45-minute show, you are in for a treat because the dolphinarium offers you so much more than just a dolphin and seal show. Want to know what's more in the bag? Keep reading! You will surely be mesmerized.
The Creek Park Exotic Bird Show
This show is the first of its kind in the entire Middle East. It is built in such a beautifully interactive way that you witness the birds fly overhead and get in touch with the audience. The birds are of exotic colors. From colorful parrots to beautiful pigeons, you can take your kids to an educational yet entertaining activity. Also, have you ever heard of the 'Bird Brain Theory?' Brace yourselves because this show featuring distinct bird species performing all kinds of mind-blowing tricks proves this theory wrong. You get to enjoy a variety of birds, including sun conures, parrots, macaws, cockatoos, hornbills, toucans, falcons, etc.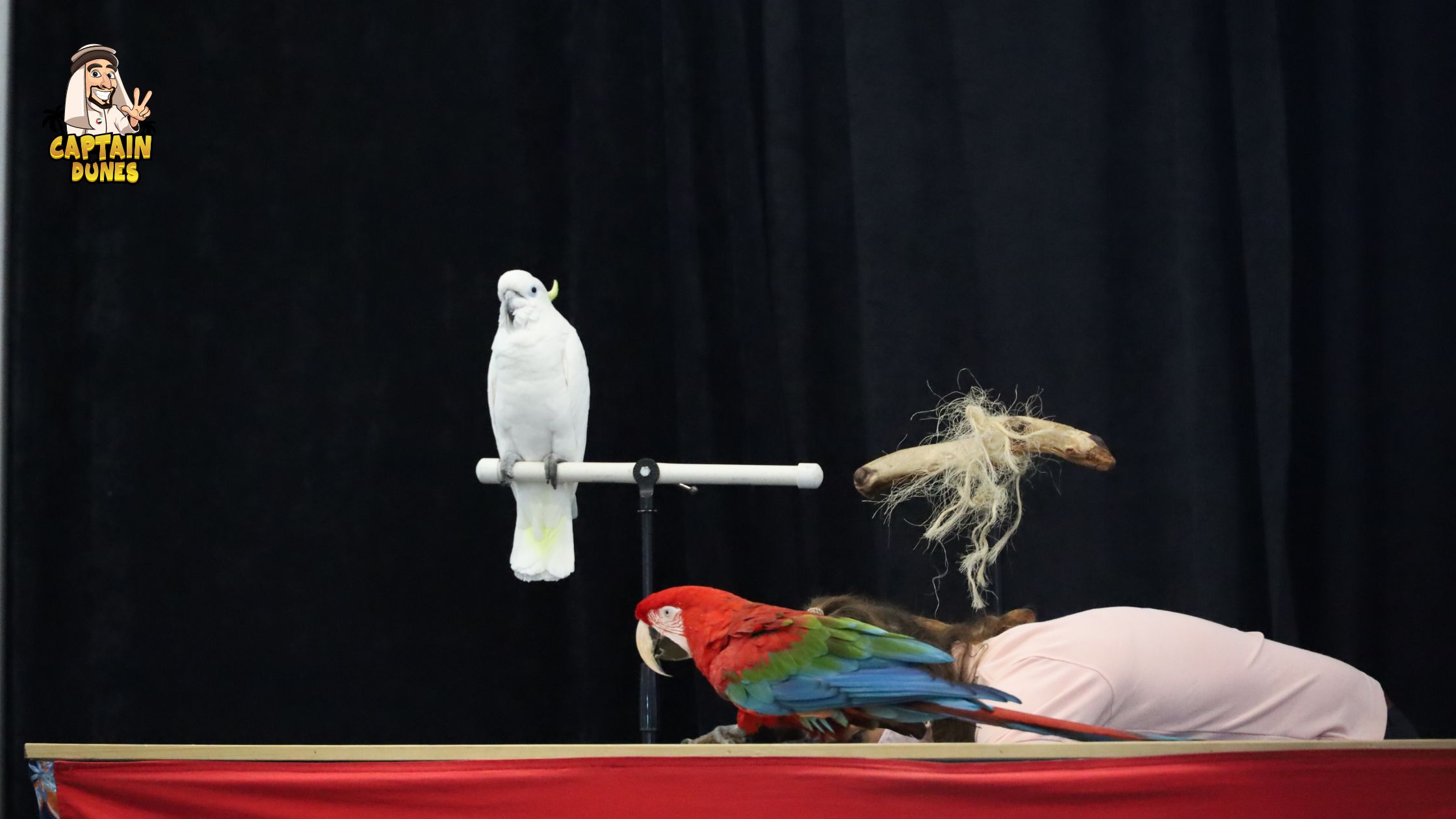 An Amazing Dolphin Encounter
As discussed earlier, you get 5 20-minute shows daily where you can interact with the dolphins. First, these interactive shows are performed under the supervision of the dolphinarium experts, so you don't have to worry about anything. However, if you or any of your family members are afraid of these interactions, we strongly recommend you pass on this activity. Nonetheless, suppose you still plan to do it. In that case, we assure you it will be a great learning opportunity as our experts tell you about the ideal environment for dolphin survival, behavior, and management.
The Photo Studio Fun At Dubai Dolphinarium
Like any activity, the Dolphin Show Dubai is something you would wish to keep with you forever, and the dolphinarium's photo studio plans to do just that. They ensure that your memories are captured and cherished. They have professional photographers who capture all your special moments, whether you are cheering on a Dolphin showing its skills or interacting with it. You can pre-inform us if you want photographs of a specific event; we will take care of that. Apart from the Dolphins, you can also get photograph with Stellar's sea eagle. The eagle is trained to be friendly and kind and sits on your hand gently for the perfect photograph. You can also enjoy your photographs with multi-colored parrots. If you are getting a family photograph, each one of you gets a parrot of your choice!
The Art Factory
The Dubai Dolphinarium offers diverse arts and crafts activities, including ceramic painting, drawing, and crafting. Their art and craft activities are designed to provide a unique blend of entertainment and education for children and adults. Engaging in these creative pursuits not only promises heaps of fun but also nurtures the development of creativity and imagination in children. It's a wonderful way for young minds to explore their artistic side while gaining a deeper appreciation for the wonders of the marine world.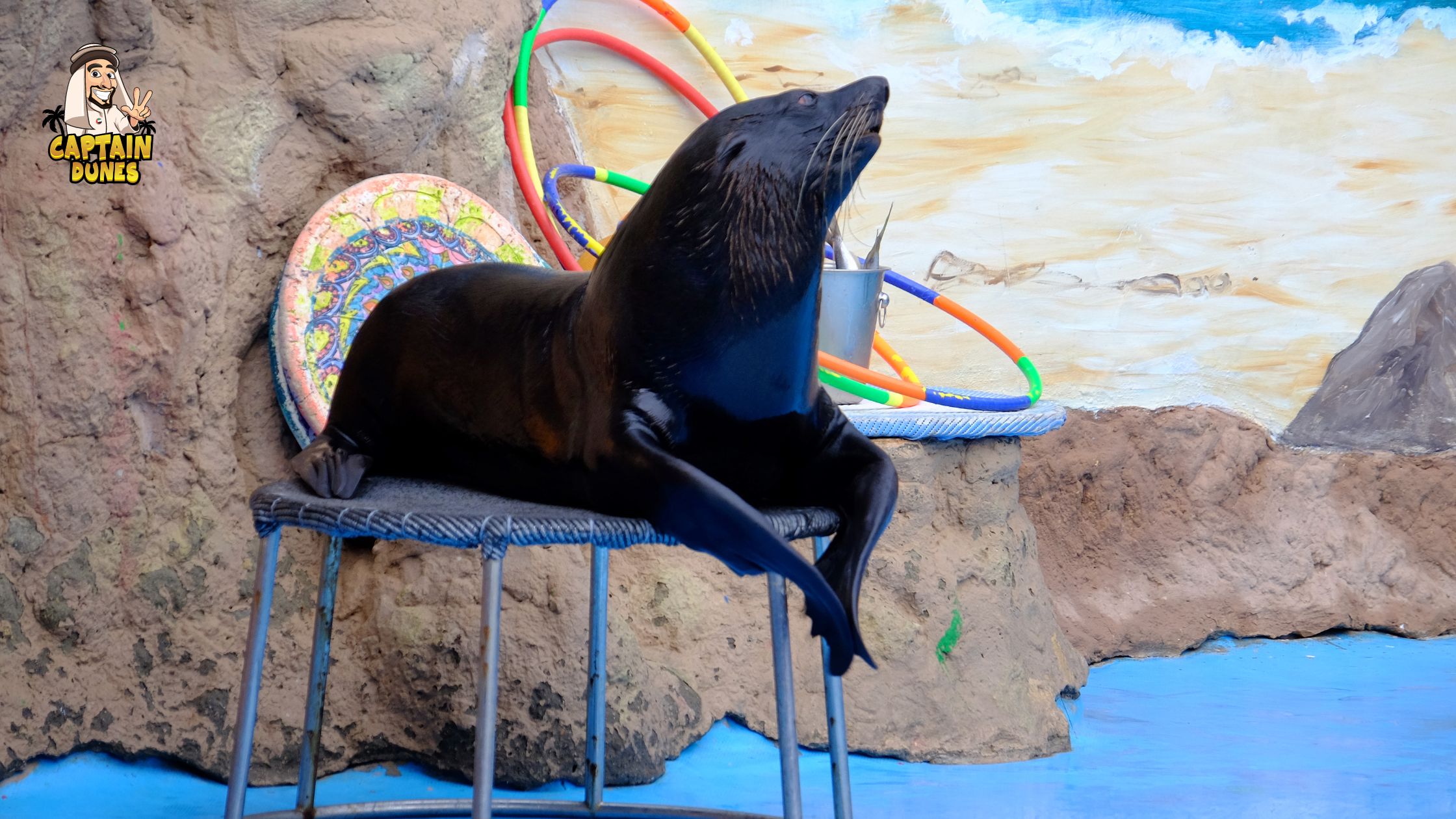 The Mirror Maze At Dubai Dolphinarium
The mirror maze is a stroke of genius by the management of the Dolphin Show Dubai. It is the most challenging and intriguing part of the tour. Furthermore, it is the only mirror maze in the UAE, another reason you shouldn't miss it. You must complete the maze carefully, as the mirrors make it hard to find the right path. This adventure can be enjoyed with family and friends. Also, this adventure takes place in an air-conditioned room, and our expert guides will escort you immediately if the mirrors freak you out or disturb you.
The Aladdin-themed Show
The Aladdin rendition of the Dolphin Show Dubai is a plus on the standard show. As the lights dim, the Dolphin trainers showcase the talent of using dolphins and seals to re-tell the story of Aladdin. It is one of the biggest dreams of a Disney fan, and the dolphins fulfill it beautifully. The trainers use dolphin acrobatics, illusions, music, and lights to create the perfect environment. The dancing dolphins leave you in awe of those aerial stunts, and you will not forget them for long.
The 5D Cinema
A 5D cinema is an immersive entertainment format that seamlessly blends 3D technology with physical effects within the theater environment. These effects encompass motion seats, wind, water, strobe lights, fog, scents, and other special effects. The essence of the 5D experience is to fully engage all five senses, providing viewers with heightened realism and immersion during their cinematic journey.
The Gift Shop in the Dolphin Show Dubai
Once your tour ends, the affordable yet amazing gift shop is one way to take something special home. The gift shop contains souvenirs, toys, customized clothes, and whatnot! Any recipient of the gift will cherish these gifts for life. In our long career, we have seen that these gifts are one of the best parts of the tour. People put their heart and soul into every souvenir they get as a gift, and we share their sentiments. It's a legacy for life.
Who would want to miss all these amazing activities at the Dolphin Show Dubai? We know that you wouldn't. So what are you waiting for? Get in touch with Captain Dunes today and get your tickets for an amazing expert-guided tour of the show.